To convert, a home page needs to give its audience information. The more information they accept, the more likely they are to consider signing up, subscribing, or downloading. But if it's not engaging and perfectly targeted, they'll give up and fail to read anything.
Is shorter copy better? Concise copy is a must, but that doesn't mean it should be short. In fact, the opposite is often true.
Here's the case for long copy on a home page, and how to figure out the length that works best for you.
Google Likes Long Copy
In 2012, the top ten Google page results for any keyword had over 2,000 words of content each. Algorithm tweaks since have only confirmed that in-depth content is ranked higher.
Google's famed algorithm is designed to offer the search results that users want. In its efforts to improve, priority has shifted from mere strings of keywords to actual human desires and needs. And humans need more information. Semantic relevance is the new king.
Plenty of sites have responded with content-heavy home pages, appealing to the audience and the Google algorithm alike. When the site Crazy Egg increased its home page copy by twenty times, their conversion rates jumped 30%. They were able to address audience concerns and establish their site as an authority through interesting and lengthy content, which won Google over.
Your Audience Likes Long Copy
A 2005 study swapped out the headlines of PowerPoint slides in a college course, offering short phrases to a control group, while giving "succinct sentence headlines" to others. Their thesis: that complete sentences would be more effective, sticking in students' brains longer. At the end of the semester, they were proven correct. Students who had seen PowerPoints with complete sentences as headlines scored 10% higher on average than those who hadn't.
A home page is like the headline of a website. You can't be sure that a reader will do anything more than browse through the their landing page before clicking away. Because of this danger, keeping home page copy as short as possible seems like a natural decision.
But like PowerPoints, a home page needs to teach its reader something. Data proves that longer content drives backlinks. Just as longer headlines hook an audience better than short ones, longer home pages are often best.
In fact, in a report by John Doherty on the type of content that earns links, these two graphs illustrate the relation of long copy to linking root domains.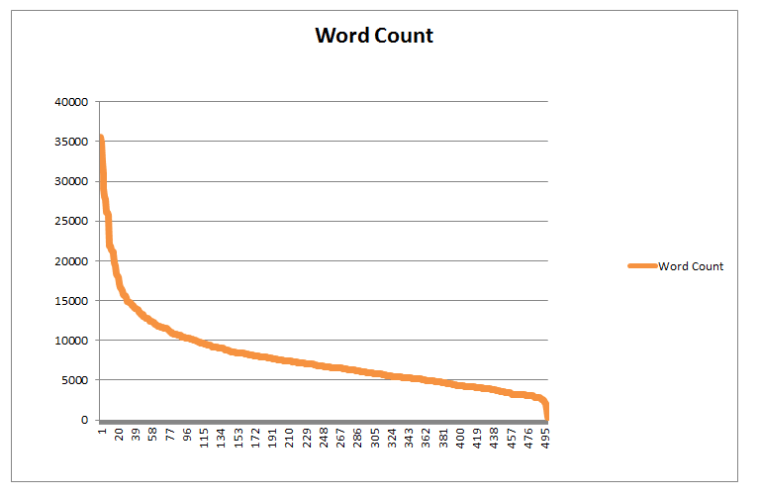 Here are the number of links visualized in the same order; showing the correlation between content and unique linking root domains.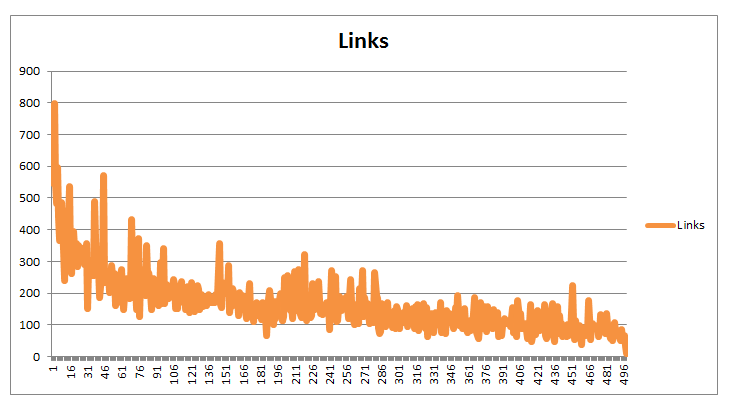 Short Copy Still has a Place
That doesn't mean you should entirely reject the option for shorter content. Less copy works well when audiences don't need to be convinced to sign up. Take the Tinder or Groupon websites, for instance. In both cases, the product is free, and most people already know what it will accomplish for them.
Think about what you offer. Is it well-known or free? If so, short copy might be a quick, seamless way to present your home page offer. But many businesses are built to solve a specific, complex problem, and they hope to earn something for their efforts. Chances are strong that this approach won't work for you.
Now that you know your perfect home page copy length, here are the five steps to create it.
Pick a Home Page Goal
To decide on the best home page copy length, you'll first need to know your goal. Do you need email addresses? Paying subscribers? App downloads? eCommerce sales? Your home page should be focused on converting. Once you have your goal, it will inform the content and direction of the copy you'll need in order to convert.
Find Out the Customers' Motivation
Customer motivation informs home page copy's persuasion. You need to be convincing enough to push a reader from interest to commitment. That all starts with the customer. You know your goal, and you need to know your customers' goals as well.
While your goal should remain behind the scenes, customer motivation should be a visible guide for the copy on a home page. The readers don't care about what you want, but they certainly care about what they want.
Address Problem Points
The potential customer for any product will have concerns, criticisms, and even fears about the inner workings of what they're about to buy. You need to study these problem points, learn how to alleviate them, and deliver the answers in clean copy on your website.
You might not know it, but you see preempted problems all the time. Think of the last time you saw a comforting disclaimer like "your personal information will remain private" or an "emails are never used for advertising". When you answer objections smoothly, readers won't even realize why they feel at ease.
In order to address problem areas, your home page copy should run long, but always be to the point. Your readers want your product to help them. You just need to explain how it will.
Know Your Customer Awareness
To reach your goal, the home page has to be an authority on your product. But more importantly, it needs to be an authority on how much the reader already knows about the product. No one wants to read something they don't understand, but they'll also hate something they already know.
There are a series of established guidelines through which you can measure demographics' awareness. As Copyblogger's Brian Clarke summarizes it, the terms are: Completely Unaware, referring to those who don't even know they have a problem; Problem-Aware, referring to those who have a problem, but don't realize what the answer could be; Solution-Aware, referring to those who want a specific answer, but don't know you have it; Product-Aware, referring to those who know what is being sold, but don't know if they need it; Most Aware, referring to those who know what your product accomplishes and only need to hear the details of their commitment.
If you can narrow your prospective customer's awareness to one of these, you'll know the exact information necessary to take them from their current state to knowing they need to have your product.
Incorporate Customer Feedback
Startup consultant Sujan Patel increased his site conversions by over 30% after spending just two weeks as a customer support agent. He asked authentic questions regarding what they needed and disliked about the service, remained open to their honest criticism, and then targeted their problems with Facebook ads addressing each one. In other words, he let his customers write his copy.
When you listen to your users' comments and criticism, you find out their motivations and awareness, and that's crucial data. You should always work to improve your home page copy.
Properly built, a home page will boost brand awareness, customer acquisition, and overall growth of a website. Does yours?
Keeping each of the above components in mind will result in streamlined copy targeted at your readers' needs and concerns. Write long, but stay interesting, actionable, and concise, and both your customers and Google's algorithm will love you.
Featured Image Attributed to Flickr User Yandle.
Images provided by John Doherty's report on The Kind of Content That Earns Links.