You put a lot of blood, sweat, and tears into your content, and it would be a shame not to reap its benefits.
Often it will serve you a lot more if you touch it up just a little. It's the low-hanging fruit that's often forgotten!
So let's set out to fix that. I'll explain how to optimize your existing content and raise its ROI, in three simple steps:
Catalog your content
Score your content
Improve your content
Step 1: Catalog Your Content
The first step to optimizing your content is to get a bird's-eye view of it.
Crawl your whole website with a tool like Screaming Frog or ContentKing (disclaimer: I work at ContentKing), export all the URLs, and drop them into a spreadsheet like this one.
Keep your keyword research handy: you'll need it in the next step, where you'll be scoring the content.
Step 2: Score Your Content
Fill your website's entire content into a spreadsheet. Now for each page fill in:
Your intended target audience.
The goal of your content.
Its stage in the sales funnel (pick from Awareness, Consideration, Conversion, Loyalty, or Advocacy).
The keyword(s) that you want it to rank for.
How happy you are with its:

Organic traffic and conversions (in the last 12 months).
Social traffic and conversions (in the last 12 months).
Usability (pick from Bad, Needs Work, or Good).
Those traffic and conversion numbers should be right there for you in your web analytics suite.
This can all take quite some time, so focus on the most important pages to tidy up first.
You'll soon vividly see how there's plenty to do!
Here are some things we see going wrong often:
Pages where the goal or audience aren't clear. If you don't even know who you wrote a page for and what you wanted to achieve with it, then how can you expect its content to do well?
Pages that have been optimized for too many keywords. These pages run in circles. Also, pages that weren't optimized for any keywords. These go nowhere at all!
Pages that are hyper-optimized to the point where humans can barely read them. Oops! 2006 called, and it wants its keyword-stuffed pages back.
Go and fill out the spreadsheet so you're thoroughly clear on what role each page plays within your website, and how it performs.
Step 3: Content Optimization
Your little "content inventory" has shown you which pages need your attention most. So let's get to work!
Bringing in More Organic Traffic Through On-Page Optimization
Increase the organic traffic driven by your existing content: integrate the right keywords and raise your click-through rate (CTR).
The Right Keywords for the Right Pages
It almost goes without saying, but let's stress it anyway:
If you don't incorporate the right keywords on the right pages, those pages will rank poorly for those keywords.
But how do you do that effectively to make the pages more findable?
Prioritize these elements:
Title: Embed your most important keywords at the start of your title, and aim for a title length of 30 to 60 characters (and 285 to 575 pixels).
Meta description: Incorporate significant keywords into the meta description. When people seek these keywords, they'll be bolded in the snippets. This makes your result more eye-catching, which leads in turn to more clicks. Keep your meta description length at 70 to 155 characters (and 430 to 920 pixels).
H1 heading and H2 heading(s): Place major keywords into these headings.
Body content: Make sure the keywords you want to rank for are in your body text. It's a no-brainer, but even experienced SEO experts forget this sometimes.
Internal links to pages: Build internal links from relevant pages on your site to the page in question, with important keywords as their anchor text.
Image optimization: Don't forget: images are content too. Be sure to incorporate your keywords in images' filenames, alt tags, and title tags.
Important: Be sure to use both the singular and plural forms of your keywords. Don't be afraid to use related words and synonyms on the same page. That's normal, so search engines expect to see it.
An example of BAD body content:
Car insurance New York
Are you looking for car insurance New York? Don't look any further! Insurance provider X can offers the best car insurance New York against the best car insurance New York rates.
Request a quote for car insurance New York
Want to know more? Feel free to request a quote for car insurance New York
Don't force keywords in! If incorporating (too many) keywords hurts readability, then always choose the user over the search engine.
Improve CTR
Your pages rank well in organic search results, but you're getting a low CTR. You've already put in all the effort needed for ranking well, but now you're not reaping the benefits.
It's crazy that we spend so much time crafting the perfect PPC copy, but we don't think nearly as much about our titles and meta descriptions.
Follow these best practices for higher CTRs:
Experiment with the title and meta description: Are they too long, or too short? Do their keywords fit in well? Are they easy to read? Do they have a clear call to action?
Stand out: Make sure you stick out among your competition. Think outside the box and use structured markup – such as reviews. Google shows stars for pages with reviews. That's a major differentiator: it makes you look different and better!
Google's Featured Snippets: Many users send Google a literal question. If your content answers that question, then Google may try to answer the question directly from the search engine results page – all the way up at the top of the page. Example: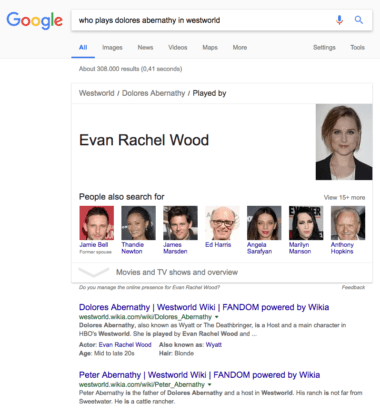 More Social Media Traffic
Do you know how your pages look when they're shared on social media? Most people don't, and they also don't know they can influence their page's appearance on social media platforms. This is great news for you: it's a way to get ahead of the competition.
How do you do this? Use Open Graph (for Facebook and LinkedIn) and Twitter Cards (for Twitter).
This looks pretty sweet, eh?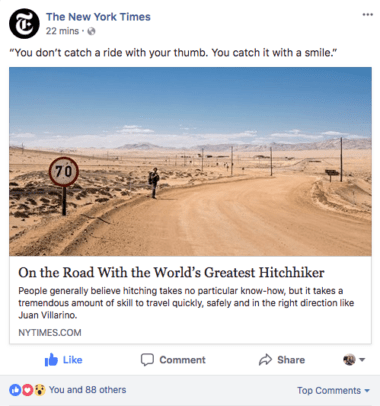 To stand out on Facebook and Twitter, pay close attention to three things:
Title: Make sure it's catchy, and experiment with capitalizing each word, like in the above example. Keep your title under 80 characters. (For Twitter, the magic number is 55.)
Description: Write one that keeps 'em reading. Keep it under 200 characters on Facebook, and under 130 characters on Twitter.
Images: Pick eye-catching images. Experiment and research to find what works best for you.
The great part is that Open Graph and Twitter Cards are supported by many content management systems.
Many SEO plugins already support them, too – adding them is as easy as filling in a title and a meta description.
It's annoying to manually check whether you filled in your Open Graph and Twitter Card data correctly, so automating this is a huge timesaver.
Better Usability
Search engines will never buy from you. Users will, so focus on users. Make sure they leave your site with a smile.
Answer the Search Query
Does your page actually answer your audience's search query? Search engine users are often seeking the answer to a specific question. If your page doesn't answer it (fast), they'll hit the "Back" button and check a different site.
Clear your biases, check your page, and verify that it answers a typical visitor's search query quickly and simply. If it doesn't, adjust the page. If it does, then see if you can make it even more useful for users through any of the content ideas below:
Infographics
Videos
Frequently asked questions
Reviews
Links to external websites with more background information
Prune Your Content
Sometimes less is more. This is true for content, too.
Deflating bloated content is called "content pruning". The idea is that removing distracting and irrelevant content increases focus and readability.
Keep the user in mind, and prune away!
Rewrite & Update Your Content
Rewriting and updating your content will bring you great value. Think about important trends and developments that may obsolete your content. Then rewrite and update it to preserve and increase its value over time. This also gives you a good reason to promote it again!
Take this example: in The Netherlands, the minimum wage is adjusted twice a year, on January 1 and July 1.
How valuable is your old content about the minimum wage after it's been adjusted? Minimally valuable! So slate that content for two updates a year and put them on your editorial calendar so that you don't forget.
Also, take these updates as opportunities to re-evaluate the content. For example, you might think about adding a calculator that factors in age and converts the minimum gross wage to net wage. Wouldn't that make your wage page more valuable?
Be Readable & Inviting
Imagine this situation: you're seeking something on Google, you click a search result, and the next thing you know, you're squinting at a huge chunk of text, with no paragraphs, headings, or images. Would you want to read that, or would you quickly jump ship and go to some other result?
Prevent this reaction by:
Applying a visual hierarchy within the content using (sub) headings. A lot of users scan content, to find the section they care about. Having headings supports that.
Forming separate paragraphs to make the text more readable.
Supporting your text visually. Use pictures and videos wherever you can, to make your content appealing and your point convincing.
Making sure that your website is mobile-friendly.
Conclusion
It's an absolute waste of good content to let it sit with low ROI. With a little effort, you can turn it around and have it work for you.
Optimizing your content from the SEO, social, and usability standpoints lets you get a lot more out of it. That's the part that can be fully controlled.
Promoting your content plays a key role in its success. When there's buzz about your content, that helps immensely with getting links to it from other websites and building that content's audience on social media, too.
Optimize. Analyze. Repeat.
Optimizing and promoting your content is never just "done."
More Content Marketing Resources:
---
Image Credits
Screenshots taken by author, June 2018