This is a sponsored post written by Internetum. The opinions expressed in this article are the sponsor's own.
The search engine optimization (SEO) market changes all the time. As search engines implement smarter algorithms, it's not enough to produce low-quality content in the hope that it sways crawlers to your favor.
In fact, SEO now requires human touch, as well as more financial and creative resources than ever before.
Fortunately, SEO experts can take advantage of many different tools that are created precisely with these new requirements in mind. One of them is a content marketing platform called marketin9 that helps marketers publish sponsored articles on websites.
But let's see what content marketing can do for SEO first.
Content Marketing – the New SEO?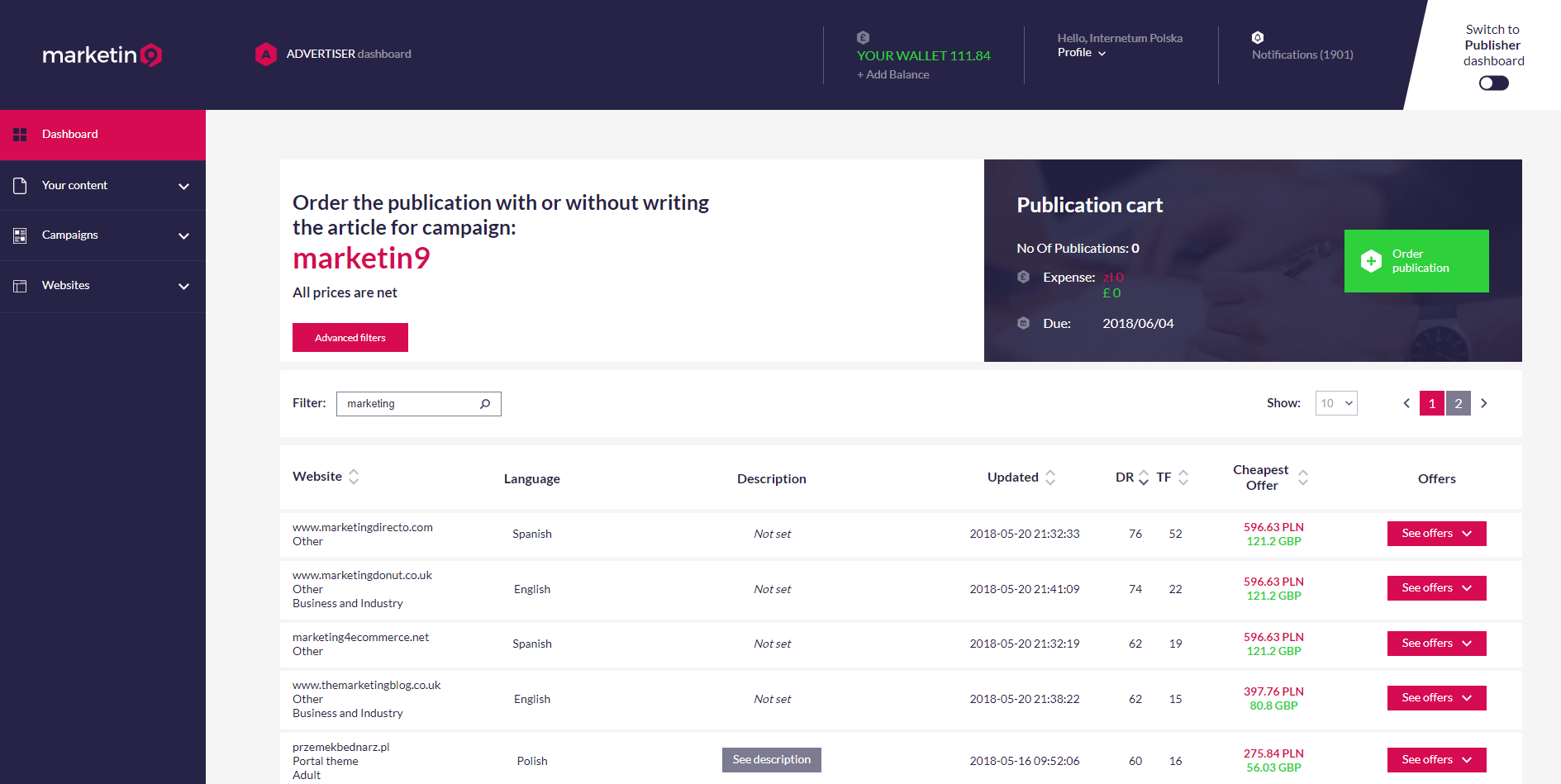 If we looked back to what content marketing meant five years ago, it was a method used to acquire valuable links that only the most significant brands could use.
Companies that had marketing budgets counting in millions invested in promotional campaigns to gain links from websites that were way beyond the financial reach of small and mid-sized businesses.
Your average SEO specialist executing a campaign could only dream about such a sophisticated link building strategy.
The situation has changed radically during the last few years, primarily due to the increased competition among smaller news websites or thematic blogs that strive to attract advertisers with competitive pricing.
Marketin9 is a platform that helps advertisers make sense of all these offers and choose the best value for money when it comes to publishing sponsored content.
It allows advertisers to get discounted pricing when placing a larger order from specific publishers. That way the cost of publishing a sponsored article is usually 20 percent (and up to 50 percent) lower than if the advertiser contacted such a website directly.
How Do Links Obtained from Sponsored Articles Help to Improve Ranking?
SEO experts agree that content marketing is of great value to link building.
However, the final results of publishing sponsored articles on websites and portals are influenced by many factors such as:
The current link profile of the site.
The authority of the site.
Whether the website publisher allows us to include keywords in the anchor text.
Whether the links obtained from articles are nofollowed.
Here are two case studies that show the potential of content marketing for SEO.
Case Study 1: Producer of Tent Halls
Last year, we were approached by a tent halls producer who had spent six months trying to get his website back to the first page of search results, unsuccessfully. Our analysis found that his website's link profile was built with links from sites with very low authority.
Timing was essential for our client – the high season in his industry was about to begin. Having his website located lower than the first 10 results displayed on the search engine page meant that he was going to lose out on customers and revenue.
We decided to focus on developing 20 sponsored content pieces on websites with the highest possible authority in the country. We managed to secure these publications and links within seven days from the beginning our cooperation.
As a result, the client's website went up to the first page of search results in just two weeks from publication. Following three months of publishing sponsored articles, the site reached the top 3 in search results for the most crucial phrase in the industry, ensuring optimal exposure of our client's website.
Case Study 2: Insurance Company
Insurance is one of the most competitive industries when it comes to SEO.
Our client's internal marketing department decided to test marketin9 for establishing a long-term publication plan of sponsored articles for one of their brands. Their goal was increasing the volume of traffic from organic search results and subsequently the conversion rate of the website.
Within 12 months we created 300 content pieces on websites with high authority. Each month we noticed an increase not only in the website's position but also traffic.
If you're curious to learn how our SEO activities increased the traffic on the website, read on.
In general, publications can generate traffic to a website – provided that the content is of high quality and dedicated to solving a problem of the website's audience.
By developing content that addresses the queries of customers and offers them quality answers and solutions, we not only boost the website's rank in search engine results, but also create new revenue streams, attract new audiences, and engage people to stay longer on the site.
Have a look below to see how the website's rank and traffic have changed over that period of time: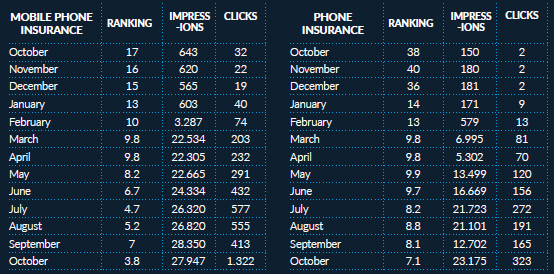 Finally, at the end of the year, we achieved ROI at the smashing level of 255 percent.
Take Advantage of Content Marketing
Content marketing is about creating content that audiences engage with and share, boosting a website's online exposure. Moreover, quality content that provides real value to users generates traffic to your site.
Then there's the SEO component of content marketing. Search engines that see the links between the website and authority sources are more likely to offer that website a higher position in their rankings.
It's a simple calculation – investing in publications on high-authority websites and portals with followed links is a surefire way to increase the rank of our site in search engine results. The authority of publishers is, in a way, transferred to our website, at the same time bringing us plenty of valuable traffic.
Still, securing publications of that sort can still be challenging to marketers.
Marketin9 was designed to answer this need by connecting marketers to publishers easily. You can take advantage of the platform to:
Order content.
Get in touch with publishers of thousands of websites in over a dozen countries.
Filter them by parameters, categories, or topics.
Quickly order the publications they need.
You can also monitor publication status and control the budget being spent on content marketing.
Launching a content marketing campaign has never been so easy.
So take advantage of marketin9 now!
---
Image Credits
Featured Image: Image by Internetum. Used with permission.
In-Post Photos: Images by Internetum. Used with permission.