I got a sneak peek at the new Research Central tools in Raven. Still in beta, but the info available is already outstanding. Research Central offers data from MajesticSEO, SEMRush and SEOmoz, all via API access.
Manage your website SEO and Social Media – Free 30 Day Trial
What is really nice is that a lot of data I need is all in one spot. I can get a great overview of data quickly and I can do a lot of research on competitors fast. Research Central offers the following categories of data:
Summary
Keywords
Competitors
Pages
Backlinks
Neighborhood
Compare
Screen Shots Below- Click for Larger View
I am going to show you some screens shots from the pages in Research Central. Please remember this in beta at the moment. Some things may change, but you will see all the data you will have access to quickly. I chose a very large news website to test out all but one of these tools. I have to say I am a bit jealous of the site metrics for the news site.
Remember you can click these images for a larger view.
Raven's Research Central Summary
Authority, Social Metrics and Site Metrics are available quickly and the layout is easy to scan for data. You also have keyword metrics, which for this site is amazing. The total links chart by year and month is fantastic. You can actually go back and see which strategies worked or didn't work and how much you have grown. You can also see this for competitors and with proper research find out which marketing strategies have worked for them in the past/present.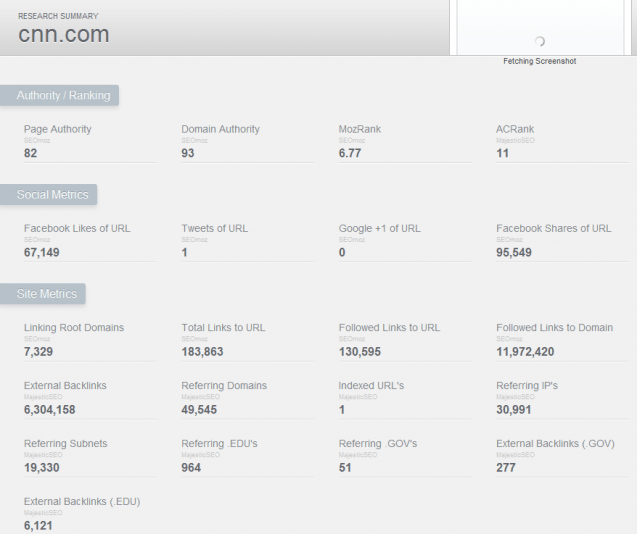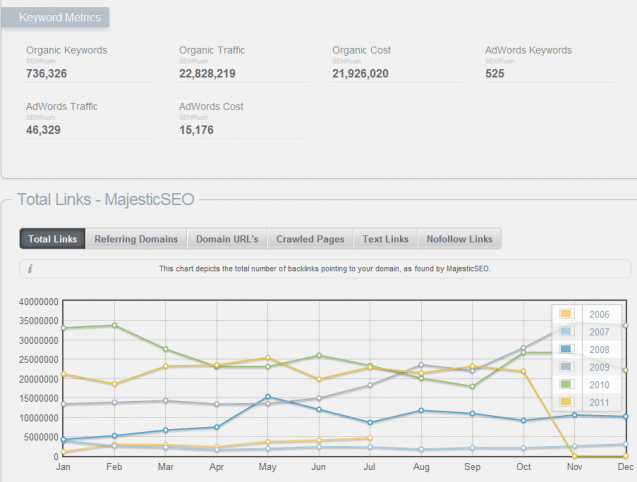 Keywords
I tried a different search for this one, Pizza Hut. I have some opinions, do you? As you can see from the pic below, with Raven and Research Central you will be able to easily organize and track keywords for yourself, clients and competitors. From this page you can add a word to keyword tracker, enable and disable keyword tracking, start tracking a keyword, view linking URL's and export to CSV.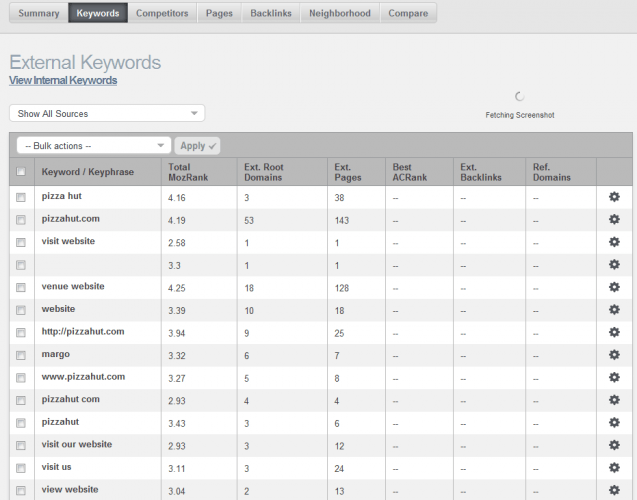 Competitors
This shows a breakdown of competitors and when you run this on a smaller site like a client's, a client's competitor or your own the data is very, very useful. From this page you can start or stop tracking competitors, add or remove from your competitor manager, export to CSV and view common keywords.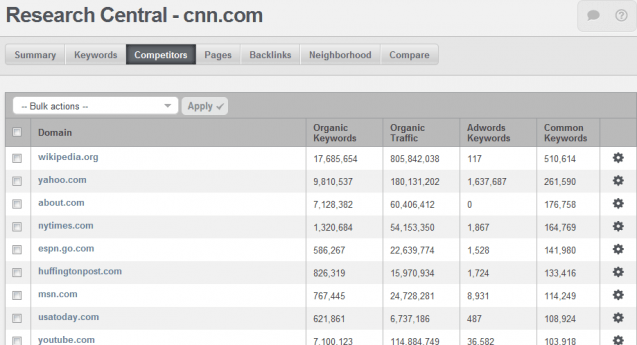 Pages
Pages gives you a break down of data for authority and links. Pay attention to pages with authority and try to make use of them, whether it is your site or a page on another site. This information is fantastic back up data, especially if you need to begin, maintain and plan campaigns for clients. You can add pages to your link manager, create a new task or export to CSV.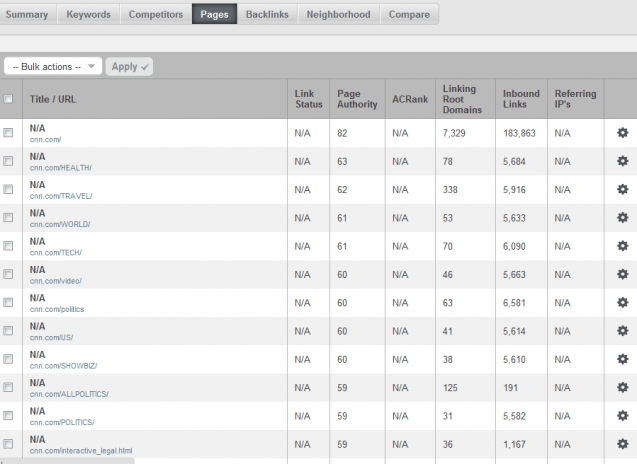 Backlinks
The backlink data is great. See who is linking to you or a competitor, the authority of the page's link and the keywords used. You can get lost in backlinks if you are nerd; kind of like playing in a pile of leaves for kids :-). From this page you can enable or disable keyword tracking , add to or remove from your keyword manager, export to CSV and view linking URLs.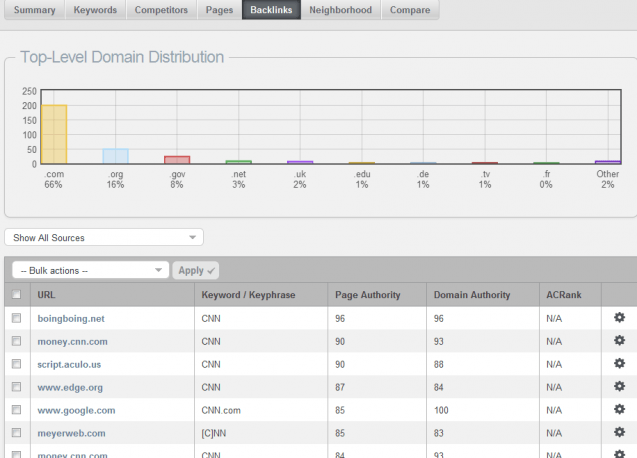 Neighborhood
I think the best way to explain Neighborhood is by quoting Jon Henshaw," The "Neighborhood" section looks at the IP's C-class to discover other sites that are hosted on the same C-class and/or same IP address. (ex. 123.123.123.xxx). It's uses include:
Seeing if your site, a competitor's site or a link building prospect is on a spammy network or is sharing an IP with other sites.
Using as competitive intelligence, by discovering sites you didn't know were affiliated with another site."
If you are a business owner, webmaster or even in advertising this data should be monitored.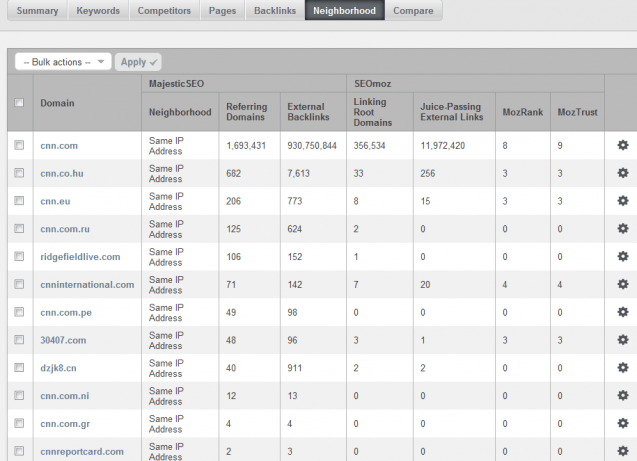 Compare
I LOVE this section. First screen shot, you can add multiple URL's and compare sites. You can see link data for the last 5 years for each site. Below you will see CNN (yellow) and FoxNews (blue) in the "Total Links" graph for 2011.
The second screen shot is Metrics Comparisons – URL specific. This area also shows you Metric Comparisons subdomain specific and also root domain specific.
I am not ashamed to say I love this type of data as much as Annie Cushing loves analytics. It just makes me happy to look at. This data tells you so much about what you need to be doing for your clients, or yourself, to at the very least stay in the game with competitors.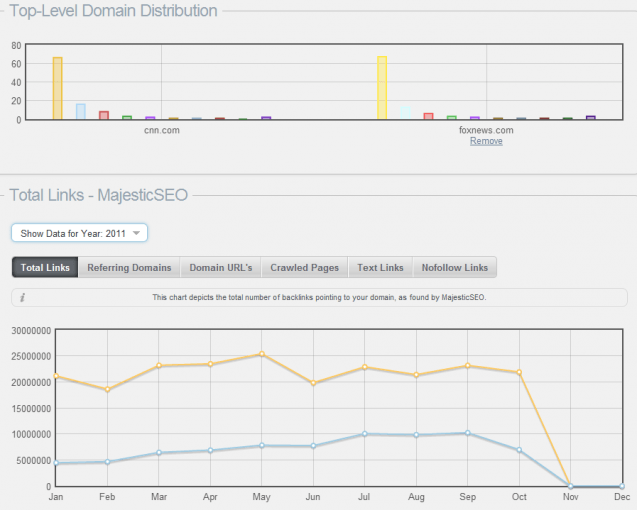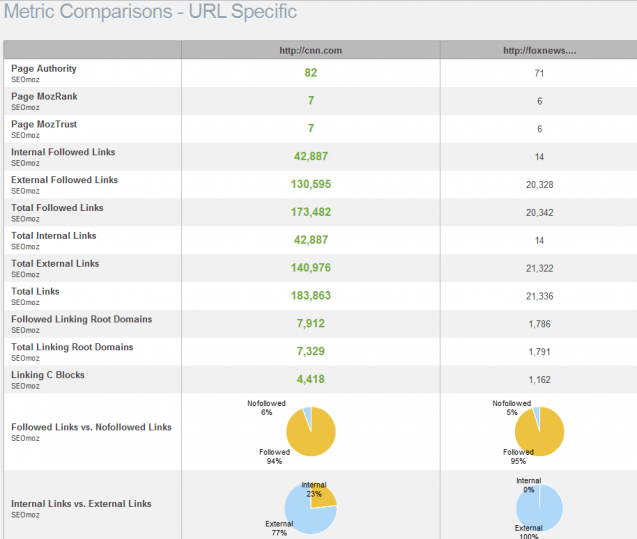 Conclusion
Raven Tools has already made our lives easier. Now they have added a component that will give us a lot of data in one place and fast. I love Raven because it helps my company stay organized and allows us to monitor and maintain multiple campaigns easily. The addition of Research Central is like icing on the cake. If you are not a Raven subscriber already check out their free trial.
I want to thank the team at Raven for allowing me to see and play with Research Central.