This is a sponsored post written by Combin via Syndicate Ads. The opinions expressed in this article are the sponsor's own.
Instagram has earned its place in the forefront of social media marketing with its eye-popping user growth statistics and fun, user-friendly posting and interaction options. These are among the reasons why many brands and public personalities rely heavily (and some even exclusively) on Instagram to promote their products and services.
How exactly do brands expand their Instagram following?
Basically, they analyze their audience, determine their target, and aim all actions to draw the attention of Instagram users falling into the category.
This may sound easy, but once you get your hands on it, it becomes obvious how confusing and time-consuming user search and attraction really is.
Many brands resort to using specialized applications for help – Combin is a great example.
Combin is an Instagram growth tool that provides smart search ability – automating following, unfollowing, liking and commenting actions – as well as scheduling them according to Instagram's daily action limits.
Follow these five strategies if you really want to grow your Instagram audience with the help of Combin.
1. Search Your Target Audience by Hashtags
Compile Instagram hashtags relevant to what you do and represent.
Launch Combin, click Add New Search, pick Posts Search, and type in the hashtags.
Specify preferable search results number and the date of posting, then click Find.
Sort the received search results by date or number of likes and comments to interact with the newest and hottest posts first.
Filter out already liked and commented posts, as well as posts published by accounts from your Instagram following and followers.
Pick posts you want to like or comment by clicking on them. Pick all the posts by clicking Select all, then choose an action – either follow the author, like, or comment on the post itself.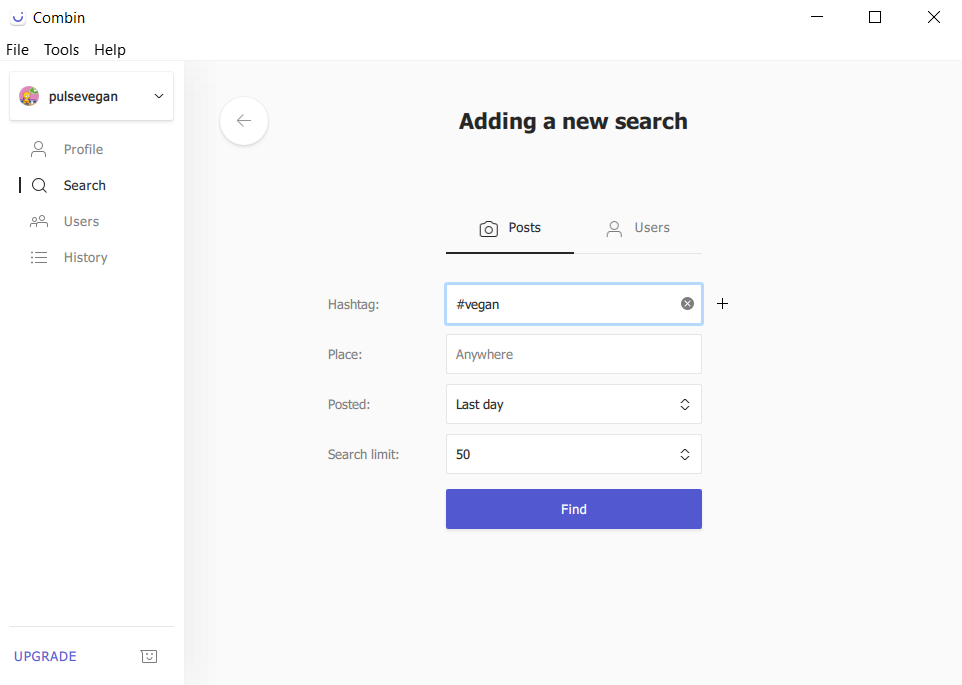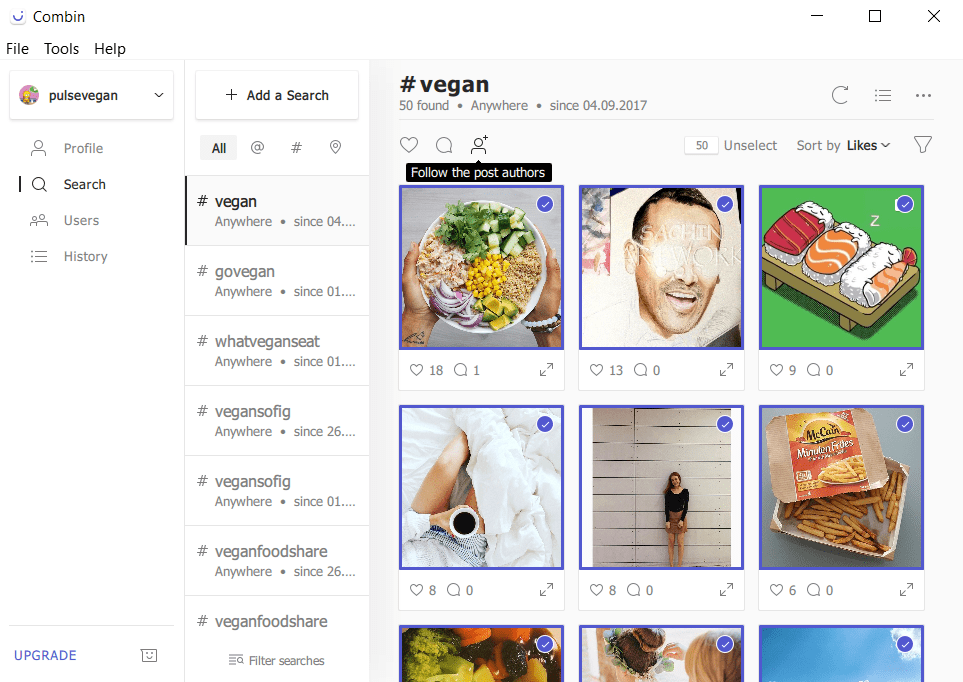 2. Search Your Target Audience by Locations and Events
If you know of any place or event that was attended by people potentially interested in your product or content, it doubles your chances of finding lots of new possible followers and clients.
Create new posts search and type in location name into the Place field.
Specify the date of publishing.
Filter and sort the results to your convenience.
Perform liking, commenting, and following actions to draw attention to your Instagram account.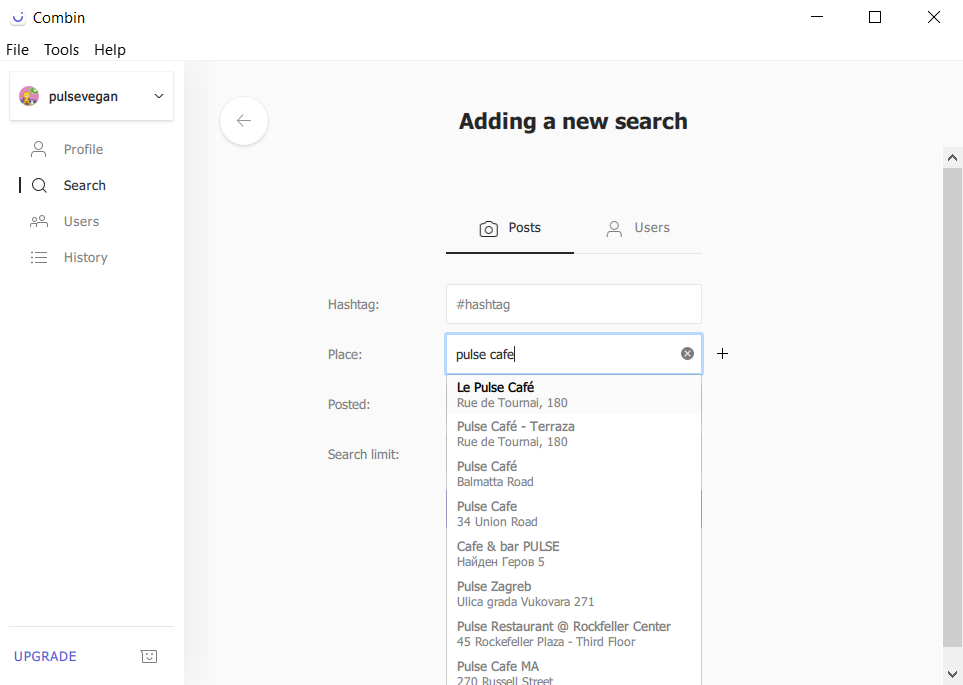 3. Search Your Target Audience Among Followers and Commenters of Other Accounts
Click Add New Search and pick User search. Here you can specify searching by either the followers of particular Instagram accounts or by its commenters.
Type in the Instagram username of accounts similar to yours or the username of your competitors into the Account field.
Specify the number of results and the last time the followers/commenters were active on Instagram.
Accounts from the received search results are your potential followers. Follow them, like, and comment on their posts to make them a part of your community.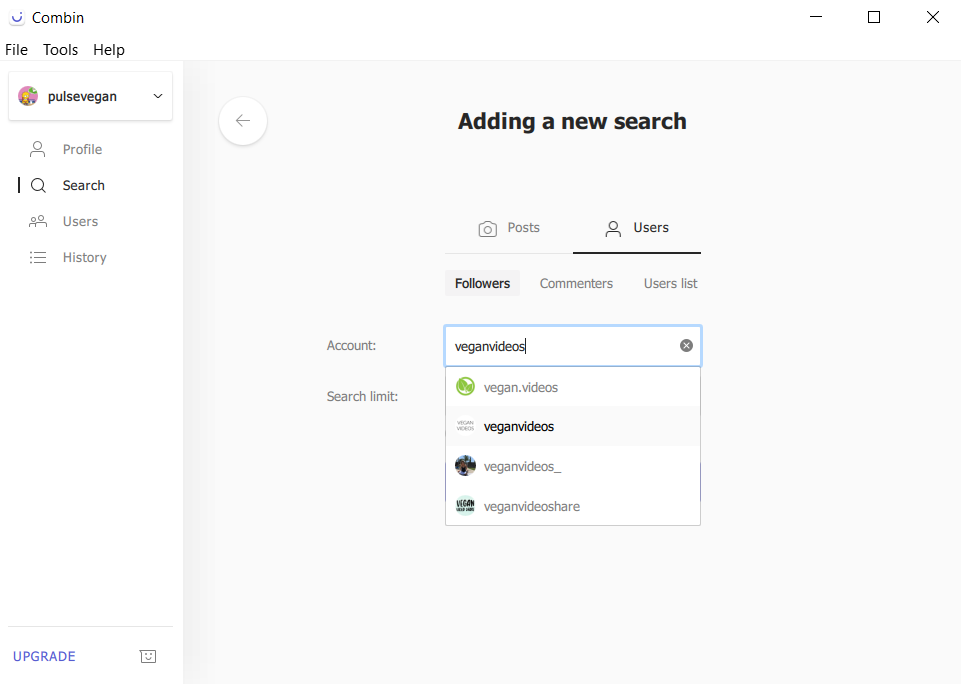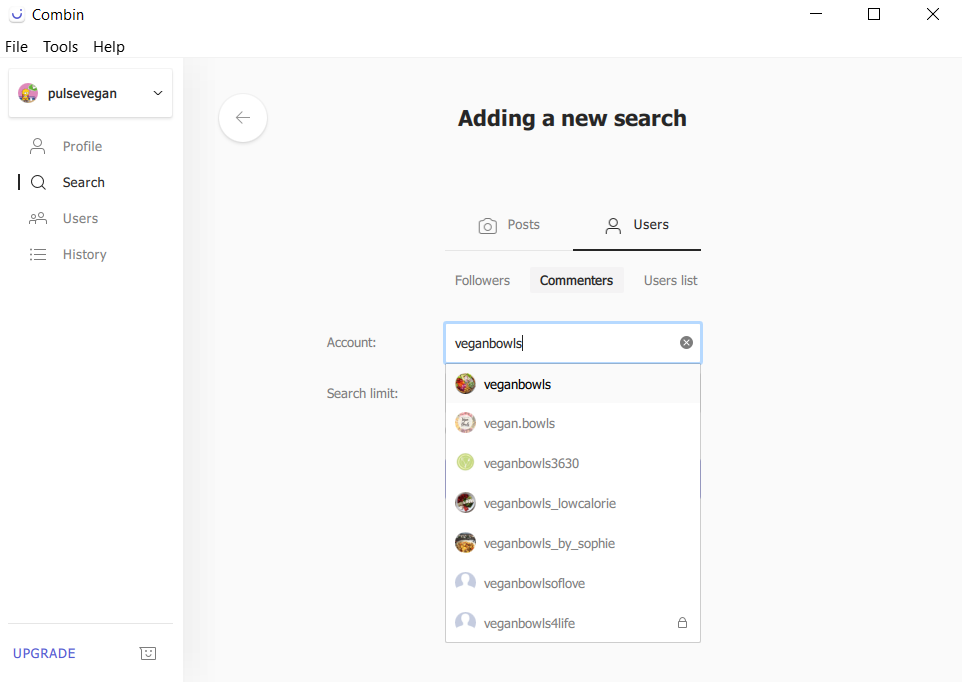 4. Draw Attention to Your Profile by Interacting with Found Instagram Posts and Accounts
Searching is an integral part, but communicating with people you've found is just as important in growing your Instagram audience.
Combin allows interacting with search results through the following ways:
Leaving single and mass likes to posts: Pick one or several particular accounts or posts Combin has found by clicking on them, then click the like button at the top of the application window. Mass like posts by clicking Select All and then Like button.
Leaving single comments to posts: Pick one or several found accounts/posts, click the Comment icon at the top of the application window. Type in the comment you'd like to leave for the selected accounts/posts and confirm the action.
Leaving mass comments by selecting all results, hitting the Comment button, and typing in the text of the comment: It's recommended to not leave too many repeated comments as it could look spammy and won't be as effective in audience growth. Create a number of comment templates by pushing plus button when adding a comment. Combin will randomly leave the comments to the chosen posts that would look a lot more realistic.
Following the authors of found posts or found accounts themselves: Do this by picking one, several, or all search results and clicking the Follow button.
5. Find Influencers and Promote Your Account with Their Help
Influencers work hard on their reputation. Their involvement in the marketing of your Instagram account will step up the game a few noticeable notches.
Find influencers using the Combin Search tab the following ways:
Pick User search, and type in your competitor's username. Sort the received search results by the number of followers.
Pick Posts search, type in account hashtags/locations relevant to you. Sort the results by the number of likes/comments, then look up the posts uploaders' profiles.
Sort the results in both cases by the number of followers, likes, or comments. Instagram accounts appearing at the very top after sorting are your potential influencers – check their profiles and contact for a possible partnership on advertising your Instagram account.
---
Image Credits
Featured Image: Image by Combin. Used with permission.
In-post Images: Images by Combin. Used with permission.