The North American cannabis industry is expected to reach $16 billion by the end of 2019.
CBD is one of the most profitable product categories in the industry and is projected to bring in total revenue of $1.6 billion in the U.S. within the next couple of years.
As one of the fastest-growing trends in consumer goods, it's difficult to ignore the growing presence of cannabidiol (CBD).
Despite this, almost all major online advertising channels including Facebook, Instagram, Google, Amazon, and Snapchat don't allow brands to promote CBD products. Thus, CBD companies need to find other ways to generate awareness and build their brands online.
Facebook has recently relaxed their policies somewhat, but brands are still unable to advertise products or posts referencing CBD on their site.
Here at Hallam, we've been approached to develop market penetration strategies for a number of CBD clients. These often encompass creative SEO strategies to target long-tail searches, alongside content and PR campaigns designed to gain brand recognition in what's becoming a rapidly saturated market.
Doubling down on education and thought leadership content can also be effective as an entry point since consumers are actively searching for information on what's still a relatively new topic to the general public.
While they are certainly worth investing time in, relying purely on organic and earned media strategies will take time to generate traction for a new brand.
Like any other industry, CBD brands should still have an eye on paid media as an acquisition strategy.
But how can you advertise CBD brands despite the current restrictions on most major ad platforms?
1. Display Advertising
Just because Google has barred CBD ads doesn't mean that display advertising isn't possible.
Outside of the Google Display Network, there is a range of platforms available to advertisers looking to access display inventory on websites that will allow CBD-related ads to run on their sites.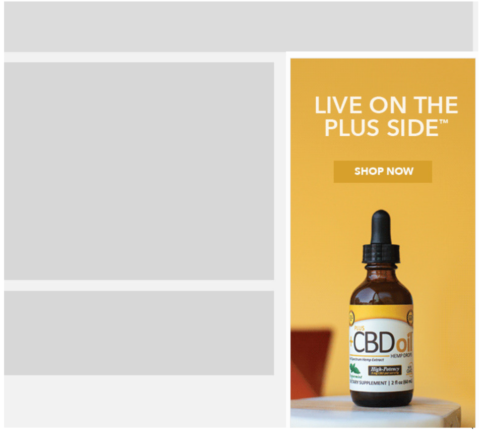 One platform clearly capitalizing on the current restrictions placed on CBD ads is FieldTest.
The platform has struck deals with premium publishers across the web and made them available to CBD advertisers through their platform.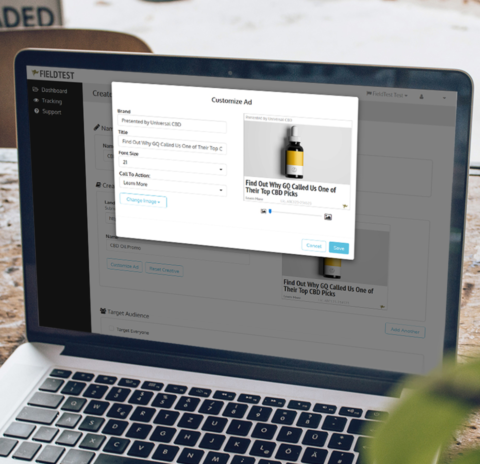 From syndicated content to high-end ad placements, using platforms like FieldTest can prove a great way of gaining brand awareness and traffic via premium inventory outside of the Google Display Network.
2. Influencer Marketing
Influencer marketing allows CBD brands to bypass advertising restrictions in place on popular platforms such as Facebook and Instagram by tapping directly into the organic following of relevant influencers on each platform.
Partnering with influencers enables CBD brands to reach a wider audience through organic social posts by tapping into individuals who already have a large community of followers.
Choosing the right influencers is essential to ensure a strong brand fit.
It's also important to keep in mind that sometimes influencers with smaller audiences can actually be better options for brands than influencers with larger reach but less engagement in the CBD niche.
3. Native Advertising
Native advertising is classified as a type of digital ad placed on a publication where the advertisement does not disrupt the user experience. Here, ads are embedded in the content or in some cases, are the content.
This strategy usually revolves around placing sponsored content on third-party websites, billed on a CPC or a CPM basis.
Many native platforms have restrictions on the type of content that's able to be promoted. That said, there are strategies available to navigate the restrictive policies of many native platforms as explained in this post on the native platform StackAdapt.
By placing sponsored content into publications like Forbes, for example, with millions of monthly active users, you can leverage the scale of their audience to grow awareness of your brand.
4. Affiliate Marketing
Because affiliate fees are based on performance (% commission based on sales of your products), working with affiliates is a low-risk method of generating qualified traffic.
There are already a number of CBD companies signed up to major affiliate networks such as affiliate window, while other trusted affiliate networks include ShareASale, CannAffiliate and Clickbank.
This is a strategy available to any CBD brands looking to get support in driving online sales for an agreed commission.
5. Podcast Ads
Podcast ads aren't widely used as part of a digital strategy but they are being used by CBD companies to boost brand awareness considering other advertising restrictions currently in place.
Platforms such as Midroll exist purely as a go-between for Podcast producers and advertisers, enabling CBD brands to deliver ads in partnership with podcasts they feel will attract relevant listeners.
Podcast advertising spend is expected to double to $1.6 billion by 2022.
76% of U.K. podcast listeners say they have acted on a podcast advert or sponsorship message.
44% of all monthly podcast subscribers are aged between 18-44, perfect for brands looking to reach a younger audience.
CBD advertisers can expect to pay $18-50 per thousand impressions (CPM) for podcast ads. These ads are measured (and billed) by downloads: how many times an episode that contains an ad is downloaded.
Podcast advertising is certainly a unique approach to finding a highly engaged audience. It should be considered by CBD brands who aren't currently able to invest in brand awareness through mainstream digital advertising channels.
Conclusion
Despite extremely limiting restrictions on traditional advertising platforms, there is a range of alternative options available to CBD brands looking to invest in paid acquisition.
Indeed, it's highly likely Google, Facebook and other major players will lift their restrictions on CBD ads in the year ahead.
For now, CBD brands can also invest in building a solid organic foundation through informational content and creative PR activity to:
Educate consumers with thought leadership content.
Leverage social media to build an engaged community around your brand before scaling any paid media investment.
The CBD space is becoming more saturated by the day, so it's important to get your ducks in a row before unleashing your advertising budget.
Ensure you're able to differentiate your brand and clearly articulate through the power of persuasion why potential customers should choose you over the multitude of alternative CBD brands already on the market.
More Resources:
---
Image Credits
All screenshots taken by author, November 2019