If you had to guess which search engine would provide the best experience when searching for information related to the 2014 Winter Olympics, very few people would have thought Bing. But here they are just in time for the opening ceremonies this weekend, Bing is getting into the Olympic spirit with the launch of new search features designed specifically for the event.
When searching for specific sports or athletes on Bing, users will be treated to a rich search experience featuring full schedules and a Winter Olympic Medal Tally.
For example searching for figure skating, the first of the Olympic sports taking place this weekend, brings up a result that looks like this: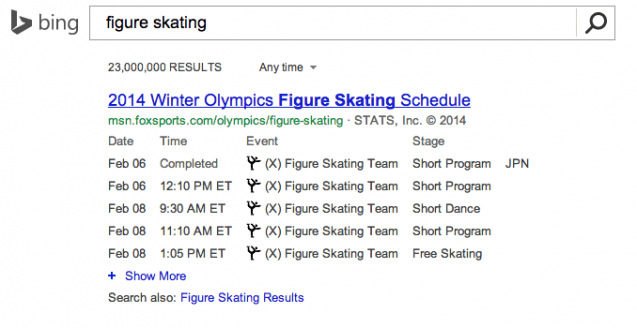 The same type of result can be repeated to find the schedule of any of your favorite Olympic sports. To get all the information you need to know about a specific athlete, searching for them will bring up Bing's timeline feature on the right sidebar as well as that particular athlete's specific schedule for the Winter Olympics.
To keep track of your country's gold medal count, because let's face it that's what the Olympics are all about, when medals start accumulating you can search for "Olympic Medal Tally" and see a tracker at the top of the page that looks like this: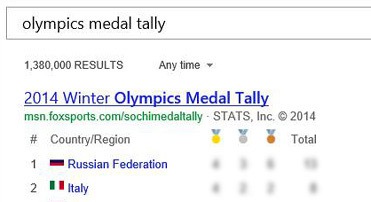 Other features Bing is offering include a desktop app for Windows users and a video section dedicated to reliving past Winter Olympics moments. To learn more about these features, visit Bing's Explore Winter Games page.