Bing Ads blocked 130 million ads and banned 175,000 advertisers last year. That's according to Bing Ads' Ad Quality in Review 2016 report.
Interestingly, Bing Ads rejected 120 million less ads in 2016 than in 2015, when Bing Ads purged 250 million ads. However, both figures are a far cry from how many ads Google blocked in 2016 – 1.7 billion.
Bing Ads said the ads were rejected for "direct policy compliance issues or intention to mislead users." According to the Bing Ads report:
"We introduced new policy around software download advertising that reduced unwanted and potentially malicious ads for many top free software programs. We ramped up systems that detect browser hijacking ads, phishing attempts, scareware ads, ads targeting the most common sites on the internet, and ads with multimedia content. We also enforced policies directed towards gender determination ads to comply with country specific regulations."
Bing Ads' 2016 Bad Ads Report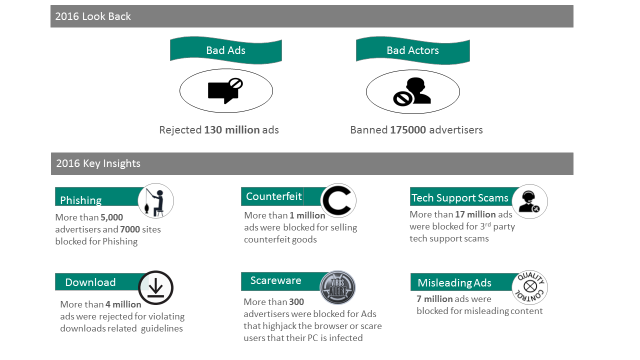 These were among the "bad actors" Bing Ads eliminated in 2016:
Phishing: More than 5,000 advertisers and 7,000 sites were blocked for phishing. In 2015, Bing Ads blocked 2,000 advertisers.
Counterfeit: More than 1 million ads were blocked for selling counterfeit goods. In 2015, 700,000 ads were blocked.
Tech Support Scams: More than 17 million ads were blocked for third-party tech support scams. In 2015, 15 million ads and 25,000 sites were blocked.
Download: More than 4 million ads were rejected for violating download-related guidelines.
Scareware: More than 300 advertisers were blocked for ads that highjack the browser or scare users that their PC is infected.
Misleading Ads: 7 million ads were blocked for misleading content. This is a huge drop compared to 2015, when Bing rejected 30 million ads.
Bing noted that "if one person took a minute to find and take down a bad ad or actor, it would take them nearly 500 years to remove the same number of bad ads or actors found by our automated methods in 2016."
Image Credits
Featured Image: Depositphotos (modified by author)
Article image: Bing Ads