Bing Ads is giving advertisers the ability to set their own specific targets and track progress toward those targets.
Using Bing's new AI-powered 'Performance Targets' advertisers can set targets on groups of campaigns and monitor performance in the web-based dashboard.
Performance Targets allow advertisers to do the following:
Set weekly or monthly targets for spend, clicks, and cost per click (CPC) for groups of campaigns.
See a forecast of the campaign performance towards those targets.
Check whether you're on track by comparing your targets to actual and forecast performance trends.
Understand how each of your campaigns contributes to your performance targets.
View history of your performance targets and period-over-period trends.
How to Set Performance Targets in Bing Ads
Advertisers can set their own Performance Targets by following these steps:
Navigate to the Performance Targets link in the left navigation pane.
Click on "Create performance target."
Enter a name for the Performance Target
Select a group of campaigns to monitor.
Choose a time period.
Create up to three target metrics to track.
As shown in the example below, Bing's campaign selector shows the campaign names, spend, clicks, average CPC and labels.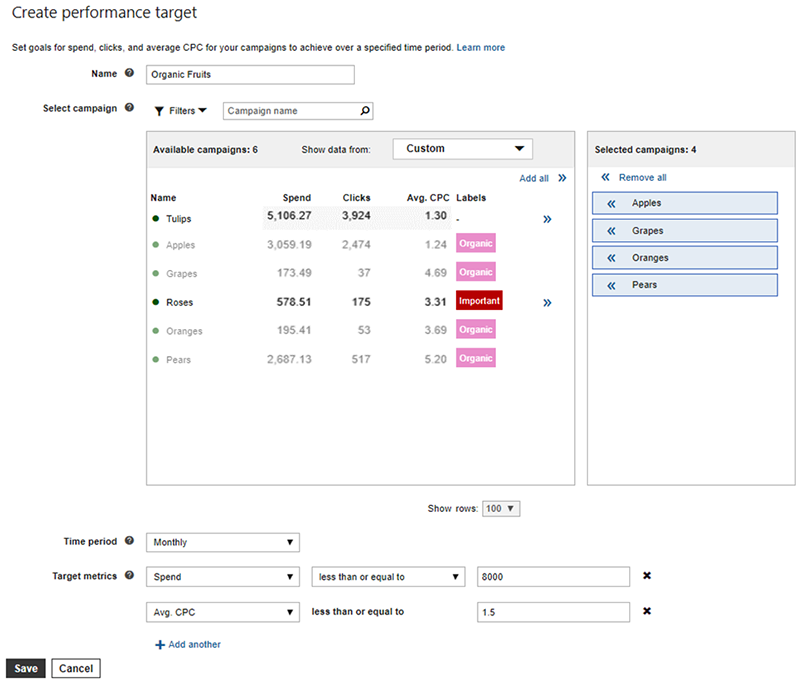 Advertisers can sort and filter down the list of campaigns and easily select a set of campaigns to track.
When performance targets are set, advertisers can review the actual and forecasted performance toward the targets.
Bing recommends checking on performance targets often. They will continuously update according to adjustments made to campaigns, such as adding keywords or updating bids and budgets.