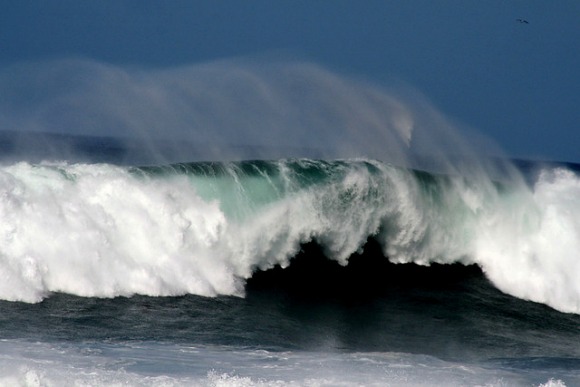 Ever taken in a mouthful of water by accident?
Maybe you fell off the dock at a lake or didn't jump high enough to get over a big wave at the beach…
…if you've ever wanted to breathe air and gotten nothing but water, you're vividly aware of the shear panic which grips your body.
We're not fish.
Our lungs were meant to breathe air and every molecule of our body knows it.
So we flail.
We gyrate.
We convulse.
We lurch.
We reach in hope of finding something to grab hold of. Some physical object that will help us break free… give us reprieve to clear our lungs and take in the oxygen our body craves.
The Content Ocean
In today's new media world, we're drowning in content.
Every day unending waves of content come rolling at us. Through social media, email, RSS feeds, podcasts, YouTube and this all in addition to the traditional media of TV, print, and radio.
We spend most of our day as content creators trying to jump over these waves of content… trying to avoid drowning in content,hopelessly flailing for a moment of freedom.
The Internet is a content ocean, beautiful and deadly.
5 Tools to Avoid Drowning in Content
Since content marketing went mainstream in 2012 we've been bombarded with more and more content every day. Every marketer wants their message in front of you and will use every method possible to do so.
Drowning in content can lead to burnout and even leads to writer's block.
Our brains need space to create our own content. If our heads' are filled with the thoughts of other people, where are we going to put those inspirational ideas that will ultimately grow our business?
Here are five free tools to better handle content consumption:
#1 Feedly
Feedly is an RSS reader that has drastically grown in popularity since the demise of Google Reader. It allows you to segment your RSS subscriptions into categories or by date and also provides several different viewing options. The customizable format lets you consume content the best way for you. For content curators, Feedly is integrated with BufferApp and has built in social sharing.
#2 Tagboard
Tagboard is the Internet's hub for hashtags. Tagboard searches multiple social media platforms including Twitter, Facebook, Instagram, Vine, and Google Plus, for hashtags and displays that content in one easy to consume dashboard. This makes finding great content and content creators as easy as searching your desired topic.
#3 Twitter Lists
Twitter Lists are an oldie but a goodie. Twitter allows us to create lists of users (up to 500 users per list). Using Twitter Lists to breakdown the people and brands you follow into categories is a great way to keep yourself from getting lost in the Twitter stream. Twitter Lists are also a great way to connect with other content creators and thought leaders in your industry.
#4 Google Plus Communities
Google Plus Communities are often built around specific topics, like this Content Marketing community, and make great places to find excellent topic specific content without being bombarded with messages you don't need. I won't go into all the ancillary benefits of Google Plus in this article, but Google Plus communities are something to look into.
#5 Pinterest
Pinterest, known for it's image sharing, can double as a fantastic content curation tool. The "PinBoards" format can help you to segment content you find online into topics easily. Then later, when you have time, return to your Pinterest pinboards and read that content in one place.
The Rub
The trick to NOT drowning in content is consuming content on your terms. All the tools and methods mentioned above work because you're consuming topic specific content when you have time to focus on it.
Our brains can only take in so much information at one time. This is why we segment content by topics using hashtags, groups, and communities.
Consume one topic of information at a time, on your schedule, using a tool you're comfortable with… and you'll always stay afloat.
Thank you and Google luck,