Do you come across any repetitious tasks or do the same things online? Would you like to get much more productive by automating what you can automate?
If "Yes" is your answer, then today's tool will turn a great help. iMacros is the FireFox addons that allows you to record and replay repetitious work. These "repetitious" tasks may include:
Submitting a similar form from website to website;
Accessing one and the same page daily;
Checking the same list of URLs daily;
Logging in to a number of websites (instead of accessing each one by one), etc
The tool is extremely easy to use and requires no advanced knowledge at all.
Let's Test It
First, let's try to automate one task and then quickly look at the available options.
Say, every morning you start the day by logging into Google Analytics to see traffic numbers of your favorite websites. It takes you quite a few clicks to access all the info you need. But now that you have iMacros installed, you'll see what you need in a matter of seconds. Let's automate:
1. Click "Record" in your iMacros sidebar ("Rec" tab):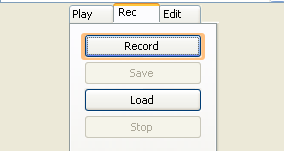 2. Go to https://www.google.com/analytics/reporting/ and select your most important website profile;
3. Open a new tab;
4. Repeat 2-3 until all the important website stats are open in new tabs in your FireFox;
5. Click "Stop"
6. Notice your new task in the tool sidebar (called #Current.imm):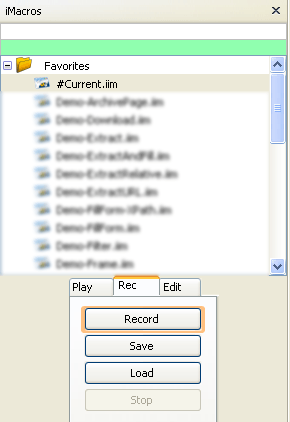 7. Give it a more descriptive name (e.g. GAdaily.imm):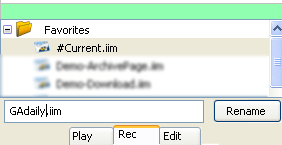 8. Click "Play" to test it. How awesome is that?
(Note: you can actually do with much fewer clicks by first creating the list of each profile direct URLs and then just opening each in new tabs while recording – there's no limit for optimization!)
Enjoy the features:
So let's list some features you should love:
Fill-in forms and manage passwords: Passwords are stored securely with 256-Bit AES encryption. Users memorize only one master password and iMacros remembers all the others.
Extract data: The iMacros EXTRACT command automatically reads data from a website and exports it to CSV files – the exact opposite of filling out forms.
Test a web page speed: The built-in STOPWATCH command captures precise web page response times.
Share your iMacros online: Right-click the macro to select "Run Everywhere" and embed the complete macro in a simple link. You can send the link to others, or embed it on your homepage, blog, or company intranet (e.g. Instead of telling your site visitors how to fill out a form, let iMacros do it for them).
Additional Info and Help
The tool has a great variety of various help pages, guides, support forums and even user-submitted video manuals. Below I am listing a few for you to get additional information: