This is a sponsored post written by AuthorityLabs. The opinions expressed in this article are the sponsor's own.
All businesses have a set of keywords they focus on when aiming for conversions and ROI. The keywords often involve a lot of time and investment for different areas of marketing, such as content, PPC, media, cross-market advertising, etc.—but is it working?
Where are You in the SERPs?
If a business is spending the time and money to push a specific set of keywords it is critical for them to know if they rank in the SERPs for those keywords, for both universal and local searches. If there is a lot of competition for a set of keywords, a business may not have a shot at ranking or, at least, they'll have to work hard to gain a spot on the first search results page for both desktop and mobile results.
It isn't feasible for a business to intensely focus on watching the SERPs on a daily basis to see where they rank for each keyword and note what has changed. This is where AuthorityLabs can help. With this tool you enter your keyword list and track rankings on Google, Yahoo, and Bing and get desktop and mobile SERP results—but it gets even better:
Geo-Targeted SERP Results
You can also track different domains, campaigns, and competitors' rankings for detailed local results via:
So, if your business is in a large metropolitan area and you are targeting multiple cities or zip codes, you can now see how you rank in each city and each zip code and then compare it to specific competitors in each of those areas. If you are targeting multiple countries and have strategies in place to rank in each of them via content, multiple websites, or media you can now track where you rank in each country.
Mobile Rank Tracking
We all know that mobile is being used more and more for everything, including making decisions on what to buy and which company to use for services. As a business you HAVE to rank well in mobile results—and don't assume just because you rank well on desktop results you will rank well on mobile. These are two separate and massive beasts.
With AuthorityLabs you can track mobile local rankings and compare those to your desktop rankings. This is a must in today's market.
Need Help Choosing the Right Keywords to Target?
One thing SEOs see on a daily basis are businesses choosing keywords for marketing purposes. But those words are not the words/phrases people are actually searching for. The result is no ROI. Often it is a good idea to get some additional insights into what people are searching for and determine if you are using the right words in your marketing strategies.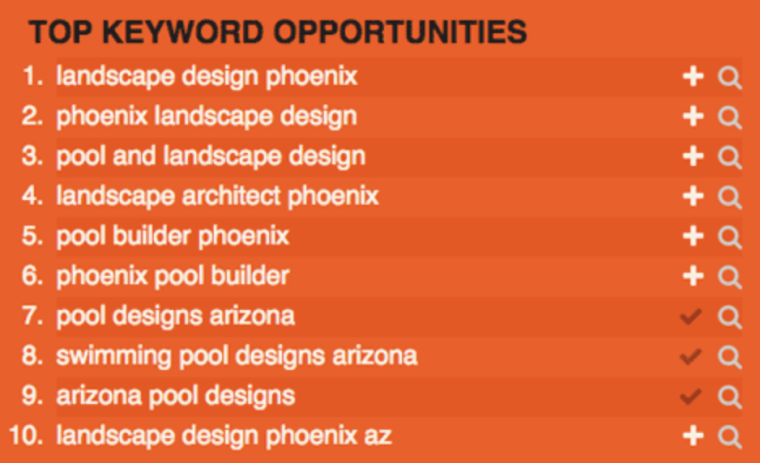 The Now Provided Report
AuthorityLabs offers the Now Provided report which combines rankings, your Google Analytics data, volume, and competition data to highlight important keyword opportunities you might be missing out on. With a click of a button you can add specific keywords to begin tracking, but, more importantly, the data helps businesses see potential marketing opportunities.
This report also shows you the number of pages sending organic traffic every day and provides a full year of daily, organic landing page metrics so you can see trends throughout the year. For marketers, this report is a must-have.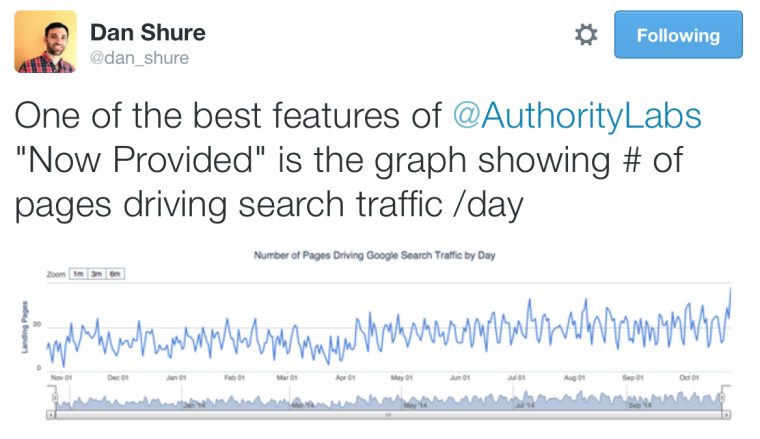 This is Data You Need
Knowing where you (and your competitors) do or don't rank via desktop, mobile, and local is really important for businesses. AuthorityLabs can provide all of this information for you in one simple report.
If you have found successes in ranking but your business is still not growing as much as you would like, you should check out the Now Provided report and see what keyword opportunities you may be missing out on. Check out AuthorityLabs.com for more information.
Image Credits
Image by AuthorityLabs. Used with permission.