If you are an active blogger, you must be reading and processing plenty of information daily.
You save some of this information by copying-pasting to whichever notes you are managing or by bookmarking the page or saving the link. You go by most of the information to forget about it forever.
With such flood of the information you should have plenty of hacks on how to process it quickly and efficiently. Today I am adding one more to your arsenal: a tool for fun web annotating.
Yooper is a nice FireFox addon that lets you easily highlight text on the page and the easily save it online. The best features of the tool are those that allow to quickly copy all page highlights and also to easily search through all your previously made highlights.
Lets see it in action.
Install the addon here, re-start your browser and notice a new toolbar in your FireFox status bar: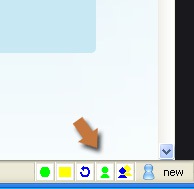 The first thing you want to do is to login to Yooper using your open ID (I was using Google). Once you are logged in, you will notice that the very first icon in the Yooper toolbar becomes green.
Now, just go test it. Open any page and highlight key sentences and phrases as you read. You will see that parts of the text you highlight becomes yellow (you can change the default color if you want to):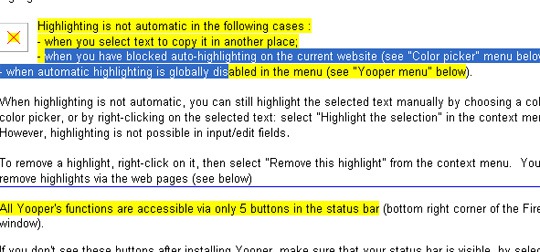 Once done, click the green icon in the toolbar and choose "View the summary":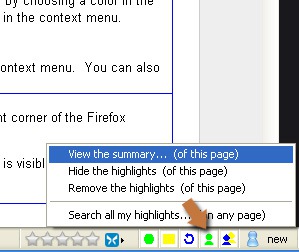 You will be taken to the page summary where you can see all your previous highlights, copy any of them and share any of them: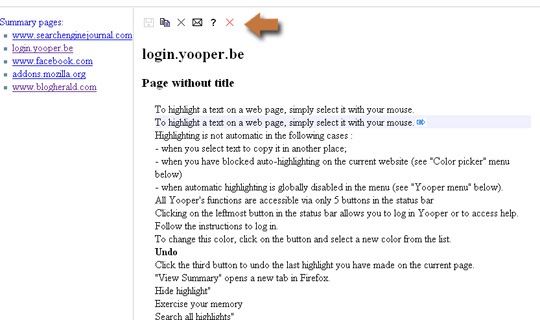 You can search the highlights (the feature runs pretty smoothly!):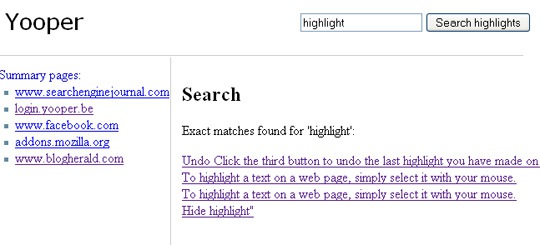 Some points you need to be aware of:
The tool won't highlight the text if you copy it (it is assumed that you selected the text for another purpose);
You can disable automatic highlighting (Which is what I ended up doing because there was too much "extra" highlighting I didn't need);
The tool is highly customizable: you can change the color, disable auto-highlighting, etc.
I wasn't able to get some of the features work properly (for example, "Share by email" link doesn't copy the highlights to email body) but overall the tool turned out quite useful.
Let me know what you think!