I've always believed that the way we organize the information we come across daily accounts for 50% of our success.
This affects our productivity and expertise – because, yes, it is impossible to remember everything: unlike many people think, knowledge is not everything: the one succeeds who is able to find the answer quickly and only then implements that knowledge.
Thus data organizing is the first step to success when it comes to any of processes SEO involves:
Learning;
Researching;
Brainstorming;
Analyzing, etc.
Many people understand how important it is to make sense of huge amounts of information we consume daily via the web. Therefore there are so many tools that are aimed at helping us store and organize useful links we happen to find every single day. Unfortunately, none of the tools is perfect and each of them requires some time to get used to it. But we all have one favorite tool right now that survived among all others we tried and I'd like us to share that one favorite bookmarking tool and discuss its benefits.
As for me, my favorite bookmarking tool has always been (guess what?) – yes, Google bookmarks. And the thing is not that I am obsessed with all-things-Google and use every single of its services (which is not true despite the fact that it may often sound that way). The thing is that there's one most important feature of the tool that no other bookmarking utility I am aware of offers: the best search option ever.
Until Google bookmarks we could only search bookmarks by (the combination of) tags we labeled the page with or / and by words used in the saved link title and descriptions (sometimes even URL). Google bookmarks search the entire pages you saved and also support several useful search operators, like:
label: (restricts the search to the tags you used to bookmark the page);
intitle: / allintitle (restricts the search to only word / words used in the titles of the pages you saved);
– (removes pages using the specified word from the search results)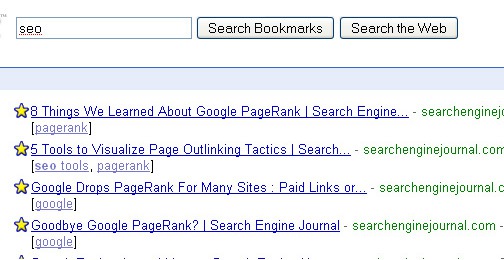 There are also quite a few tools to make Google bookmarks FireFox-friendly:
1. GBookmarks is a FireFox addon allowing to easily add a bookmark, manage bookmarks as well as see all your bookmarks;
2. Google Bookmarks Button: displays the bookmarks tree by tags;
3. GMarks helps you synchronize and manage your bookmarks with Google Bookmarks;
4. Google bookmarks gadget: displays your recent bookmarks (possibly by tag) on your iGoogle home page: