As Google retired their AdWords position preference feature back in April this year it was likely they had their top-vs-side performance segmentation almost ready for launch but it finally went public last week. Top-vs-Side segmentation had been one feature that staff internally had been using to help guide direct clients and agencies on how they could change/adjust their AdWords bid strategies for greater clicks or conversions but it's now available to everyone now and via the API soon.
I think most marketers have accepted that the obvious downside to the position preference was that when it was launched back in April 2006 it was more accurate as Google did not display AdWords results above the organic results. Back then your average position was a much simple process to calculate. The issue was as Google has now expanded the number of AdWords that can show above the organic results up to 3 ranking by based on ad position preference reports became far too inconsistent to be of any real use to most advertisers.

Part of the retirement of the position preference also helped pushed more users towards using their automated rules feature that focuses on automatically lifting or decreasing bid rates to maintain your ideal position. This change also brings the AdWords reports closer in line with the data you can already view within your AdWords section of your Google Analytics reports. You can see below that is now much easier to understand where your ad is showing and is doesn't matter how many AdWords results are shown at the top.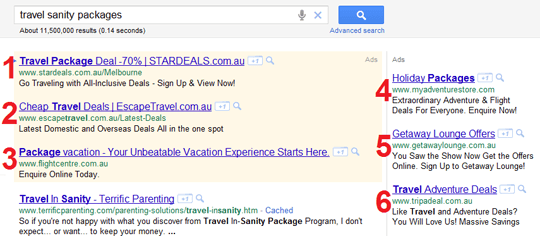 While this change to offer top-vs-side segmentation does allow a lot more control over your placement it does open up the idea that there might be more positions types on their way soon. Maybe Google will following Bing and allow Ads to show within the organic results or can we expect to see even more Ads showing above the organic results?
How can you use the Top-vs-Side Segmentation?
One of the first points to notice is that the data is retrospective and you can go back into your campaign to see how your data and placements changed over time. The other advantage is that unlike a number of other AdWords filters Top-vs-Side segmentation allows you to drill down to Ad or Keyword level. If you have a lot of brand terms driving traffic you should consider filtering them out for separate analysis as these might skew your data as they would usually be showing in top placements.
Gathering Data for Analysis
For this post I used a small data set from a time period over the previous 18 months. I only used PPC data a few larger campaigns but to ensure a mix they were in different industries and ran across multiple countries, it still allowed me to review 70,000 clicks and 3.5 million impressions.
Factors that may have influenced my data set
There was only a limited amount of brand keywords in the campaigns, not all the keywords always were in the top 5 positions. The display network data was also removed from the report to ensure it was just Search data and also of importance is that far less of the total budget (just 10%) was spent on Search partner's campaigns. I did not filter out other types of Ads such as site links which likely skewed the CTR on the top positions.
AdWords Data Insights
They following insights I was able to obtain via the new Top-vs-Side segmentation and this is where I saw the most difference compared against the average and this is where I would be breaking your data down to see if you find the same patterns.
Most Clicks: Google Search Top
Most Impressions: Google Search Side followed by Partners Search Other
Best CTR: Google Search Top
Most Expensive CPC: Google Search Side followed by Partners Other
Most Conversions: Google Search Top
Best CPA: Google Search Side, Partners Top
Best Conversion Rate: Google Search Side followed by Partners Other

You can see from the chart above just how much of a difference a slight change in placement could have on your campaign. There are obvious elements that might be out of your control such as Ad Rank or even how much you can afford to spend per click but if you have to spend your money wisely this segmentation is a good way to do it.
Brand insights using Top-vs-Side segmentation?
It is much harder to break out brand terms as they showed in top position most of the time and any time they had impressions but it did show that when any brand term was showing on the side bar they did not record a single click. This seems to show that you need to be bidding for top position on brand terms otherwise your ads won't be clicked and you will lose clicks to competitors.
Summary of Top-vs-Side
These kinds of AdWords interface features are very useful for marketers as they can be used across your whole account but also because the data is retrospective so it's valid for all your previous campaigns. I suggest if you haven't had a chance to play with the new segments you should at least take 15 mins out to see if you can gauge any early insights and if you data matches with my analysis.