What you don't know about your competition could be negatively affecting your business, and learning from your own mistakes takes time and costs money. Luckily, there are competitive intelligence tools that enable you to learn from the successes and failures of others and avoid losing valuable time and money, ultimately helping you outperform your marketplace competitors.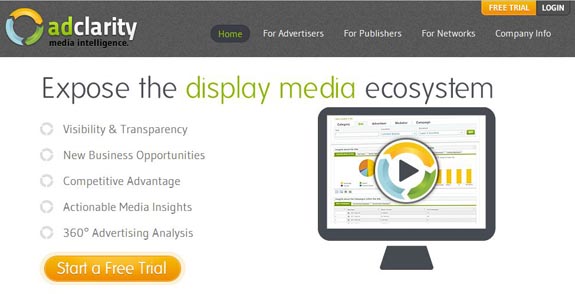 Although competitive intelligence can be a somewhat time consuming process to truly master, finding the best available tools and utilizing the information that they provide will greatly increase your chances of success. With that said, Search Engine Journal is here to share an exciting and dynamic new competitive intelligence toolbar from media intelligence leaders AdClarity.
AdClarity, itself, is a competitive intelligence solution provider for the online marketing industry. They serve media buyers, sales managers, affiliates, and Internet professionals, giving their clients valuable insight into the campaigns of their competitors, and ultimately help them strengthen their own strategies across display ads, with search, social media, affiliate marketing, and mobile channels coming in the near future.
With the introduction of AdClarity's new Toolbar, AdClarity clients are afforded a number of new features to help them gain a more comprehensive understanding of their competitors' campaigns and online marketing strategies. Amongst these new features are contact information on website "decision-makers," alerts, and geo-surfing. Plus, the new toolbar will display advertising intelligence on all of the websites you visit, offering a virtual back stage pass to how your competition is generating their ad revenue.
By using the new AdClarity toolbar, you will be able to view the "Email and phone details of key personnel of a website or company you are interested to partner with," surf the web from over 120 countries across the globe "as if you were a local user," allowing you experience geo-targeted ads and content, and also receive daily alerts on the businesses you care about most via AdClarity's notifications. Furthermore, AdClarity is designed to emulate various mobile devices, providing a "comprehensive experience of a mobile user," and also allows you to take screenshots of "important discoveries you make" and share them instantly with coworkers.
AdClarity offers its services via three different payment plans—Basic ($0.99/24 hours), Premium ($299/month), or Enterprise, AdClarity's most advanced suite, which requires you to contact AdClarity directly.
Ultimately, AdClarity's new toolbar should be an essential weapon in every online marketer's arsenal, and if you're not already one of AdClarity's 7,000 professional clients, it's time to seriously consider using their technology. If you want to truly outperform your competitors, the first step is investing in a user-friendly, comprehensive competitive intelligence tool, and with the new toolbar, AdClarity has just what you need.
For more information, visit http://adclarity.com, or sign up for a free trial here http://lp.adclarity.com/adc-toolbar/.