Digital clutter is anything but Zen. It's the problem every marketer has and nobody talks about. Easy to ignore, hard to see, but what is all the extra stuff and fluff really costing your digital marketing life in time, money, and resources?
The number of messages, files, accounts, passwords, subscriptions, notifications, tools, and networks seem to be growing at supersonic speed. Yesterday's bright and shiny must-haves are ready for the virtual museum of has-beens.
There is no doubt: clutter in your digital space will have a negative impact on your mind, mood, and motion. Just take a look at these facts and read on:
80% of what we have, we will never use.
The average professional spends six weeks a year looking for something we can't find.
We spend 30 hours a week checking email.
People spend up to four hours a week preparing for meetings.
The Zero Inbox Struggle is Real
The number of unread emails in your email inbox is a cringing subject for many. The struggle is real, zero inbox is almost something to brag about on Facebook. Eyes rolling from your friends because they are thinking 'doesn't this person have anything better to do'? Or 'wow, they are so super organized, what's the secret'?
If anyone tries to tell you zero inbox is a natural occurrence and easy accomplishment, feel free to strongly challenge that statement. One New York Times travel editor confessed she was holding more than 1 million unread emails in her inbox "just in case" she needed one of them for a future story. Journalists, writers, and content marketers are notorious for hoarding unread emails. Why? It's easier to just skip over it than to take the time to delete it or file it or open it and read past the subject line. Well, you never know when you might need an idea source one day for a story or have digital proof, or you might just read that story over the weekend. Right? Wrong. No way.
Yes, there are the valid emails to save and the occasional 'skip over' is never going to stop. But why not eliminate those old email subscriptions that are no longer relevant, interesting or you just don't have time for? A step towards relief: Remove the digital garbage and create space in your inbox for what you really care about and implement systems to organize the ones you want to keep for later.
Unroll.me is one solution that's specifically designed to rescue you from email inbox hell. So you oversubscribed to far too many emails, now what? You can use this free app to easily unsubscribe to old emails in one dashboard. Even better, Unroll.me organizes the good email subscriptions in one beautiful magazine-like layout so you receive one daily email recap called a rollup.
The downside can be the question of whether Unroll.me actually "unsubscribes" the email or filters it as a semi-spam to remove it from your inbox. Either way, it depends on your priorities and if the priority is to scrub the inbox for mental and visual clarity, Unroll.me could be your savior.
I've been using Unroll.me for a few years; it's one of my favorite digital detox secrets. So far, I've unsubscribed to 3,332 email subscriptions and I have a little over 200 emails in my rollup. I get one email rollup a day that I can view and see all my emails in one magazine-like layout. Here's the catch: you must actually OPEN that daily Unroll.me email or you might miss important emails from your beloved subscriptions.
Digital Marketing Life and Account-able Overload
Typically, digital marketers are known to sign up and experiment with new tools and platforms. A trial account here, a client account there, a quick test to see if it works, and next thing you know, you have a trail of accounts behind you. The only problem is rather than deleting your account, you set it and forget it.
Let's reflect: How many accounts have you ever signed up for? How many are still floating out there in digital space? You could try to manually figure it out and then probably abandon that idea about 15 minutes into the mind numbing process. Another easier option: click one button and instantly get a list of all your accounts matched with direct links to delete them.
Say hello to Deseat.me. If you follow Product Hunt, you might have noticed the upvote of this latest app designed to clean up your digital past.
[pullquote]"We want to make it easier for you to control your Internet presence. It's like our good friend Erlich Bachman once said: 'The ultimate control is the power of destruction,'" noted one of the apps' Swedish developers, Willie Dahlbo on Product Hunt.[/pullquote]
Here's what happened when I tried it: Deseat.me found 142 Internet accounts in my digital footprint including a blast from the past — my first AOL account. After going through each account, I ended up deleting 61 and keeping 81.
Email Quick Cleansing
Yearly Clean Up
Try creating a folder called '2016 emails' for example. Next, do a search for all your emails from the last 12 months and move them out of your inbox and into the folder. Voila, a zero inbox.
Notification Vacation
This is an easy one. Turn off all unnecessary email notifications from social networks, platforms, and apps that you do not need to be notified via email.
The Right Frequency
You might love the source of the email but the frequency is killing you and weighing down your inbox. See if there is a way to change subscription frequency from daily to weekly or even monthly recaps.
Topical Solutions
Online publishers such as Mashable and Search Engine Journal cover multiple topics from breaking news to niche categories such as work/life news. You don't have to subscribe to everything. Narrow down your subscription if possible by topic and get the news you are most interested in when you want it.
Real Simple + VOMO (Visual Or Miss Out)
Presenting to a client, speaking at a conference, or pitching an investor usually includes a visual document to guide your audience. How many of these heavy files do you carry on your server, desktop, or even in the cloud? If you're a big fan of PowerPoint and think it's a modern day software miracle, skip over this. But if you are like many of the silent haters of the semi-archaic Microsoft presentation software, the one that so many of us use because there doesn't seem to be another choice, check out Haiku Deck.
You might like this mobile and user-friendly platform since it is web-based and allows you to create presentations and tell a story the Guy Kawasaki and Steve Jobs way: simple, beautiful, and inspiring. HaikuDeck's best feature is it allows you to create presentations via your iPad, also syncing with the desktop version with dozens of gorgeous templates and a free stock photo library or a choice to use your own images. You can share your presentation straight to a social network and it's mobile friendly. Best yet, when you are finished, you can export it to a Powerpoint file so you will still be compatible with most required file formats for presentations, meetings, and conferences.
Photoshop, InDesign, Illustrator, and expensive graphic designers with large files, life with you is complicated. Canva makes creating visual content from presentations to social media images to ads, easy as pie.
Map it
Since 90% of information transmitted to the brain is visual and visual aids have been found to improve learning by up to 400 percent, consider rethinking your project planning and marketing process. Walk away from the whiteboard, put the paper away, graduate from Google Drive files, and lean into new mind mapping techniques when trying to brainstorm with teams. Platforms such as Mindmeister can be a valuable asset for eliminating the digital file confusion when planning projects, creating business plans and presentations, or even one of the biggest time suckers today — managing meetings. Mindmeister's features ring with all the keywords a digital marketer craves: collaboration, communications, productivity. And the kicker — you can access it anywhere.
Honorable Mentions
What Can You Do Right Now to Clear the Digital Clutter?
Take 15 minutes a day and clean your laptop/desktop.
Trash or archive dated files.
Set an auto delete rule for your inbox: anything older than 30 days is deleted if not already filed.
Say no when someone asks for your email and stop subscribing to new email lists (but keep trying to get people to subscribe to your lists).
Look at one category at a time versus trying to solve everything at once. Start with one thing such as your Inbox, then move on to other areas or categories.
Changing digital habits acquired over a period of time can be difficult. Start slow and take the decluttering one day at a time, striving for steady progress versus an overnight makeover. The first step is changing your way of thinking and your habits. The zen of digital decluttering will follow.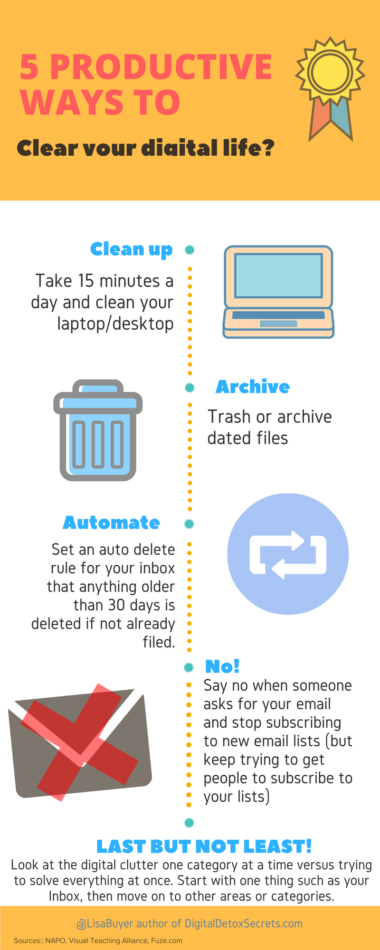 Image Credits
All created by Lisa Buyer in Canva January 2017