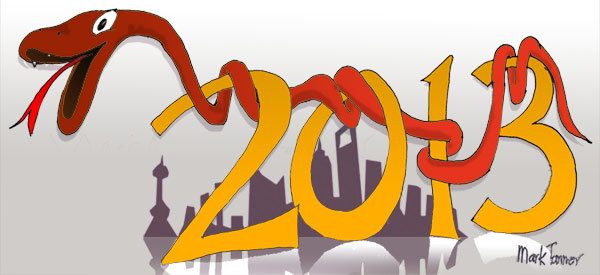 With the new moon in February, the Year of the Snake will be upon us. Although it won't have the fanfare of its Dragon forerunner, there'll still be plenty of fireworks in a year bursting with opportunities for businesses selling in China. China's sixth zodiac animal, the Snake, is said to have many material possessions. That coupled with China's growing appetite for shopping, ensure it will be a good year to keep ahead of the trends if you're a business hoping to capitalize on China's increasing consumerism. Here are six predictions and how to best take advantage of them.
1. More than 80% of Online Chinese will access the Internet via Mobile
Most statistics are staggering in China, but few compare to the growth of smartphones. The number of smartphones in China grew 150% last year to 330 million and they're showing no signs of slowing. By July 2012, more online Chinese were using mobiles to access the Internet than PCs, and 75% of Internet users now access the Internet from their mobile. Aggressive local manufacturers sell Android devices for as little as $100, making the Internet more accessible for the 780 million Chinese not currently connected, and many of those who are. We'll see the rise of everything mobile, from mcommerce to apps.
Take Away: While ensuring your mobile site is up to scratch, don't neglect your PC website. Chinese still access the Internet from multiple devices and do a lot of research on PCs. Generally the Chinese who only access the Internet from their mobiles are children or lower income Chinese.
2. There'll be more active users on WeChat than on Sina Weibo
Weibo's registered users have grown to over 400 million, although just 287 million are considered 'active'. The buzz around Weibo appears to have peaked and the average time spent on the service is in decline. Increased advertising clutter, harsher monitoring & policies and, some would say, more propaganda than ever, is turning some Chinese off Weibo in favour of the more personal WeChat. WeChat's registered base has hit 300 million users having just passed 200 million in September 2012. Further growth in smartphones will help drive WeChat signups faster than any other online service in history this year and the 'push' nature of WeChat ensures that a high portion will be active. By the tail of the Snake, I would expect slightly more registered Weibo users than WeChat, but with many more active WeChat users.
Take-away: In short, if your business doesn't have a WeChat account yet, you should! Make sure your conversations aren't just one-way as well.
3. The highest growth for most western businesses selling to Chinese consumers will come from online shopping
Online shopping is big business in China – 1.2 Trillion RMB (US$196 billion) in 2012, growing at more than 50% a year each of the past two years. The risk of fakes in China has driven Chinese consumers to look for more trusted ways to purchase online. B2C sites such as TMall and Jingdong Mall (360buy) offer more certainty than C2C sites such as Taobao. In 2011 B2C accounted for 20% of online sales. It's now estimated to make up 40%, and is forecast to double again this year to become a $126 billion behemoth. 'Smaller' cities will also drive demand for western products online. China has 700 cities larger than Geneva, and the majority of affluent consumers and growth is from the smaller 670 cities. Consumers in many of those cities are unable to purchase western products locally, so go online to buy them.
Take away: Ensure your business has an online strategy. Although there are services allowing you to sell directly from your home country, Chinese consumers are used to speedy delivery and responsive, Chinese-speaking customer service online, so having a presence in China is essential for scale and better understanding the market.
4. Although Google has conceded to Chinese Government Censorship conditions, Baidu will still account for the majority of search traffic
Google will be more aggressive in the world's largest Internet market this year, retracting it's anti-censorship stance in China and a possible partnership with local search company Qihoo360. Although Google's search algorithms are more advanced than market leader Baidu, we won't see Google clawing back significant market share from Baidu in the Year of the Snake. Baidu will retain over 80% of China's PC search market. Even in mobile, whereGoogle's Android is on more than 90% of smartphones, 80% of smartphones ship with Baidu, which will continue to be China's leading mobile search engine.
Take away: Ensure you have a Baidu strategy for SEO and SEM in China, however it's still a good idea to incorporate Google policy as many of Baidu innovations are closely related to Google (although often some time behind)
5. QR Codes popularity will continue to grow in China and will be much more popular than the USA and other major countries
2012 Global QR Code survey by AIP discovered China had the highest usage of QR codes internationally at 70% and relatively high awareness levels at 92%. Everyday items from train ticketing to water cooler refills has driven QR Code awareness in China, in addition to applications such as WeChat using the codes so users can quickly follow accounts. Near Field Communication, still a long way behind neighbouring Japan and Korea, is unlikely to see significant progress in the Year of the Snake. The big mobile operators are developing offerings with market leader China Mobile expecting to launch its first NFC device in June. It's forecasting it'll sell 10 million handsets in 2013, a large volume in most countries, yet less than 1% of China's mobile base. But watch this space in the years ahead.
Take away: Take the simple steps to ensure you have a QR for your business in China and ensure the barcode links to helpful information relevant to smartphone users
6. Government Internet Policy Won't Loosen
There'll be more outbursts than ever on Chinese social media this year about Internet censorship. Potentially world-leading apps like WeChat will have export hopes tarnished by keyword screening, but the state will not loosen their stance in the Snake. Although there has been a change of leadership, it is unlikely the authorities will see the benefits of a looser policy outweighing the potential risks and we'll see few changes for the better inside the Great Firewall. Even VPNs will become increasingly sporadic as we saw in late 2012. Of my predictions, I'm hoping this is the one I'm wrong on.
Takeaway: Familiarize yourself with Chinese Internet policy and don't cross the line on your site or social media unless you want to be blocked in China.
One thing you can be sure of in the Year of the Snake is that China will change fast, especially on the Internet. You'll need to constantly evolve with the trends just to stay where you are. But to get ahead in China, I'd recommend taking on a few characteristics from next year's zodiac namesake – be cunning, quite intelligent and wise. Good luck!