Big news came out from the folks over at Buffer last week. They have announced a brand new browser extension to make sharing any page on your Social Networks a lot easier.
At over 10,000,000 updates posted for their users, as TechCrunch reported, the startup is reaching for new heights when it comes to sharing your content on Social Media. I personally use Buffer and have it installed in multiple browsers which helps me easily maintain different accounts (just my strategy and way to avoid mess ups). Buffer helps me tremendously and saves me a lot of time. These new extensions have saved me a lot of time and made my social sharing easier.
Extensions
If you install one of the Buffer browser extensions, you can seamlessly share any page you come across. By adding it to your queue in Buffer, it will conveniently be posted for you at optimal time, well spaced out over the day.
As of now, the extensions also plug in directly to Twitter, Facebook and Google Reader. To get all of them at once, just install the extensions and you're good to go.
Here are 5 ways you can use Buffer in your browser:
1.) Buffer Right From Twitter.com
Buffer now plugs in directly to Twitter.com. You can basically make Twitter your new Social Media dashboard, without having to go anywhere else.
Here are 3 great things you can do:
You can now Buffer retweets, so you can share more of the great content of your Twitter stream. And all that without ever overwhelming your friends and followers, having Buffer space out your posts for you: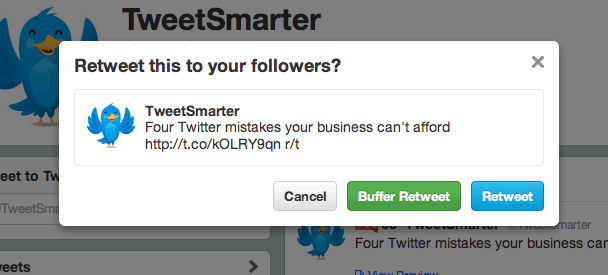 You can also Buffer new Tweets from now on. Just open the Tweet box and start writing a new update: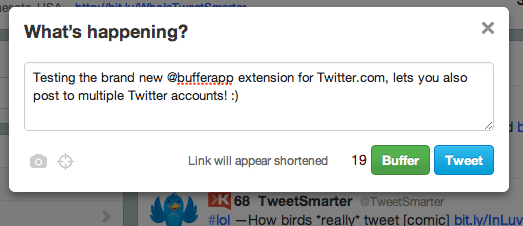 Buffer Blog Posts via the Tweet button:
One very handy feature is that if you now, click the Tweet button on any page, you will also be able to Buffer the post that you were reading:
2.) Facebook.com Gets Buffer Buttons
Buffer has also added lots of great functionality right inside Facebook. The best feature here is that you can Buffer share images and it picks up the actual image for you: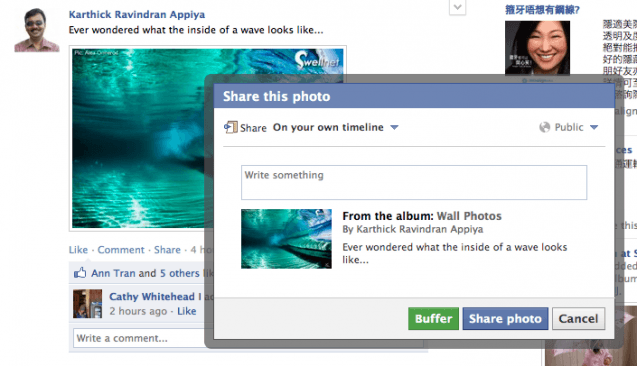 So, whenever you come across a beautiful graphic that deserves to get posted to your wall, just click the Buffer button and add it to your queue: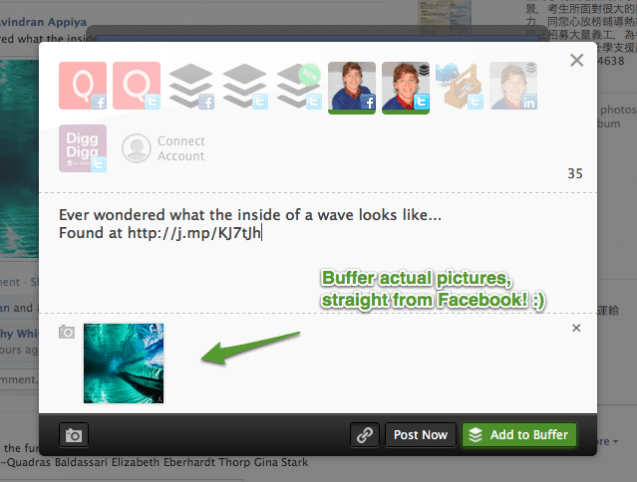 There are also a ton of other places, where you can now Buffer from Facebook. You can write new updates, that will go straight into your Buffer, share status updates, links or videos: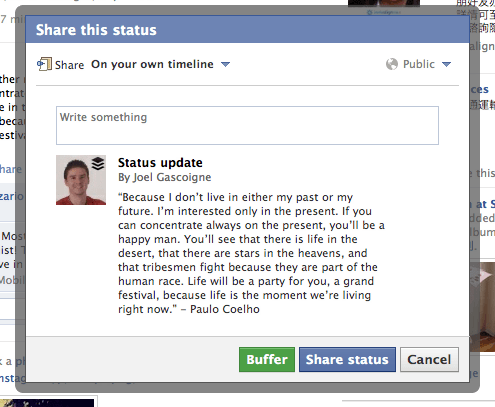 3.) Google Reader and Buffer
Another very handy addition, especially if you want to make curating news for your audience easier and less cumbersome, is the Google Reader integration of Buffer.
Right below each post, you will see the Buffer button to add a new item to your queue: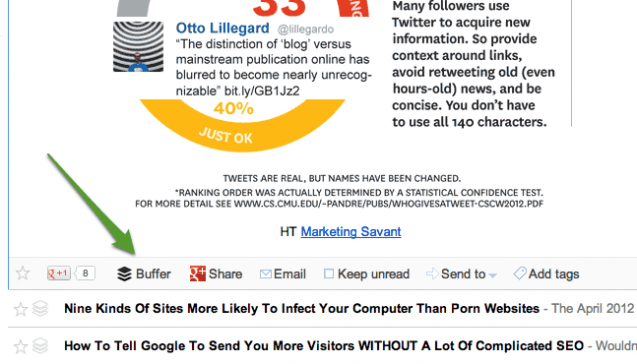 4.) Share Reddit items with Buffer
If you are a reddit fanatic, but struggle to make sharing the items from the front page easy, Buffer's new extension might help out here too.
All you have to do is click the "add to Buffer" button and another goodie is in your queue, waiting to get posted at a great time for your followers and friends: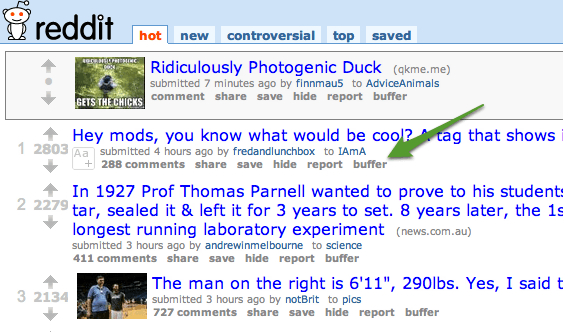 5.) Add Buffer on HackerNews
As the last addition that Buffer brought out with their brand new extensions is a Buffer button for HackerNews.
HackerNews is the number 1 destination site for startup news. It works very similarly to Reddit in many ways.
With the click of one button, you can now share the top stories straight into your Buffer:

Clearly, the Buffer guys have been rather busy in the last few weeks. Be sure to grab the Buffer browser extension and see for yourself if it helps with your Social sharing activities.
What are your thoughts about the new integrations from Buffer? You can always let the Buffer guys know @bufferapp on Twitter, they are super approachable. Or just let me know your thoughts below.