If you are a non-US Internet user or just have to deal with multi-lingual or international sites, you should find the following addons useful:
Google Global is a must-have FireFox addon for browsing international Google versions. Right-click on Google search results to choose the location:

View paid and organic search results as they appear in different regions.
View paid and organic search results from a specific IP address.
View paid and organic search results from different language results pages.
2. IMTranslator is an addon for translating text abstracts. The tool is useful and works fine for an automatic translator but was awfully slow with me.
3. Dictionary.com FireFox addon is a quick way to translate any word via Dictionary.com online tool.
4. FXWare is a handy addon for currency converting. Each time you happen to come across some price, it will be automatically identified and underlined. Click on it and you will be able to convert it to any other currency: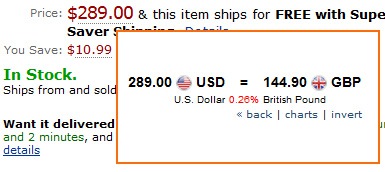 5. For international spell-checking:
Install more dictionaries;
Try SpellBound for easier access to multi-lingual dictionaries.