These last two months have been quite interesting with the launch of the Google Places O-Pack. It seems like everyone and their dog finally decided that Google Local is going to be a huge theme for the big "G" moving forward, and a lot more businesses are focusing on it.
Here is a chart showing the volume of leads that have come through my Local Search Marketing Company since the Oct 27th update.
As you can see, the last few months have been good for business. However there are other aspects of these changes that I view as not so good. That is what this post is about.
With the new mix of organic and map results there is now a laundry list of companies who have spent years optimizing their websites but are now scratching their heads, looking at the map pins next to their listings. There are more errors, more concerns, more products, and in Google's dash to stay at the front of the local search race, there seems to be more focus on making "new" things fast instead of making "old" things better.
While I completely understand that there are two sides to this coin, you can't have a gold coin with only one side. So, here is my open letter to Google Places….
Dear Google Places,

Thank you for all the wonderful things you have done to help bring customers to local businesses. I also thank you for creating an industry for me to work in. I am noticing that as of late you have come out with a lot more location-based products and offers like Google Tags, Boost, Hotspot, and the shiny new O-Pack. Great work!

But, enough with the compliments…let's get down to the nitty gritty. Can I bring to your attention some areas that might not be the "hippest" but would solve some major spam issues, help businesses to stay on top of updates and account issues, show businesses the value of Places, and make you oodles more money to swim in at the GooglePlex?
1. Why do you let keywords and location information in the business title affect rankings?
Your guidelines state the following about business titles:
Business Name: Represent your business exactly as it appears in the offline world.

Do not include marketing taglines in your business name.
Do not include phone numbers or URLs in the business name field, unless they are part of your business name.
Do not attempt to manipulate search results by adding extraneous keywords or a description of your business in the business name field.
While I completely agree with your guidelines, why do you let businesses with keywords in their name rank higher, and then penalize those who don't? Coming from a company who decided to name themselves "Google" instead of "Google Search Engine" I think you would understand.
By allowing better ranking for companies who have keyword rich business names you are opening the door to "new" companies who will spam your system while the legitimate businesses who follow your guidelines and deserve high rankings get no such bonus. I know you are working on algorithm changes to protect the innocent and penalize the naughty, but leave that to Santa in this case. Business titles should have zero effect on rankings– zero ranking fruit juice, as in none. If this were the case it would negate the spam issue entirely.
Though I am not a fan of outing, I don't think that this is anything new nor hidden so here is a screen shot of a maps search result where only one title is legit, The others are gamed and ranking well because of it. When other businesses see this, they follow and usually end up in trouble.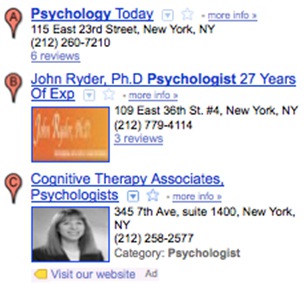 2. Why don't you offer support?
This is the one that you have always done wrong. I understand that Google is big, that there are so many fish in the sea who cares if a few get caught in the net. Sacrifices must be made. But if you look at local search there are a lot more caught in the net than just a few Nemos. There are so many issues of duplicate content, merged tags, swapped reviews, lost reviews, lost listings, lost virginity, and many other things that happen to people who are playing by your rules.
To make it worse, you are monetizing local search with Boost and Tags but still don't offer paying customers any level of support. I have talked to more Google Tag reps on the phone than I care to mention and have only found one who was willing to help. But he says you don't give him the training or tools to make a difference so he has to study the Local Search Ranking Factors in off-hours in order to have any idea how to start to help companies with issues. Just today I counted 31 people reporting issues in your forums and it is only 11 a.m. If you could help solve their problems and push the sale of tags in the process you could easily upsell probably 50% of them– especially if signing up for tags had support options.
One employee could easily handle those 31 issues before noon, and while doing so would sign up roughly 15 tags equaling $450 in today's revenue and $5,400 if the tags stay on for a year. That's not bad for a morning's worth of work, and definitely covers the cost of a support team. It is a win-win and you stop looking like you couldn't care less about support like your friend you seemed to be all over for the same issue.
3. Why don't you have Multi-User Accounts yet?
Google, this one is just pure silly. You want businesses to go out and claim their listing, but the business owner hardly ever is aware that claiming it with their personal account will lead to issues. As soon as the company grows, changes owners, hires a local SEO expert etc., there is a dilemma in giving others access to the account, because there is no way to shield access to the rest of the user's personal account info and email. Then what? You have to claim the account in two listings and deal with determining which account is the dominant one, or if there will be a duplicate listing and any other headache that commonly happens when trying to switch accounts.
As a solution, you suggest to users that when claiming a listing, use a business email that is not tied to an individual, like a generic companywide address. Great idea! That way, when you send an email update to users (like last week) saying that their data doesn't match yours, and you are going to automatically switch their data in Jan 2011, they will be sure not to get the email update.
Give people the ability to manage multiple accounts at a glance and make working with the system more user-friendly, and watch your number of claimed correct listings skyrocket.
4. Why do you not report Google Places Traffic information in Google Analytics?
Most companies don't think that they get any traffic from Places because in Analytics data you show it as organic traffic. I know SEOs who probably still think that to this day. And while Local is somewhat organic, it is lorganic.
While some local searchers have created workarounds on this issue with your recent updates and turning local into a Major Pillar of Google, shouldn't the ability to track go a bit beyond the joke of traffic stats that can be found in the Google Places account currently? If you show value, you can monetize the system. You do it for paid PPC, do it for local.
5. Why don't you have a Call Tracking Option?
Name, address, and phone number are the key to location prominence and so using a call tracking number is usually the quickest way to screwing up your map rankings. But, local search transactions don't take place online, so tracking phone calls would catapult you into the forefront of local, because businesses can then see if the cost of Tags, Boost, and overall Places are worth the effort. SMBs love Groupon because it is freaking trackable to the cent. Get Places that way. All you would have to do is add one data field called "Preferred phone number to display" so that you wouldn't have to mess up your NAP, but could still display a tracking phone number that you could provide at a cost through Google Voice! Yes, you could monetize this! I want 1%.
Overall Google, these are 5 things you have got to fix in 2011 or your are going to lose more support from potential revenue bringers who will get better luck out of Groupon, Facebook, Yelp and other companies that might put the small business owners first. Remember my golden rule…In Local, the little guys matter. If you screw them, they will be one click away from different advertising options.
Your friend,
Mike Ramsey