Yes. Not only did I tie in the word cornucopia into a local search post, but I managed to spell it correctly as well. Now lets get down to the nitty griddy.
On October 27th Google rolled out a new way (and algo) to display local search results called Local Places Search. This update was a very large momentum shift in favor of local search and businesses that had a Places Page. Here is a before the AlgoWeen update, and after shot.
Before Alogween: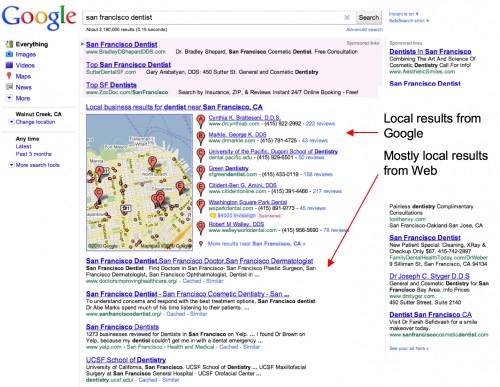 After Algoween: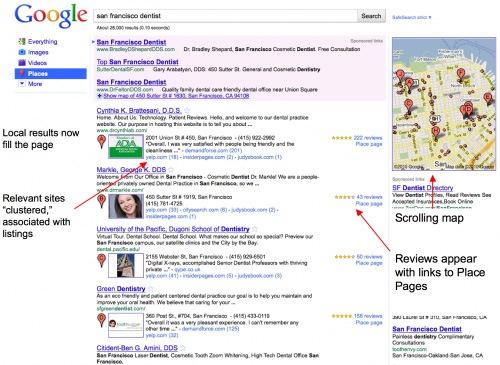 The Outcome
While all this is fine and dandy, one of the things that changed was how Google was ranking businesses in the local results. There used to be a Map Algorithm, and an Organic Algorithm. They were friends, but more like friends from a distance. With the new Places Search results, they two algo's seem to be hooking up on the weekends in private. So, here are 5 tips that will help you rank, and look better in the Local Search O-pack.
1. Title tag and description really do matter.
To rank in the 7 pack of old, you could get a way with a less than optimized website. There were businesses ranking in top positions with no on-site optimization work done, and some people didn't even have a website. Now, On a Google Search, your local business name is no where to be found….unless you put it in the title tag of your website!

The Example above shows the integrated result. It is a places listing, merged with a website listing. If you spend some time looking through these results you will see that title tags which are relevant to the search query got an extra boast in the update. You can see how much of a boost by doing a search in the Google Maps tab, and then doing the same search on Google.com
I do want to point out though, that I would be careful in giving up your title tag to only keywords because in local search, your business name matters. The example above could be any business. How are people going to associate the branding you have done offline with your listing if it doesn't even have your company name on it? So, choose wisely on your title tag. As far as the meta description goes, something that I have seen that I really like, is a good keyword rich testimonial in the description text. It might just keep the user from clicking on the review links and actually clicking to your website where you have more control of the experience.
2. Go loco for local links and citations.
Local search is all about proving your local prominence in a given geographic area. There is a reason that Pizza Hut and Little Ceasers are not at the head of every "location + pizza" search with this new update. While their sites have built amazing online authority and authority matters, they do not have location prominence in every market they are in. They might not have Chicago Chamber of Commerce links, or a Denver hyper-local review . Location matters in links and citations. A good start to getting some (location links that is) would be geo-specific directories and networking at local events where you can make local friends that might get you some (location links that is).
Here is a case in point: Smoky Mountain Pizza in Boise, Idaho is outranking Pizza Hut by quite a few spaces. Smoky Mountain has less reviews, neither of the companies have location information in the title tag being shown on places, but the citations and links pointing to Smoky are all in Boise. They have 750 links where Pizza Hut has 230K. Think local links.
3. Get your "real" review game on.
Reviews have been the fastest changing area in local search as of late. There is Hot(s)pot from Google, which allows you to see what your friends are reviewing and if they have reviewed a business you are looking at using.

Or the new review filter that makes a reviewee create a places profile for their mention to go live and a new rollout (thanks to the Algoween update) that shows the links to review sites from around the web.
Bottom line is, you need to have real local people leaving reviews on your business. But not just yours….every business they use. Because like links and citations, not all reviews are created equal. A heavy weight reviewee sends a lot more trust signal than a new account that has one review in it's history.
Businesses have got to find and engage in their "local reviewers guild "and step into the lions den for legitimate feedback. By the way, to get the wonderful 5 stars to pop up on the right hand side of your listing you need to have between 5-10 reviews. I have seen the number very so get over 10 if you want to be safe. But they sure make great eye candy.
4. Your pictures is worth a 1000 words (and dollars).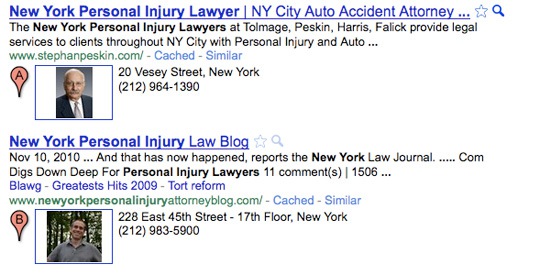 The O-Pack results can show a picture that is pulled from your places listing. From digging through accounts, I am pretty sure this is only a business owner uploaded photo (through your claimed listing), and it is the first photo you upload. You need to make it amaaaaaaaaaaazing as it might be the difference in a click and a customer. If the image is distorted, ugly, or shows you in a compromising position, then you might want to rethink your photo strategy. Stand out, be creative and be professional with your photos and video. Searchers can process an image much faster than reading text.
Enjoy Your Meal
I hope you have learned a few tricks and tips for the O-Pack to fill your Cornucopia right to the brim this holiday. If you have enjoyed this, Let me know about it on twitter and in the comment section, and for goodness sake stop working on a holiday and get your meal time on!