Paperless is here to stay — and for very good reasons, too!
Here, I want to explore five of the best digital alternatives to traditional Christmas greetings cards and show you how paperless can make this festive time of the year even more memorable.
If you are looking for seasonal inspiration for family or for work, check out these digital choices to complement or replace the paper card this Christmas.
1. E-Cards For All Occasions
Probably the biggest direct competitor is the electronic card (or e-card). There are many paid and free e-card services available online, but creating your own from scratch using email clients like Microsoft Outlook and Apple Mail are my preferred choice.
This gives you the chance to get creative and have fun with family, friends or colleagues, and really gives Christmas that personalized touch.
For those of you with family and friends overseas, or for people working away during the festivities, e-cards can also provide an instant means to say something special at the right time.
For business purposes, you can also use affiliate tracking software to make sure your message was received and fuel further conversation.
Here's an example of e-cards in action. In this case, it was the team at Vertical Leap (my place of work) getting festive and donating to Save the Children Christmas Jumper Day: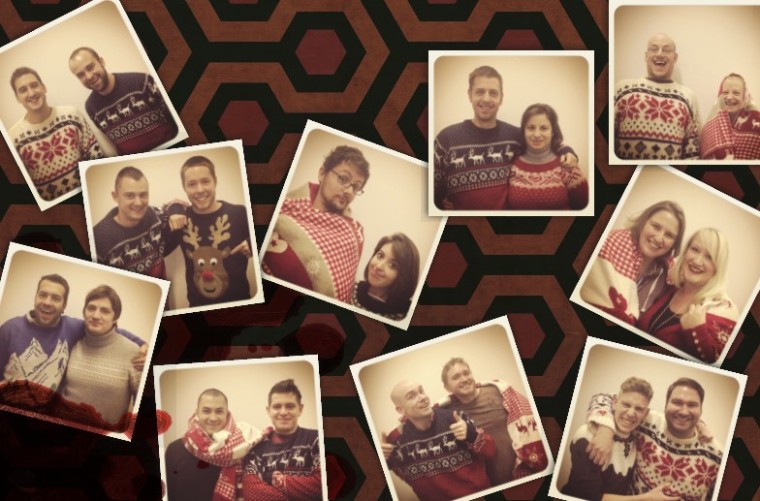 2. SMS From Santa
For younger members of the family, what better way to say Merry Christmas than with a call or SMS direct from Santa Claus? Santa can chat directly to your children or even text your phone with a personalized message.
In this example from Personalisedsantaletter.co.uk, text messages will be sent over the festive season, and throughout the week building up to Christmas day.
This can be great for checking children have been good, reinforcing what they are hoping for from Santa, and making Christmas morning extra special for you and your family.
Here's an example of the type of personalizing that can be achieved to make your children feel truly special this Christmas:
3. Video Greetings
Depending on how tech savvy you are, video greetings can be a fantastic way to wish people well over the holiday season.
Basic video greetings can be recorded and send from mobile to mobile, or you may wish to use some of the paid-for retail offerings. Examples of this include MoonPig and VideoGram, although many other alternatives are available (including free options).
Here's the video explainer from MoonPig:
4. Audio Greetings
Saying (or even singing) your seasonal messages can be fantastic means to share personality this time of the year.
An audio message can be an easier option for the less technical savvy, and can be attached to emails, sent via SMS, or included as part of a digital or traditional card or message.
5. DIY Digital Photo Collages
From static images to photo slideshows and more, collages can be an excellent way to get everyone involved with the festive fun.
They are quick to create, provide lots of follow-up opportunities – including personalized gifts – and enable you to create whatever your imagination can come up with. It is also a great way to humanize your brand.
Almost every mobile phone includes app functionality for creating collages, as do most basic office applications.
Here's some my work team showing a basic collage for Christmas: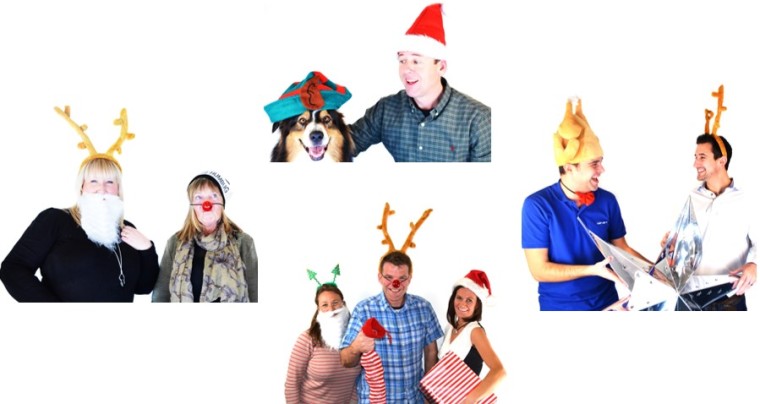 Conclusion
At this time of the year, wishing colleagues, friends, family members and loved ones good will, regardless of the medium, is a great thing to do.
With the growth of digital alternatives to the traditional paper greetings cards, e-cards, audio, and photo collages, give you an immediate method to communicating when it is likely to matter the most. Whatever your medium, make sure your messages are well received this Christmas time.
Merry Christmas to you all and a happy New Year!
Image Credits
Feature Image: Stokkete/Shutterstock.com
In-post Photos: Images by Vertical Leap. Used with permission.
All screenshots by Lee Wilson. Taken December 2015.