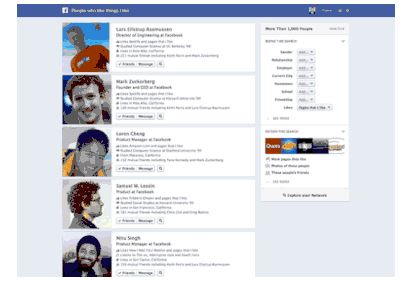 Facebook's Graph Search will change the search marketing game.
Search results are increasingly about connections. They are heavily reliant on consumers to share their experiences with various businesses within their networks. Without user data, Graph Search becomes virtually useless. Other search engines will not have the opportunity to evolve using a similar path.
Graph Search's influence will be felt far beyond the relatively insular walls of Facebook. It has the potential to alter the future of search marketing and SEO — for better or worse.
Evolution of Facebook Advertising
Although Graph Search is still in beta, marketers have been able to leverage Facebook for paid advertising for nearly seven years. Facebook ran its first banner advertisement in August 2006 through a partnership with JP Morgan Chase to promote the Chase credit card. Seeing the potential for future revenue growth from advertising based on the success of this program, Facebook wasted no time rolling out similar promotions for other advertisers. Less than a month after the launch of the Chase banner campaign, Facebook partnered with Microsoft to run banner ads through the adCenter display network.
Since the early days of Facebook advertising, there have been countless advertising options launched within Facebook. Some have been beneficial to advertisers; others downright embarrassing to Facebook due to privacy concerns. There have been several common themes, however, as advertising has evolved on Facebook. Ads on Facebook have become more interactive and dependent on the audience's (and brand's) connections. In sticking with the trends, these connections make up the backbone of Graph Search.
Nuts and Bolts of Graph Search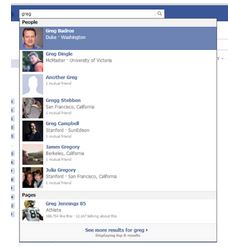 Graph Search takes an object-oriented approach to search as opposed to keyword oriented as is the case with its current search engine, which is known as PPS. The Facebook graph is the collection of entities and their relationships on Facebook. The entities are referred to as nodes, and the relationships are known as edges. Nodes include entities such as pages, places, events and applications, while edges are the methods of interacting with those nodes, such as liking, commenting, tagging and checking-in. Graph Search aims to identify nodes relevant to a user's search based on connections they have to the nodes and any constraints they put on the edges (i.e., nodes liked by friends).
Leveraging Graph Search
Because Graph Search currently only returns nodes in its search results it's important for brands to have assets in as many relevant nodes as possible. Since page nodes are relevant to virtually any business, this is the most basic node in which to have an asset. Depending on the type of business, other nodes may also be relevant. For example, if a brand has physical locations, each location should have a place node. Graph search returns results from a variety of nodes for the same search, so the more nodes a brand has, the more real estate they can potentially own within the search results.
Promotion of a brand's Facebook assets is also more important than ever. Graph Search places priority on nodes that are in some way connected to the searcher, whether it be directly (the searcher likes the node) or indirectly (the searcher has friends that like the node). The more users that engage with a brand's assets, the larger the audience will be that can potentially see the brand returned in Graph Search results.
Actionable Insights
Here are three things marketers can do right now to tap into the benefits of Graph Search:
Optimize the brand's presence in Yelp, Foursquare and Trip Advisor while encouraging customers to share their positive experiences through reviews. Facebook will often display a star rating for local businesses (up to five stars), aggregated from business review data of those sites in Graph Search results. Having a positive star rating can be very compelling for attracting clicks on the business's Graph Search listing.
Incentivize customers to interact with the brand on Facebook. The more connections a brand has the more likely they are to show up in Graph Search results. Give customers an offer, such as a discount on a product or service, in exchange for liking the brand's Facebook page. Other incentives can come through contests, such as offering a prize for people who post pictures to the brand's page or other interactions with the brand (i.e., checking in, tagging, etc.)
Promote Facebook assets. Build the brand's following by placing a Facebook badge linking to the brand's Facebook page in a prominent location on its website. Advertise the Facebook page in other marketing channels, both on- and offline, including email, direct mail, newsletters, etc.
What's Next
Although Graph Search is only available to a small percentage of Facebook users, there are already plans to enhance the capabilities. Logic will be more deeply incorporated within Graph Search, specifically the "and" operator. This will allow users to place multiple constraints on the nodes that will be returned for a search. For example, users will be able to search for an entity that is liked by their friends and within a certain geographic area. This will help users drill down to exactly they are looking for.
Since Graph Search currently only returns nodes (i.e., people, places, photos, etc.) as search results, marketers need to develop multiple nodes for their brands on Facebook. As Graph Search evolves, however, there will be more to the results than just nodes. Things like posts and open graph actions will also be included in Graph Search results. Brands need to begin adjusting their online and search marketing strategies now to prepare for the coming benefits of Facebook Graph Search opportunities.