Google's SEARCH operator (which restricts the search to any domain, top level domain or subdirectory) is by far the most important and most frequently used (by me). I use it For example, I use it hundreds of times when writing each post to see which other related pages of the site thee are I can link to. Besides:
It allows me to never care to look for any site built-in search option;
It makes it possible to find most relevant pages from any site – which comes in handy both in link building (to find the best page for your backlink) and competitor's research (to find your competitors recent or most powerful pages);
It allows for multiple on-site diagnostics opportunities, etc, etc.
This post looks at three handy tools that make Google's SITE: operator easier and faster to access:
Access Google's SITE: search for any highlighted term from the right-click context menus:
This addon is connected to the FireFox search plugins, that is it will use the search engine that is now active in your searchbar, so make sure it is Google:

Search Site allows two ways to quickly access Google's SITE: search: first, like Advanced Dork, it has a handy right-click context option for the highlighted phrase:

Besides, you can use the new green "Search Site" icon that you will notice in your browser searchbar:

(runs on Greasemonkey)
Use the keyboard shortcut CTRL+ 9 ( Mac) and Shift+ALT+9 (Windows) to see the search form. From there, choose the site directory level you want to restrict the search to (for the current site):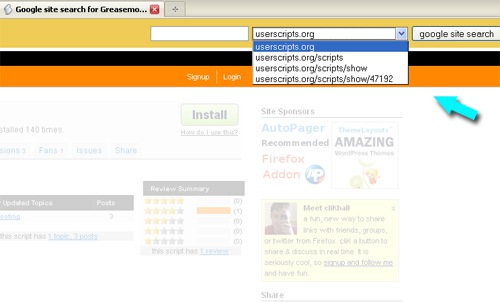 You can also create your own search plugin to search within any site: here's a quick guide on how you can do that.