My previous posts on SEO gadgets for iGoogle has shown that many of SEJ readers are using iGoogle on a daily basis.
Hence I decided to share a few more hacks to make the most of iGoogle.
The following Greasemonkey scripts help to make your iGoogle home page more usable as well as add a few really nice features:
Super iGoogle
Lets you toggle header, footer and sidebar using mini-menu or shortcut keys (the toggle settings will be saved).
Moves the mini search field to top-right corner along with a mini-menu for all links.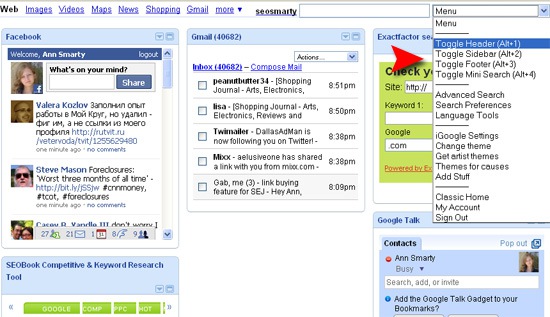 Better iGoogle
Hide the Search bar and / or the footer
Mark RSS feeds as "read" to only show new items
Add icons next to feed stories from the target site
Hover over feed stories to view the summaries
Completely hide feeds with no new items, so you only see feeds you need to read
Change the refresh frequency, number of items, and title of feeds
Avoid feed caching, so your feeds always display the latest stories
You can configure its settings by clicking "Better iGoogle Options" in the top right corner: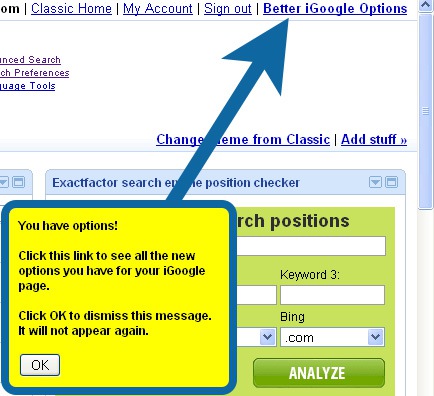 You can configure pretty much everything there: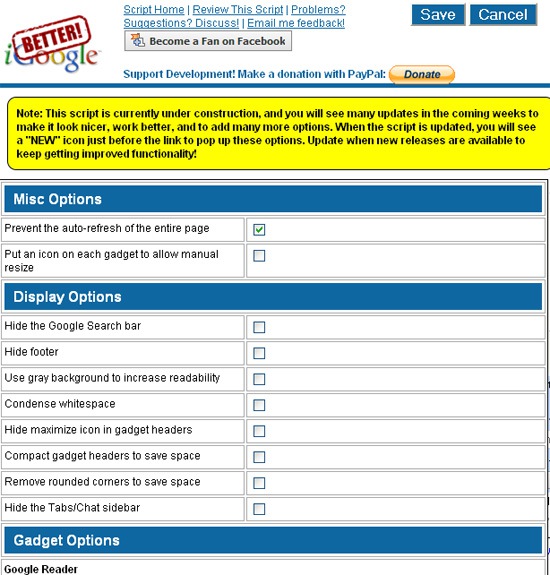 iGoogle Realizable Columns
This is an awesome user script that gives you more power over your iGoogle home page by letting you resize the columns. After installing it, you can drag the columns to achieve the desired width: