There's hardly a person I know who is not using Gmail today. Finding an available Gmail username is no easier than finding a new .com domain.
No matter how popular Gmail is, not everyone is still aware of what he can do with it. Search option is one of the most awesome features of the service which (together with some external utilities) is a great fun to use:
1. Advanced search tricks
Gmail advanced search is pretty well outlined on this table, here I am listing my favorite tricks:
| | |
| --- | --- |
| Search operator | Description |
| filename: | Search for messages with attachment by name or type (for example, filename:doc will find all messages with doc attachments) |
| in:anywhere | Search in all folders including Trash, all labels, spam (be default Gmail searches only inbox) |
| is:starred / is:unread / is:read / is:chat | Search for messages that are starred, unread or read, sent via Gtalk |
2. Saved Searches
If you search Gmail often, you might want to save your searches to quicker access them. You can do that with one of Gmail labs tools.
In Gmail Labs accessed via Setting), find "Quick links" and enable it:

You should now see "Quick links" box in the left-hand panel in your Gail interface.
Saving searches is easy: once you perform a search within your Gmail and feel like saving it, click "Add Quick Link" located in the box and then confirm in the dialog: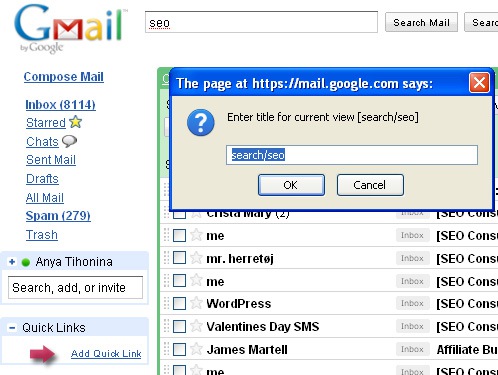 After that the search will be added to the box; once you click it, the search will be quickly performed again: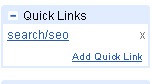 3. FireFox Hacks:
1. Install this search plugin for quicker access of Gmail search: Google Mail / Gmail. With it you can search with one click of mouse.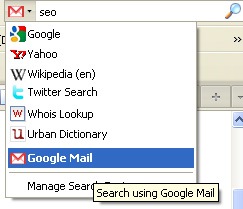 2. GMail Date Based Quick Search (Greasemonkey) : adds date filter to left-hand panel for you to easier filter emails received:
Today;
Yesterday;
This week;
This month: