I have already shared a few nice tools that visualize Wikipedia articles and let you better understand the topic basic structure. I also looked at some awesome Wikipedia tools that will help you discover controversial content and research related topics.
This week I am sharing more fun you can have with Wikipedia: 3 experimental FireFox addons that (1) visualize how you browse Wikipedia, (2) graph each Wiki article semantically and (3) show you how much you should trust each article content.
1. Wikipedia Diver
Wikipedia Diver is a FireFox addon that locally tracks and graphs your Wikipedia browsing. If you are like the addon author (and myself), you will love playing with the tool:
I love randomly wandering through Wikipedia, and I became curious about what my own browsing history would look like. For example, how did I start reading about Holland, and end reading up reading about Oliver Cromwell's head? Where did I go in between? This extension was an attempt at answering that.
Just install the addon, browse Wikipedia and, whenever you want, click "WikiDriver Graph" from your browser "Tools" menus to access the stats: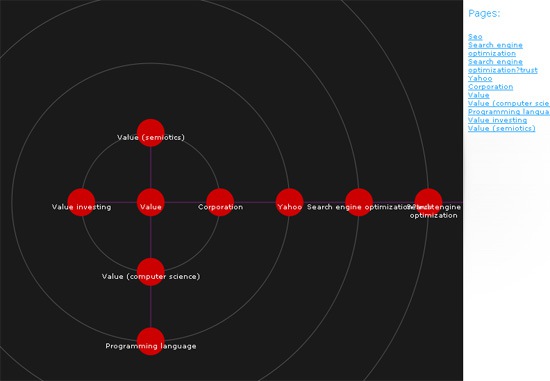 2. SemGraph
SemGraph uses natural language processing and text mining technologies to create a graphical overview of the page loaded in the browser. While it can be used for any web page, I found it is more fun to use for Wiki pages because apparently they are easier to analyze.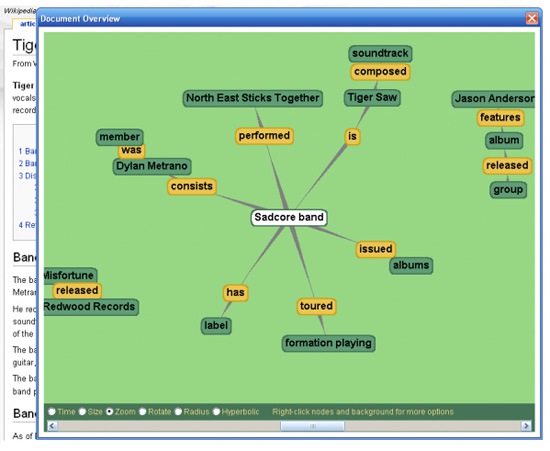 3. WikiTrust
WikiTrust is aimed at notifying how much you should trust any Wiki page you are studying. It adds a "wikitrust" tab to the top of Wikipedia articles. When you click on the tab, the extension will modify the page to color-code the text based on data from the WikiTrust project:
WikiTrust uses a content-driven reputation system: authors gain reputation when their contributions are preserved by subsequent authors, and they lose reputation when their contributions are reverted. The reputation system judges every revision on the basis of many subsequent ones, and it has been built in such a way as to be relatively resistant to spam and vandalism.
Here's how the addon works:
Each article text is colored according to how much it has been revised.
An orange background indicates new, unrevised, text; white is for text that has been revised by many reputed authors.
If you click on a word, you will be redirected to the diff corresponding to the edit where the word was introduced.