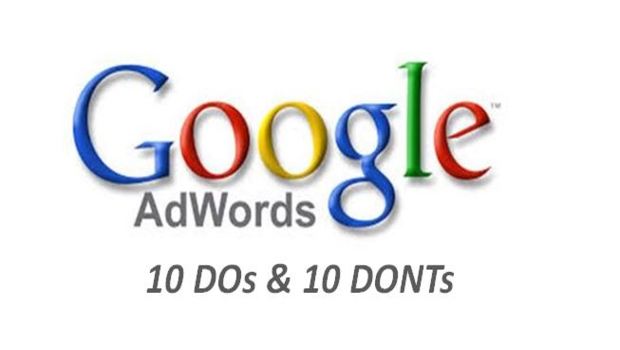 Starting with the right foot means a lot in advertising. Read more about the 10 DOs and the 10 DONTs that will help you optimize your AdWords account!
1. DO utilize the keyword planner. Google has a very excellent tool that lets you to find, expand and optimize keywords. Utilizing the tool you may be able to find quite a few long tail keywords. The tool is very excellent at what it does, but it takes a little bit of patience to be able to get the most excellent keywords.
2. DO test and measure. The great thing in shell out-per-click advertising is that you can place a daily budget, along with a maximum you're willing to shell out per click (bid) for a specific keyword. The information that you can derive from these activities is priceless in that you can be taught a great deal about which advertising practices are efficient devoid of spending lots of funds. Moreover, the information is in up to the minute. Another benefit of pay-per-click ad campaigns is that the information lets the advertiser to recognize keywords that are profitable, and optimize their site to entice organic traffic.
3. DO attract guests back to your website by means of re-targeted ads. If you would like to draw guests who have departed from your website to go back into your site, the simplest method to do this is by creating eye catching ads that are appropriate to the consumer.
4. DO utilize A/B testing to make the most excellent converting advertisements. The AdWords platform is absolutely great for A/B testing. You can make as many advertisements as you like, and you can tweak each advert in small or large ways and then measure the results. The fact that AdWords lets you measure the results so accurately makes it a great A/B testing tool.
5. DO take the time to hone your ads that will cater to the needs of your target prospective clients matching their search queries with relevant advertising messages. When you'resending viewers to your site, it's important to make sure that the viewers you're reaching out to are actually interested in your products or services.
6. DO perform enough keyword research prior to deciding which keyword phrases to target with your campaign. The Google Adwords Keyword Planner is free of charge to utilize and produces significant information that is important to the success of your efforts. The research when done right will produce results you hadn't expected and will expose opportunities you never knew existed.
7. DO have tightly themed Ad Groups. If you sell Pearl Earrings and Diamond Earrings, then make certain you have a different Ad Group for everyone.
8. DO utilize Conversion Tracking. You need to keep track of how much sale is costing your business, make certain the shopping cart pass off information to AdWords. This means you will be capable of seeing precisely what your return on investment or ROI is for each AdWords ads and keywords, and which traffic sources are valuable.
9. DO setup an Exceptional Website. Little changes can perk up your conversion rate considerably; you can put together more sales or produce more leads. There are a lot of other parts that require to be looked at to enhance your conversion rate.
10. DO adjust your bids per geographic location and based on actual results. Use Geographic targeting and make sure your ads are tailored to the target market. Separate campaigns for separate countries can work well. You can also exclude locations that you cannot service to or are not interested in inquiries from. Check your campaign Geo-targeting to ensure you are at least serving ads to the correct country, in the right language. If radius-targeting is being used, make sure it targets an accurate range surrounding your location.
11. DON'T choose the keywords to target merely on the basis of search volume. At the same time as the thinking that many monthly searches for a given phrase is tempting, there are significant drawbacks to ignoring other, more important elements. Foremost, consider the fact that a highly searched phrase is going to have more competition and the more competition means that the expenses to target that keyword will be higher. next, and more important than the expenses factor, consider the relevance of the keyword with deference to the searcher's needs, and measure up to that to the actions on your website that you'd like the visitor to take. If the keyword is not contributing to to these conditions, it is not worth the higher expenses to rationalize the lower conversion rate.
12. DON'T write your ads to try to entice as many visitors as possible. If someone is searching for red shoes from France, and you've written a generic ad targeting all sorts of shoes even though you only sell rubber boots, your ad will give the wrong impression to many viewers and they would be clicking and visiting your site and they'll hang about for about nine seconds until they realize that you don't offer what they're after. They'll bounce out of your site as quickly as they arrived and move on to other relevant companies, forgetting about you and causing you to pay for a click. The more narrowly focused your niche, the more specific your ad needs to be.
13. DON'T pay too much attention to keyword popularity metrics. Google AdWords make the whole process look like you are doing something really wrong. It will tell you that your advertisements are not running because your keywords are not looked for, but you do not need to shell out very much attention to this. You need to concentrate on the words that you know your target prospective clients are going to type into Google. If you are sure of these, include them and evaluate the traffic level.
14. DON'T try to outbid your competitors. There is always going to be someone who has a larger budget than you. If you outbid your competitors then you may be fairly contented with your advertisements on top, but your budget will also run out faster.
15. DON'T undervalue the effect of your landing page. Your landing page may be the thing at fault. You may not be getting many conversions because your landing page is at fault. It may not be your advert, and a lot of viewers make the mistake of constantly changing their advertisements. If you find yourself in this position, then try changing your landing page. Or, have a lot of landing pages and point different advertisements at them to see which advert and landing page combination works the most excellent.
16. DON'T neglect Geographic targeting. Advertisers that don't limit and target their businesses' websites by location are making a big mistake. It is smarter to be conscious of geographical targeting. It is significant for advertisers to understand that disregarding such part of PPC management can in fact be harmful to the business. These little deliberations are typically knowledge supported decisions that the advertiser has to decide on, think about and keep in check so as to keep up the business. Steering clear of these errors may not at all times help out in improving the advertising, however doing these mistake will absolutely be counterproductive to the business.
17. DON'T put all your keywords in one adgroup. As soon as you set up your first account you are brought through a pace by pace procedure where you set up one campaign and one ad group. A lot of people put in all their keywords into one ad group. This may contain many not related keywords. You need to separate your keywords into separate ad groups of much related keywords that relate closely together. This way it will be effortless to create an appropriate ad that has text and a landing page that matches to your keywords. By means of this approach you will be blessed with an elevated quality score and a higher click through rate. An elevated quality score and click through rate equates to you achieving improved positions.
18. DON'T forget to optimize your landing page. Optimize the landing page of your website for Quality Score purposes and categorically optimize it for conversion rate. Whatever you declare in your ad must be included on the landing page.
19. DON'T rely too much on generic keywords. When advertisers desire to get as much search engine traffic, advertisers frequently bid on awfully generic keywords. Generic keywords are not likely to generate conversions and may require a great negative keyword list to be effective. When your ad copy is shown for generic keywords it could appear to be less related to the actual search query than a phrase or exact match.
20. DON'T stop testing. You should be testing all elements of your account such as ad copy, target keywords, landing pages, etc… Have a testing arrangement. Make certain all tests are statistically significant and you are not running too numerous or too little tests at any one time.