Local business search engine YP.com has announced its end of year report, revealing its latest trends about what consumers are searching for as the holiday season nears.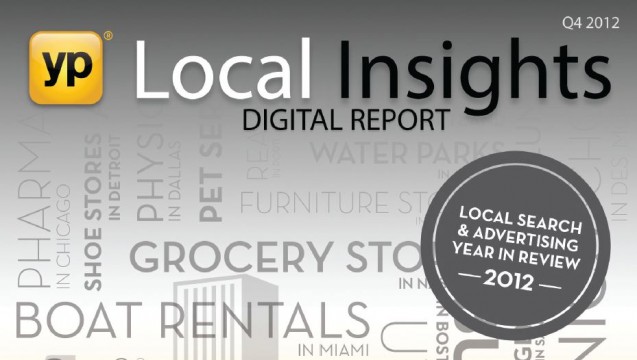 YP's Q4 Local Search Insights Report makes for an interesting read for marketers especially, offering dozens of insights from the last 12 months into local search, advertising and technology trends from one of the web's most popular yellow pages directories.
Local Search Goes Mobile
Probably the most important finding of the report is the way in which YP.com has grown, with the number of local searches made every day rising by almost 350,000 compared to the previous year, highlighting the fact that businesses can no longer afford to ignore this kind of search. But perhaps even more intriguing is where all these new searchers are coming from – it seems that much of the new traffic comes from smartphones and tablet computers on YPmobile®, which saw a 161% increase in searches over the last year.
More specifically, the vast majority of this new traffic is coming from Android phones (which saw 205% growth) and iPads (233%), which YP says is representative of the increased adoption of these devices. This theory is backed up by the fact that mobile searches made from iPhones rose by just 50% over the same period, reflecting Android's overall dominance of the smartphone market this year.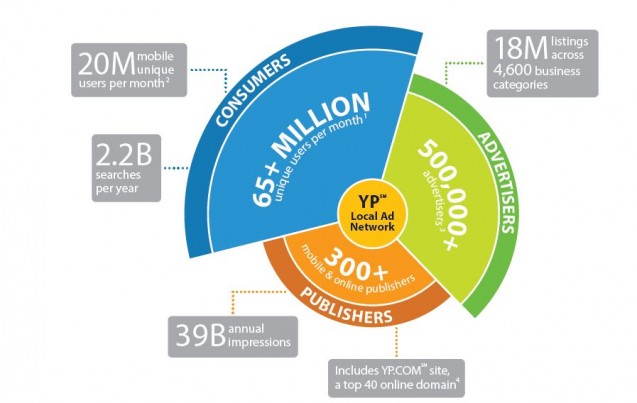 Proximity Counts
So what are all these local searchers looking for? Well, the majority would seem to be looking for businesses and services located nearby, with YP's report illustrating that click-through rates (CTRs) seem to peak when a result pops up that is located between 1-2 miles from the user.
Consumers Searching for More
Regarding the actual services that people are looking for, it comes as no surprise that restaurants top the list of consumer's desires, followed by financial services and auto & repair services. More revealing however is the growth of services such as pharmacies, medical services, grocery stores, and second hand stores, all of which outpaced 'traditional' directory searches. This would seem to indicate a trend among consumers to embrace local search rather than simply 'Google" everything like they used to do before.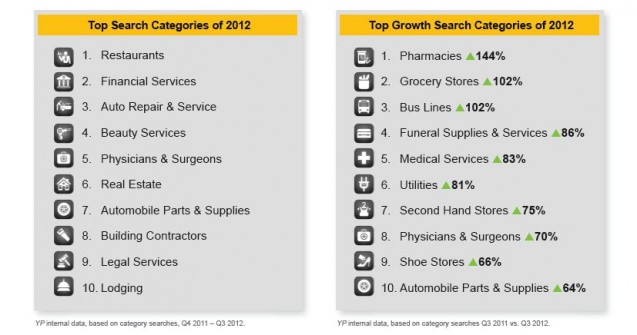 Seasonality Driving Local Search
Also worth noting is how seasonal changes seem to affect local search as well. The report indicates that seasonal factors like the weather, holidays and special events have a big influence on what people are looking for, with some businesses reporting three times the normal amount of traffic on certain occasions over the last year.
Some of these 'peak searches' would see obvious. For example, last summer saw a big jump in the number of queries for outdoor and recreational activities, spring time saw a rise in searches for dating (Valentine's day?) while during winter there was a noticeable rise in traffic for searches related to gymnasiums, personal fitness trainers and health clubs. However, some of the seasonal traffic would appear to be less obvious, such as the 14.6% jump in consumers looking for "metallurgical testing labs" indicates.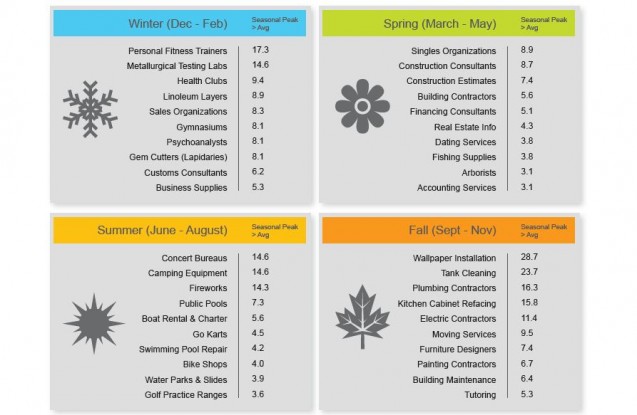 To summarize, YP's report indicates that local search is fast becoming the method of choice for thousands more consumers looking for more accurate and reliable answers to their queries while they're on the move. With this trend showing no signs of stopping any time soon, web marketers will need to move fast to capitalize on this growing opportunity.