YouTube is launching mobile live streaming and a tool to earn money from those live streams – but only for creators with at least 10,000 subscribers.
In its announcement, YouTube promises that eventually everyone will have mobile live streaming. Just not now.
YouTube first announced its plans to add live streaming capabilities nearly eight months ago.
Mobile Live Streaming
Mobile live streaming has been built directly into YouTube's mobile app. It's pretty simple: fire up the YouTube app, tap the capture button, and you're streaming live.
YouTube said streamed videos will have all the same features as regular YouTube videos. They will be
Searchable.
Discoverable via recommendations and playlists.
Protected from unauthorized use (using Content ID).
Based on early testing, YouTube said they made enhancements, such as slowing down live chat and improving streaming quality. Initially, only a handful of creators could live stream on YouTube (The Young Turks, AIB, Platica Polinesia, SacconeJoyls, and Alex Wassabi).
Super Chat
To monetize those live streams, YouTube has launched Super Chat.
Basically, Super Chat lets anyone watching your live stream buy a chat message. That message will be highlighted with a color (the purchase price will be visible to everyone watching) and it will stay pinned to the top of the chat window for up to five hours (depending on the amount paid).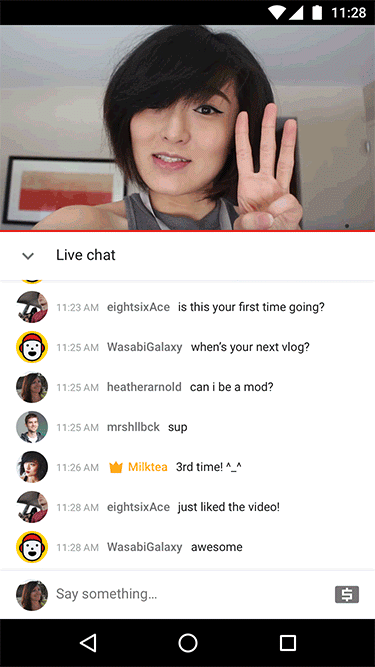 Super Chat is now available to creators in more than 20 countries and viewers in more than 40 countries.
People have many live streaming options now, including Facebook, Instagram, and Snapchat. Is this a case of too little, too late for YouTube?
Image Credit: YouTube