YieldBuild is a new service that helps Web publishers make more money on their existing ads (Google AdSense, Advertising.com, and many others). The service finds the optimal combination of ad networks, ad sizes, and visual formatting characteristics and thus helps you to earn more.
I went ahead and registered an account with them to try the service out. Here's a video of how their ad publisher optimization system works :
After the account activation, the process looked like this:
Associate your account with Google AdSense or other network you are using (you will have to give your account login information for that, so please have a look at their privacy policy);
Choose express (for standard CMSs) or custom install;
Set up zones (regions on the page where an ad might be served). The system set up wizard will explain what zones are and how they are used: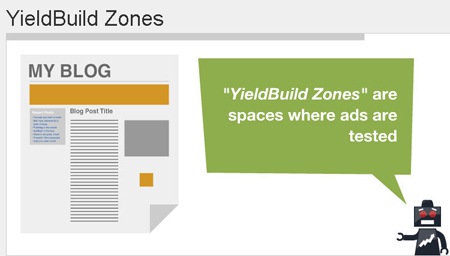 Wait for the system to retrieve the color;
Get the code;
Install the code and get it all started!
YieldBuild will be testing layouts and formats live with your site's traffic for 30 days. As YieldBuild learns more about your traffic, it will refine the ad layouts in order to maximize clicks and revenue. The first training period takes about 100,000 page views for 3 to 5 zones to fully optimize your site's ads. Additional zones require longer training periods.
YieldBuild is free to try for 30 days. After 30 days, YieldBuild's share is 3% of impressions. You can stop at any time.
Upon doing some research on the company, I noticed that Aaron Wall had interviewed Jason Menayan of YieldBuild and found several take-away points :
YieldBuild can optimize across networks, but also within a network (doing format, size, color, layout optimization). A lot of their clients just use them to optimize their AdSense, or to run AdSense and YPN to see which works better for each spot.
Publishers maintain their ad network relationships so they continue to get paid and can see reporting there (so no "black box"). Of course their consolidated reporting gives publishers a comprehensive view, too.
Optimizing ads also involves keeping good-performing ads in rotation, to defeat "ad blindness." Normally that's difficult/impossible to do manually.
Clients have seen improvements of up to 200% (seriously).
They seem to have a robust reporting suite for their users (more screenshots available on the YieldBuild blog) :
You are welcome to test their trial version and share your experience here! You can also look through their FAQ and Knowledge Base to learn more. Upon launching the upcoming redesign of Search Engine Journal, I plan on implementing YieldBuild, giving them a try, and following up with the results and performance.