Yelp has launched three new features that lets users check-in with a photo, changes the way business images are displayed, and lets users share bookmark collections.
Here's what you need to know about the three new Yelp features rolling out now for iPhone and Android.
1. Check-in With a 'Yelfie'
What do you get when you combine Yelp with selfies? Apparently you get something called "Yelfies."
Yelp announced that when your customers check in at your location, they can take a photo of your business. Once they've done that, the camera will flip they can then add a "yelfie," along with your business name, and a rating.
Yelp heralds "yelfies" as a "fun way to capture your experiences with local businesses in-the-moment." And Yelp has an 23-second explainer video to break down how "yelfies" works, just in case the concept is a bit too tough for you to grasp:
2. AI Helps Yelp Show Better Business Images
Now with 100,000 photos being uploaded to Yelp every day, Yelp's photo team is turning to AI and machine learning to help identify the highest-quality photos to appear on your business page.
"Last year, we started by training a neural network to categorize photos," according to Yelp. "Over the past year, we've done extensive evaluation and analysis to improve the quality of the photos shown at the top of each business page."
Here are a couple before-and-after examples Yelp shared: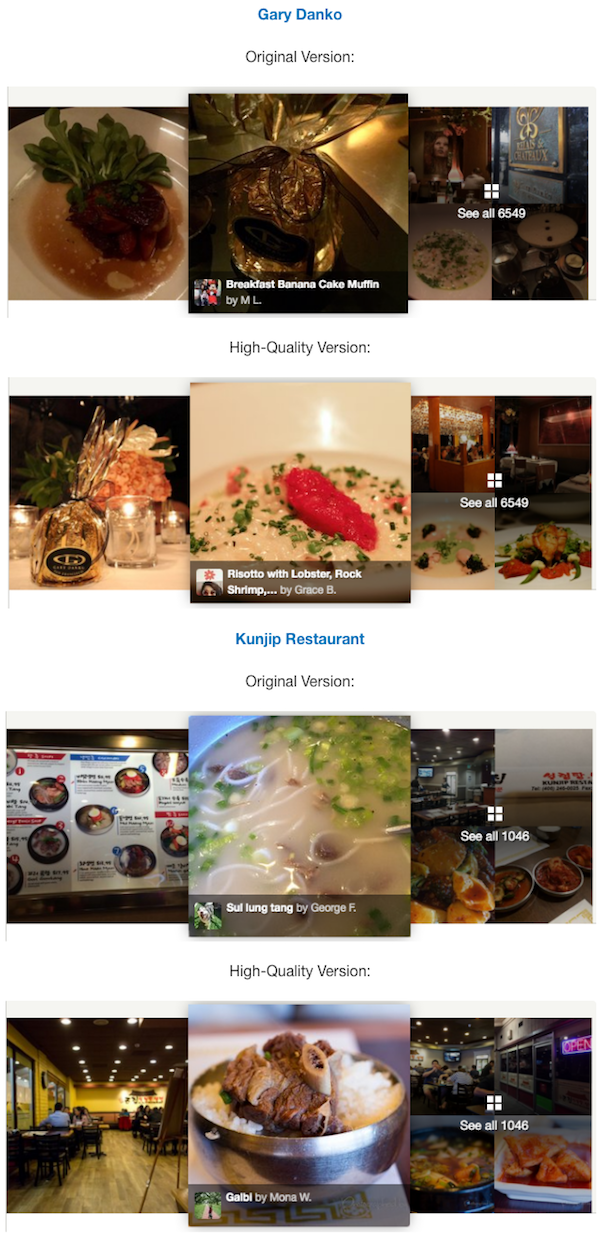 You can check out the technical details here.
3. Yelp Makes Bookmark Collections Shareable
In October, Yelp introduced bookmark collections. These let users curate and organize lists of businesses on Yelp.
Now Yelp has announced that users can share these bookmark collections with other users by tapping the "share" icon. Bookmark collections can be shared either as a link or a post on social media.
Users simply need to be given that link to follow a bookmark collection. That list also becomes part of their collection.
What do you think of Yelp's new features?
Image Credits: Yelp