Search engine people all over the world today are on the edge of their seats, waiting for the Yahoo to drop Google and switch to Inktomi.
Currently, Yahoo is showing Inktomi Test results when using certain URL based search queries.
For example, use this model for finding Yahoo Inktomi results instead of Google:
http://search.yahoo.com/bin/search?p=your keyword here&tmpl=E088
Replace your keyword here with your keywords or keyphrase (spaces ok). This will give you a great sneak preview of the new non-Google Yahoo Search results.
For example, here's a search for 'blog search' on Yahoo's Google results (colors have been altered to save bandwidth):
http://search.yahoo.com/search?ei=UTF-8&fr=slv1-&p=blog+search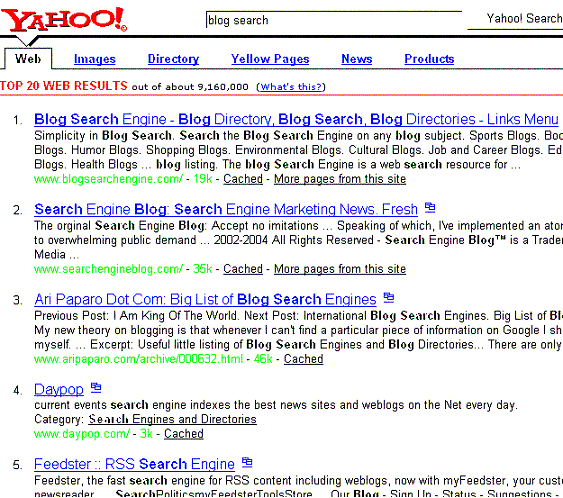 Now, here's the same search on Yahoo Inktomi (only a couple of differences)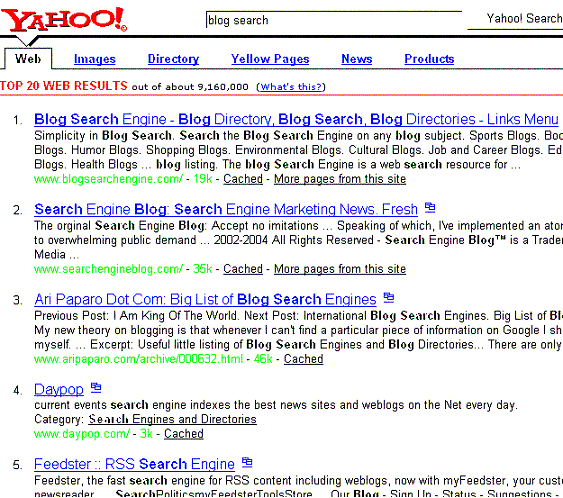 Blog Search Engine is still the top listing, but notice the shuffle in the 2 thru 5 listings and the description changes.
Yahoo is rumored to be changing their entire index over to Inktomi from Google by March 30th of this year. Inktomi was acquired over a year ago by Yahoo in an attempt to break away from its partnership from Google and try to regain an edge in the search engine competition realm. The change will have a great effect on sites that are dependent on Google listings, since Yahoo is the #2 search engine used behind Google, and will probably continue to grow in use after the change.
Yahoo uses the Yahoo Slurp robot and Inktomi Paid XML Inclusion for its soon to be released fully Yahoo branded search results, giving a lot of attention to the Inktomi paid inclusion service.
Inktomi uses both a paid inclusion program and site spidering program.
Here's an excerpt from a discussion going on at Jim World's Search Engine Marketing Forum:
inktomi has 2 sets of spiders – a PFI spider and a "natural" spider. The natural spider crawls via incoming links, the PFI spider crawls pages submitted. Provided your site is well linked to, it will get crawled fully and for free – but it takes time. PFI is instant gratification. The PFI spider only crawls the pages paid for, the natural spider crawls all pages found.
Inktomi also offers an XML direct feed program which may help large etailing and dynamically generated web entities. Like paid inclusion, you have to pay for this program which guarantees a direct feed into Inktomi results, but does not guarantee ranking.
Any thoughts on the sneak preview or other examples, please post them under comments!