Yesterday on Yahoo's search blog they announced the launch of the first series of search features that integrate news and entertainment results in one area. On the new results page topics are split up into vertical tabs, such as: Overview, Videos, Twitter, Stories, etc. For things like movies, there is now a Netflix application that opens up a quick box that allows you to add the film to your queue. Searching for musical artists gives you extra tabs that allows you to preview their songs and view live event schedules, among all the other informational sections.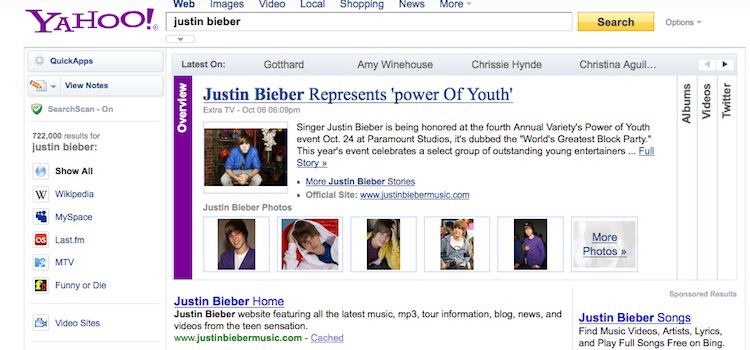 In addition to this new feature, mobile search results will be built in HTML5 for iPhone and Android users and image searches will yield more results taken from Flickr and other Yahoo sites to give users a greater range of options to choose from. Yahoo says that these changes are just the beginning and that the features they are launching this fall are to keep us all "entertained, productive, and informed".
I tried out the new vertical panes and I think it is a pretty neat feature. Will you give the new Yahoo enhancements a try?