For those who have stopped using Yahoo Messenger for instant messaging purpose and have shifted to GTalk this post may not interest you. But for those who remained loyal to the once most popular Yahoo Messenger (or is still popular right now?) you would be glad to know that Yahoo has just launched the beta version of Yahoo Messenger 9.0. And with this new version comes some nifty features that makes Yahoo's IM service at tune with today's web trend.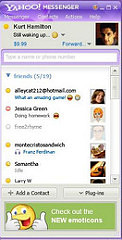 These features as enumerated by the Yahoo Messenger Blog (I didn't know that YM has a blog of its own, until now).
Updated Contact List Look – Contact avatars are larger than it was before, users can hover on individual contacts to send IM, SMS or Call.
Brand New Skins and Emoticons – More skins were added which can be easily changed by clicking on the red dot at the upper right hand corner of the YM Window. Likewise, more emoticons are added into YM's growing family of emoticons.
New Flickr integration – Share Flickr photos via the YM window or even save photos shared by YM contacts into a user's Flickr account. This is a feature that is a long time coming since Flickr has been Yahoo's most popular web tool since it was acquired by Yahoo.
In-Line Media Player – This new feature makes it easy to view maps, photos and videos right in the Yahoo Messenger Window, without the need for another Plug-in.
New Voice Call Features – Forward incoming Phone in or PC calls into a mobile, home or office phone, even if user is logged out of YM. Likewise, when someone leaves a voicemail, an email alert is sent to users.
In addition to all these new features, Yahoo Messenger Beta 9.0 is also available in various localized versions in six new markets: Philippines, Indonesia, Malaysia, Thailand, India (Hindi), and Vietnam.