Yahoo is making it easier for Buzz users and followers to submit, vote and comment their friends and the whole Yahoo Buzz community's activities as the site is now sporting a new look. It's not really a huge site facelift but one that now prominently features contributions from the Yahoo Buzz communities.If you're a frequent Yahoo Buzz visitors and an active member of the community, you'd immediately noticed the difference. Frankly, I rarely visit the site so I couldn't reall tell the difference between the current and the previous layout.
Anyway, according to the company blog post, it is also now faster and simpler for users to share interesting stories and videos through the automatic filling in of story headlines and descriptions when users submit URLs.
Aside from giving the Yahoo Buzz site a facelift, a new country-specific local Yahoo Buzz site was also launched for India. Yahoo Buzz India highlights the buzz-worthy stories in the country and is kicking off with more than two dozen featured Indian publishers. It may not be as much as the publishers in Yahoo Buzz U.S. but expect this to grow once the word about Yahoo Buzz India starts buzzing around.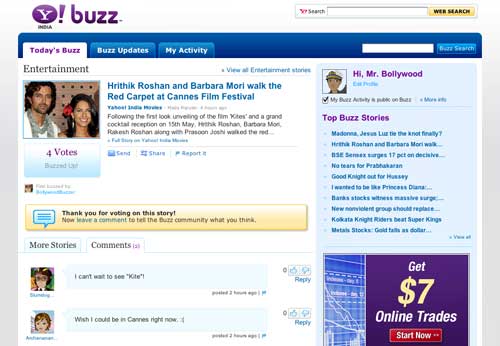 Yahoo Buzz India is the first international version of Yahoo Buzz. If it becomes sucessful, we might see more country-specific Yahoo Buzz in the future.