Aside from Google Yahoo is also making its presence felt in the iPad party. For Yahoo's part it's by way of making its entertainment portal iPad-ready. Yahoo Entertaiment for iPad offers an iPad-friendly user interface for exploring entertainment content, television listings, videos, news and more.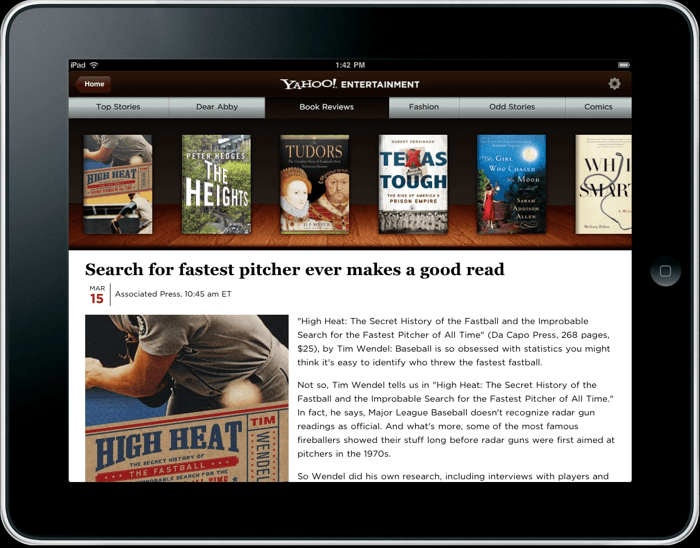 Yahoo Entertainment leverages on the powerful features of the iPad for creating interactive and personal experiences fully utilizing the iPad's multi-touch feature and geo-location functionality for pinpointing consumers' locations in delivering relevant, local televisions listings and content. The Yahoo Entertainment App for the iPad also features both portrait and landscape displays.
Yahoo senior vice president of Integrated Consumer Experiences said:
"Devices like the iPad allow Yahoo! to create new experiences and expand the art of what's possible in the eyes of consumers. Just like we did with Connected TV and mobile, we successfully re-imagined the consumer experiences for an entirely new platform. Yahoo! Entertainment for iPad is simply amazing. The combination of compelling and engaging content coupled with unique design and innovation, provides consumers with an unparalleled Web experience."
Key features of the Yahoo Entertainment app for the iPad include:
TV Program Guide and Listings: Find favorite programs, featured TV shows, and recommendations; customize and filter content for a personalized entertainment guide.
News, Comics, and Book Reviews: Read the most sought after entertainment news from Yahoo! TV and Yahoo! Movies and more, in an easy-to-navigate, magazine-style layout.
Original Video Content: From sports to news, discover videos from Yahoo!'s top media properties, including Yahoo! Sports Minute and Tech Ticker. Video content is also available from other notable sources.
Mark this link to get the Yahoo Entertainment app for the iPad once you've received your iPad tomorrow.