WordPress.org announced that it will support the advanced WebP image format. WordPress version 5.8 is scheduled for release in late July 2021 and will ship with full support of the (relatively) new image format.
WebP Image Format
WebP is a next generation image format that is suitable to replace images encoded in the JPG, PNG and GIF formats. WebP is able to produce superior image qualities at significantly smaller sizes.
WebP lossless images are images that retain the quality of the original image while maintaining a smaller size. WebP lossless images are 26% smaller than the original images.
Lossy images are WebP images that have slightly less quality but can be compressed to an even smaller size and still be more than acceptable. WebP lossy images can be 25% to 34% smaller than the original image.
Web Server and Browser Support for WebP
WebP was announced by Google as an open license image format in 2010. The Internet has reached a point where the new format is supported in all modern browsers.
That makes 2021 as the ideal year for considering switching images to the WebP format. Most modern browsers and web hosts support the new format.
WordPress Support for WebP
WordPress announced that handling images in the WP media library will be exactly the same as any other currently supported image format.
According to WordPress.org:
"From WordPress version 5.8 forward, you can upload and use WebP images in WordPress like you would a JPEG or PNG image today (as long as your hosting service supports WebP)."
The only hangup in WordPress support for WebP is if the web host does not support WebP.
WordPress.org cautions:
"In WordPress, the lossless WebP format is only supported when the hosting server uses Imagick until LibGD adds support. In addition, animated and alpha formats are not yet supported for resized images (lossy images are created instead when you upload in these formats)."
WordPress 5.8 Site Health Notices Updated
WordPress 5.8 will feature an updated Health Notices section with new fields to indicate whether the web host is able to support the WebP format.
This will make easier for publishers to know at a glance whether they are able to take advantage of the new WordPress capabilities and if not, to request it from their web hosting provider.
A comment in the WordPress.org announcement noted:
"5.8 also adds new fields to Site Health to help determine if a site is capable of processing WebP format image files.

…The following fields are new in WP 5.8:

Imagick version
ImageMagick supported file formats

When WebP is not listed as a supported file formats, the site owner will need to reach out to their hosting provider."
WordPress May Convert Images to WebP
WordPress 5.8 cannot currently convert images to WebP. However there are many popular WordPress plugins that can convert images to the new format, thereby significantly speeding up the website.
The announcement noted that there are plans for future support of WebP image conversions at the point of upload.
That means that in the future a publisher may be able to upload a JPG image and choose to convert it to WebP.
Screenshot of WordPress WebP Conversion User Interface (UI)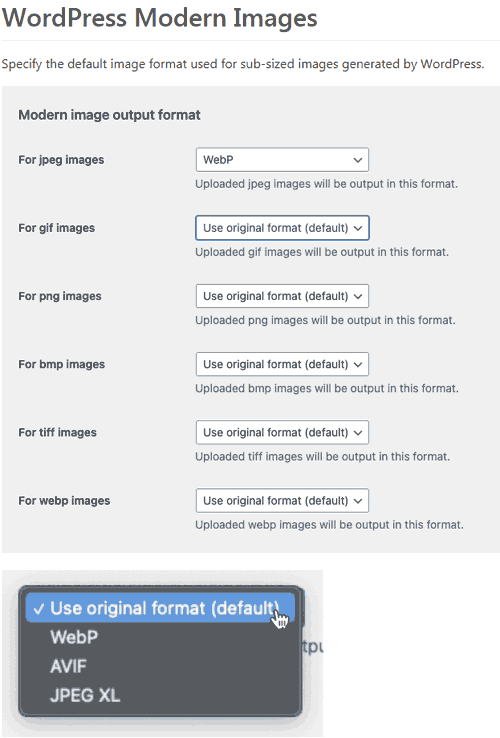 WordPress.org described the project:
"The media component team is also exploring the option of having WordPress perform the image format conversion on uploaded images – using WebP as the default output format for sub-sized images."
Screenshot of Proposed UI for Converting Image Format to WebP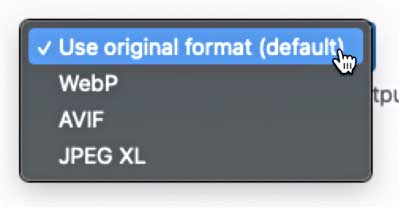 WordPress 5.8 WebP Support
This announcement is important because it shows that WordPress.org continues to focus on helping publishers meet their goals for fast websites.
Supporting WebP is a major milestone for WordPress that will help publishers achieve higher Google Page Experience scores.
It is these kinds of improvements that keep WordPress at the forefront of content management systems.
Citations
Official WordPress.org Announcement
WordPress 5.8 adds WebP Support
WordPress WebP Image Conversion GitHub Page
WordPress Modern Images
Google Developer WebP Technical Explainer
A New Image Format for the Web