A new add-on for Google Docs allows multiple content creators to write, edit, and collaborate in real-time — then easily save as a blog post in WordPress. As the company notes in the announcement, the add-on works with WordPress.com as well as any Jetpack-connected WordPress.org site.
WordPress is the most popular content management system on the web, but until now it has never allowed for multiple users to work on the same document at the same time. A user would first have to go in and create a document, save it, then back out of the document before another user could go in and edit or add to it.
With the use of WordPress for Google Docs, the cumbersome process mentioned above can become a thing of the past. Now, more than one user can have the same document open on their screen simultaneously.
When the document is complete, it can be sent over to the connected WordPress website. Formatting and images will carry over as well, which was always a limitation when copying and pasting from Google Docs to WordPress in the past.
"Instead of copying and pasting from Google Docs to WordPress and losing your images and formatting in the process, this add-on makes it easy to compose in Google Docs and publish to WordPress with formatting intact and images being uploaded properly."
Getting Started With WordPress for Google Docs
To get started with this new add-on it first has to be installed from the Google Web Store. Once installed, access has to be granted to allow the plugin to post on your behalf.
To connect your WordPress site, click on the Add-ons menu at the top and select WordPress for Google Docs. A sidebar will appear on the left-hand side. At the bottom you will see the option to add a WordPress site.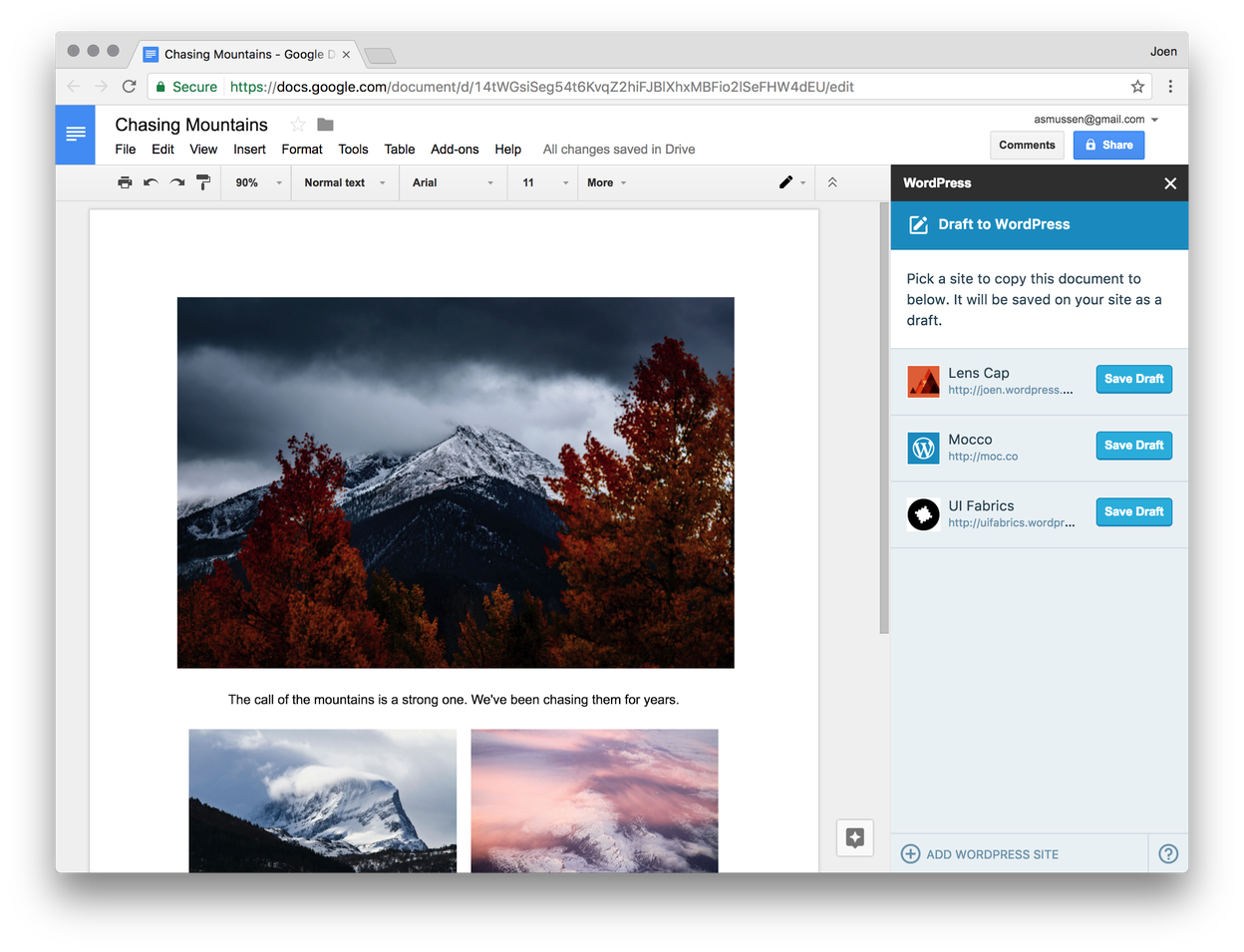 When you're ready to send a document to your WordPress site, open the sidebar again and click the Save Draft button. From there, you'll have to login to your WordPress site as usual in order to publish the post live on the web.