If you've worked in paid search and have had experience working with many different industries, it's amazing to see how much average cost per clicks can vary. Generally, if the end product or service is very inexpensive or of low value (i.e. office supplies), the average cost per click will also be low. Conversely, if the end product or service is relatively expensive or of very high value (i.e. a college education), then we expect a very high CPC because advertisers can justify the expense.
If you work for an agency, you've most likely experienced managing paid search campaign with high CPC's. Wordstream put together a great infographic on "The 20 Most Expensive Keywords in Google AdWords" to help illustrate the highest CPC's keyword categories. After looking at this list, I can tell you for a fact the CPC's are much higher now than when this was released.
I've had experience working with various clients (including mortgage, refinancing, education, and law) with ridiculously high CPC's and I've been able to demonstrate a positive ROI by following these tactics:
Have Proper Tracking in Place
Seems like a no-brainer right? Well, you'd be surprised to know that many marketers still do not track phone calls generated from PPC campaigns on their landing pages or directly from their website using call tracking. Also, with extremely high CPC's, you better fork over the extra expense for keyword-level call tracking to properly optimize campaigns.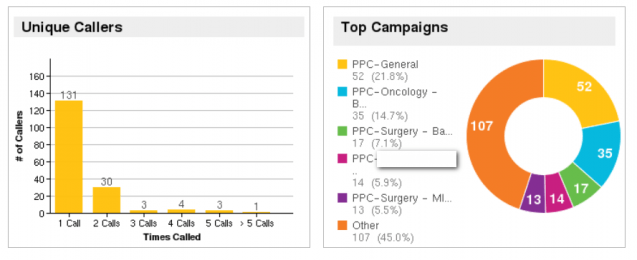 Be Careful with Broad Match Keywords
I would almost say exclude broad match keywords completely from the get-go, but sometimes you find great keywords you didn't think about. In addition, many times broad match keywords are a lot cheaper and the same keywords in phrase or exact match. Make sure you isolate these broad match keywords into their own ad groups to closely monitor them.

Robust Negative Keyword List
This is especially important if you decide to start out with some broad match keywords. After all, one irrelevant click could cost you $100+. In order to find negative keywords before launching type the root keyword in Google Instant and see if it suggests any long-tail queries that would deem the searcher is early on in the research process. In addition, do your due diligence when performing keyword research using Google's Keyword Tool—looking not only for keywords you want in your campaign but keywords that you do not want your ads to show up for.

Ride the Branded Train
Branded keywords in conjunction with your focus keywords could be life-savers for you. For example, "Ohio State MBA Degree" vs. "MBA Degree". For the first search the user clearly is further along in the decision-making process. Now you might say, "well Ohio State will show up organically #1". Well, I don't want to get in the bidding on branded keywords debate, but it's very likely a competitor will show up in the sponsored listings above your organic listing; in addition, the PPC conversion funnel is much better control with a custom landing page and therefore the user is more likely to convert.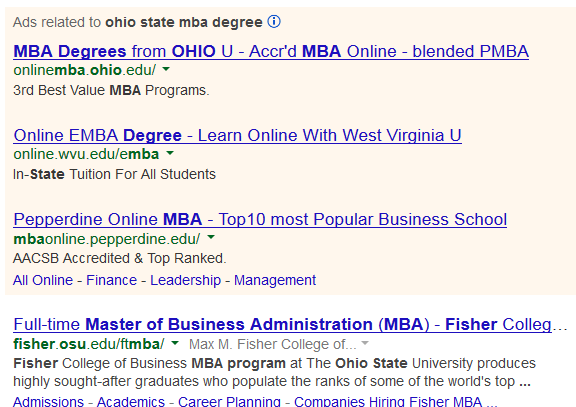 Exclude Close Match/Variations
Under your campaign settings "Keyword Matching", your phrase and exact match keywords are automatically opted to 'include plurals, misspellings, and other close variants'—therefore not technically phrase and exact match keywords. I recommend excluding these to make sure you have as much control over these keywords as possible.

Increase Bid Modifier for Mobile
Now this tactic might depend on a few things—is your web site optimized for mobile? Do you or your clients' value phone calls? The main value here is of course click-to-call conversions where mobile users click the phone symbol in the mobile PPC ad and are directed to your sales team or call center immediately. You are effectively able to generate a lead without the user having to fill out a form. If this is attractive, consider bidding higher for mobile devices to ensure top placement (only two PPC ads appear above organic listings on mobile SERPS).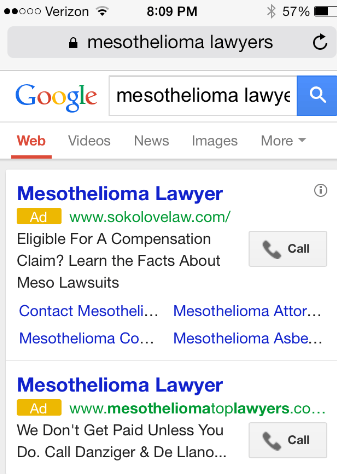 Bring Back Customers through Retargeting
The beautiful thing about site retargeting is that you can bring people who you originally paid $70/click to get to your site back for about $1-$2/click via Google's Display Network. In addition, you can leverage organic and direct traffic that you never had to pay for but didn't convert originally. Finally, don't forget you can use other retargeting platforms that typically have larger reach than Google's Display Network, such as AdRoll, Retargeter.com, Chango, and others. In addition, these channels let you retarget on Facebook, which is another way to bring back users that have been to your site, but did not convert. Finally, you can also try search retargeting that will capture the users search queries across search engines (Google, Bing, and Yahoo), and show display ads to these users as they browse various web sites within the display network. Similar to site retargeting, search retargeting offers very low CPC's.

Bid Higher for Keywords that Show Intent
This is pretty obvious, but you'll want to bid higher for keywords which you can tell the user's intent is past the research phase and ready to make a decision. This involves using broad match modifiers that have +buy, +purchase, +apply, +lawyer, etc. For example, for the education example above for Ohio State, they'd want to bid much higher on "apply for MBA online" vs. "MBA online".
Expand into Bing and other Paid Advertising Channels
In addition to diversifying your paid search investment with retargeting, you should also consider Bing and other smaller advertising platforms which typically have a much lower CPC. We've seen success with using Advertise.com, Yahoo Stream Ads, LinkedIn Ads (depending on audience size), Facebook Ads, and 7search.com. Although click to conversion rates are much lower, the average CPC's allow for much lower conversion rate.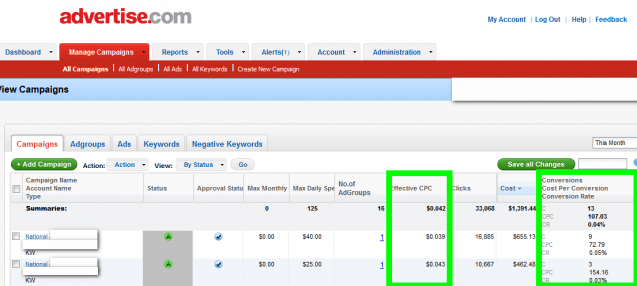 Use PPC Custom Landing Pages
I decided to save perhaps one of the most important tactics for last. If you're spending $50+ per click, you have got to be out of your mind to send the user to pages within your web site. There are simply too many 'escape hatches' and 'points of curiosity' where a user could get lost within your web site. You want to take the time and invest in custom-built landing pages and micro-sites for the ad groups and keywords you are targeting. When you're advertising in a highly competitive environment, you want them to convert and it's important your landing pages are designed for conversion and frequently tested!
In conclusion, it's possible to be successful when dealing with extremely high CPC's. It just takes a lot of more upfront time, effort, and planning. You must also be honest with your manager or clients and explain to them why the CPC's are so high and how you're going to try to be successful in the space.
Good Luck!
Image Credit:
Featured image – downloaded under Shutterstock.com license
Image #1 – Call tracking screenshot taken 1/27/14
Image #2 – AdWords screenshot taken 1/27/14
Image #3, #4, &#5 – Google screenshot taken 1/27/14
Image #6 – AdWords screenshot taken 1/27/14
Image #7 – Advertise.com screenshot taken 1/27/14