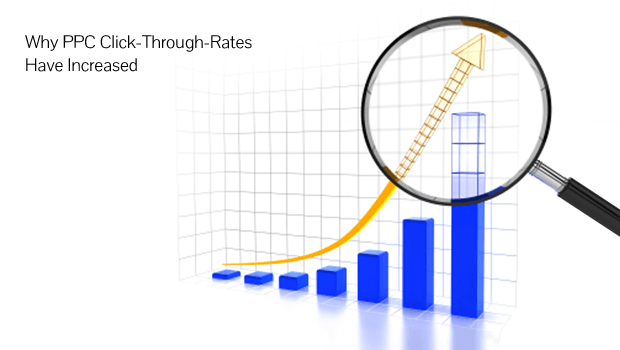 You may have noticed that the paid listings on Google have increasingly taken on the appearance of their organic cousins over the past few years.
Whereas previously pay-per-click adverts were clearly distinguishable by their blue backgrounds, they are now set against an almost transparent yellow. Anyone who works off an LCD screen will have no doubt at some point found themselves squinting from all different angles to try and figure out whether a search result is in fact paid or organic.
Clearly marked titles of 'Sponsored Links' used to sit above the PPC adverts both at the top and right hand side of the page but Google has done away with these also.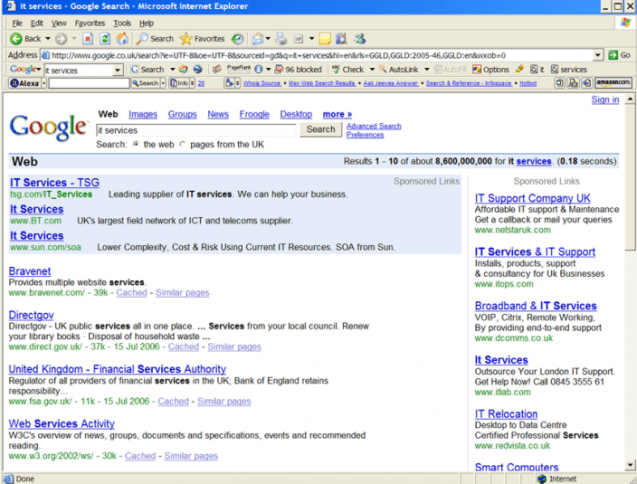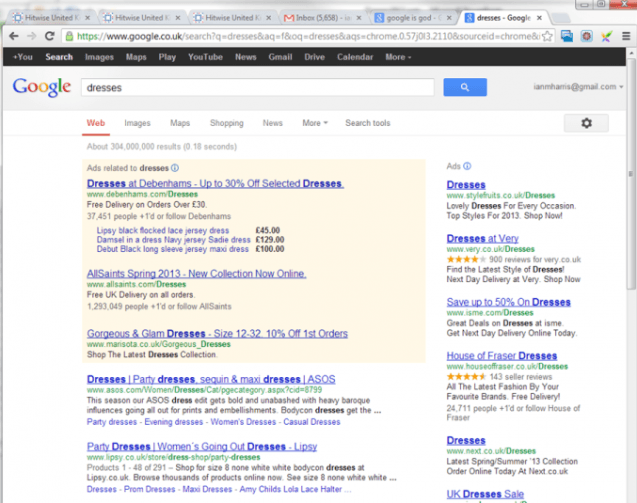 The transformations do not stop there either. Previews, ad extensions, social stats and site link extensions – all of which were previously exclusive to organic results – have been added to PPC adverts. You can also pull the first line of the PPC advert into the headline (as seen in the Debenhams position one listing, above right).
As the above image shows, these changes mean that PPC adverts can now appear much larger and therefore have more chance of catching the user's eye. Ultimately the result of this is that paid listings now closely resemble their natural counterparts.
Far from being insignificant aesthetic changes these modifications have had a massive effect on PPC click-through-rates (the percentage of clicks an AdWords advert receives from the number of impressions). At Search Laboratory, in 2011, we downloaded all of our click data from all of our campaigns from the last year. We then did the same for all of our campaigns in 2012 – and the results are startling.

In the space of a year the average click-through-rate for paid position one more than doubled from 4.792% to 11.09% (pictured above). In fact the average click-through-rates for positions one to 10 all saw considerable increases in 2012 from 2011. The full data from Search Laboratory's PPC campaigns is available here.
This wasn't just a case of us getting better at PPC, we've been handling successful campaigns for years, this was a direct result of the changes to the appearance of the PPC adverts. The above image shows the average position one click-through-rates for all of our campaigns in 2011 and 2012. This data was from lots of different campaigns, which crucially were all from commercial markets ranging from dresses to sheds to travel.
So does this jump in PPC click-through-rates mean organic search has decreased in importance? Perhaps, but make no mistake natural is still king. For example 'dresses', which is one of the most searched keywords in online retail, experienced nearly three times as much organic traffic as paid in the early part of 2013.
Ironically it is because of consumers' preference with natural search that PPC has grown in status. Our data shows that by Google making paid results resemble organic it's made them more popular with users and consumers, and in turn the search engine giant has made more money. Obviously Google is a business and as their title suggests paid adverts are worth more to the search engine than natural – providing they're relevant.
It's also important to remember click-through-rates vary from each campaign to the next. Brand and specific terms as a rule will have a higher rate than generic terms, while there is certainly no optimum rate to aim for. Incidentally the alarm bells should go off if your search agency is guaranteeing you a click-through-rate of X %.
But providing your landing pages and call-to-actions are optimised – if they're not the whole PPC campaign is likely to be on a hiding to nothing anyway – then the increased click-through-rates means that there are more conversions to be gained and thereby a greater PPC return on investment.