It's all about the real estate. Google results pages have historically been about simplicity. Any search "options" have been such a little part of the UI that, let's be honest, hardly anyone knew they were there.
Before now, Google attempted to predict what users wanted by including universal search (such as news, videos, and images) right in the organic results. Most recently, social conversations (blog posts, twitter updates, etc.) have made their way into the SERPS. Today, a clear left navigation gives users quick access to specific vertical search features right from the results pages: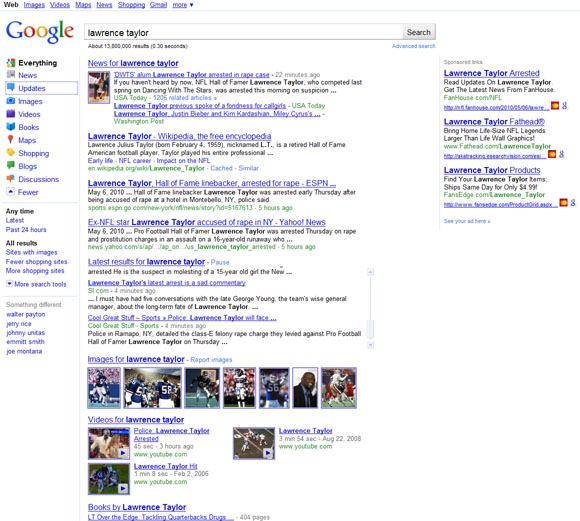 While universal search results had created added opportunities for search marketers to capitalize on SERPs, this latest change favors social marketers. In addition to video, images, maps, and news search; blogs, Forums (Discussions), and Twitter/Buzz like services (Updates) have been given their respective real estate from Google results pages. So if you're not already involved in these as a part of your internet marketing strategy, you've just fallen further behind.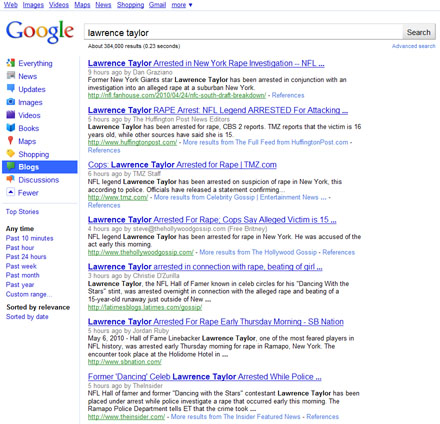 Blogs
While Google blog search is nothing new, this new navigation is sure to generate some increased usage. If you own, run, or write for a blog, that could mean an increase in traffic from Google. If you don't, it's probably time you started one…
Freshness of content will also be a consideration for users. While the results are set to sort by "relevance" by default, buttons to sort by date, and/or limit results to the last 10 minutes, hour, day, week, month, and year are easily accessible. The default results, too, even seem to favor the fresh content and include information on how old the post is within the SERP listing. What does this mean for you? Keep blogging…as often as you can.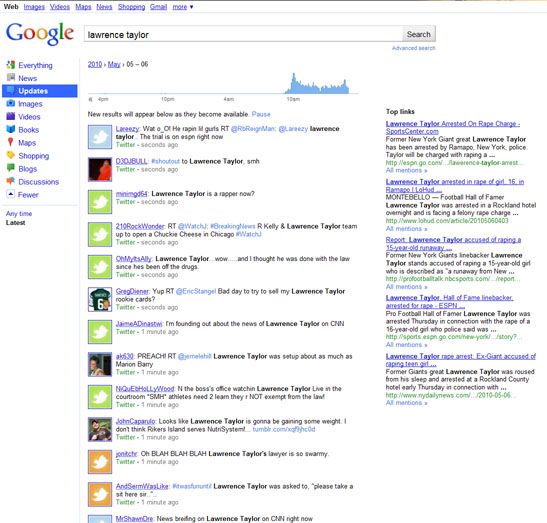 Updates – Twitter & Google Buzz Search
In December, Google released their "real time search" feature. Tweets were included within results and a full page of real-time tweets was just a click away. Last month, Google added a dynamic archive function which gave users the ability look back at specific days & times or track twitter trends across an entire year. Now, Google has given this search feature a place in their new navigation.
For marketers and content producers, the "Top Links" section of the results is just one more opportunity to spread content by promoting it on Twitter and Google Buzz. While the potential for consistent traffic may not be as appealing as the blog search section, it's certainly another good reason to make services like twitter and Google Buzz a part of your social media strategy. And if nothing else, it makes for a great tool for ORM or tracking and monitoring social campaigns within the twittersphere.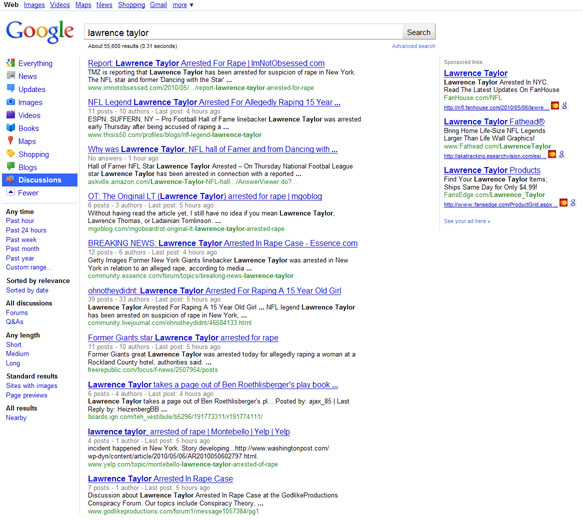 Discussions – Forum Search
Who says forums are dead? "Discussions" is the final social addition to the new Google navigation and it focuses on forums and answer services like Wiki Answers and Yahoo! Answers. It's quite useful to users who may be looking for solutions to questions that others might have already posted online. Much like Blog search it's not a completely new service, but again, this change will likely mean increased usage. So if you own, run, or moderate a forum, this could translate into increased traffic and thus additional activity.
For the rest of social marketers, however, it means allocating more time to participating in industry forums as a part of their social media strategy. Being active within forums and providing answers to common industry related questions on services like Yahoo! Answers can give an individual or brand extra exposure and more importantly: credibility & authority.
Bad news for SEOs?
The down side to Google's new navigation could be reduced use of the general results. With these extra options easily accessible for users to refine their search, Google has essentially marginalized their search algorithm. The effect could be reduced clicks which could drive traffic down for sites that typically do well in organic results. But as search & social media continue to blend into small parts of a larger entity; marketing strategies will need to adjust. And this change by Google is just one more example.