To say that Amazon has changed the landscape of retail would be an understatement.
With the changes that Amazon has brought to the marketplace, it begs the question, should all retailers embrace Amazon?
Here are a few stats to consider:
As of the last reporting period, there are more than 310 million active Amazon customer accounts.
A 2017 CNBC survey found that 75% of shoppers do "most" of their shopping on Amazon.
According to Statista, there are 105 million Amazon Prime Customers with Prime customers spending more than double what their non-Prime counterparts spend on Amazon.
Should Retailers Embrace Amazon?
I think it would be insensitive to continue this article without first acknowledging the disruption Amazon has caused to specialty retailers in particular.
The turn of consumers from brick-and-mortar to online has had devastating ramifications for many fantastic small stores around the county.
Many manufacturers that have a large percentage of revenue made up of specialty retailers have shied away from Amazon and big-box retailers in the past to protect their smaller retailers.
However, every year, I see the number of companies embracing this strategy shrink. More brands that were sold only in specialty stores five years ago can be found in Target, Walmart, and even selling directly on Amazon.
This has created a chicken and the egg sort of problem for specialty retailers. As fewer specialty retailers exist, more customers are driven to Amazon and big-box retailers.
This is increasingly the problem small retailers are facing, wondering how they will survive with lower levels of foot traffic and reduced availability to exclusive merchandise.
For retailers looking to keep cash flow up and compete in the more complicated retail ecosystem, embracing Amazon as an additional sales channel could be a good option.
4 Reasons to Embrace Amazon
I have worked with several brick-and-mortar retailers that have expanded onto Amazon as another sales channel.
Here are some of the specific benefits they have seen as they implemented this second stream of income.
1. Increased Cash Flow
One of the persistent struggles for brick-and-mortar specialty stores is cash flow stagnation.
As more people have gotten into the habit of purchasing online, they are less likely to get in the car to drive to a smaller specialty store – especially if they are not sure if that store has what they need in stock.
This is exactly what drove our clients to adopt Amazon as a key part of their sales and marketing strategies.
This client, let's call him John, has been operating his California brick-and-mortar apparel store for more than 20 years.
John's store was known for amazing sample sales from high-end designers. When their business was at its peak, the store had lines around the block.
However, in the last few years, all that changed.
The foot traffic they were receiving was just not enough to keep the doors open.
John had already attempted to invest in an online space, establishing sales on eBay when he turned to our agency for help with his sales on Amazon.
As we worked with John on expanding on Amazon, he was able to work directly with his current suppliers. With their approval, he was able to sell online in addition to in store.
Within a few months, John's Amazon sales were eclipsing his brick-and-mortar and eBay sales combined in just a few short months.
Expanding on Amazon did not only helped increase cash flow and allowed John to keep on employees he might have otherwise had to let go.
2. Better Negotiating Power With Suppliers
Along with cash flow, the ability to potentially increase your margins on your brick-and-mortar sales can be a potential benefit for retailers as well.
As John increased his sales on Amazon and eBay, he was able to renegotiate terms with a few of his suppliers.
He was also able to access volume discounts on merchandise he would have been unable to support if he had been relying on in-store sales only.
These volume discounts, specials, and even some extended terms allowed John to increase his margins on the items sold in store.
This is in addition to the additional cash flow from his online marketplace sales.
3. Moving Stale Inventory
Another one of our clients was in the toy space. Let's call this client Marie.
Marie had a storage unit of many discontinued items and items that just didn't sell well in store.
As we went through her inventory list, we found that there were many items she had that could be sold at incredibly high margins on Amazon.
Amazon is a supply and demand-driven marketplace.
Many of the discontinued items and some of the less popular varieties and colors of toys she had in her leftover inventory were fairly hard to find.
By placing the items online, and in front of an international audience, she was able to sell these items on Amazon as much as 150% of the MSRP.
In general, the higher-margin items on Amazon tend to be more niche.
Products that are less popular for foot traffic can be sought out regularly online.
For example, LOL Balls are generally anywhere from $9-$13 retail prices. Amazon has sold this LOL Surprise Confetti Pop- Series 3-1 for $12.98 in the past.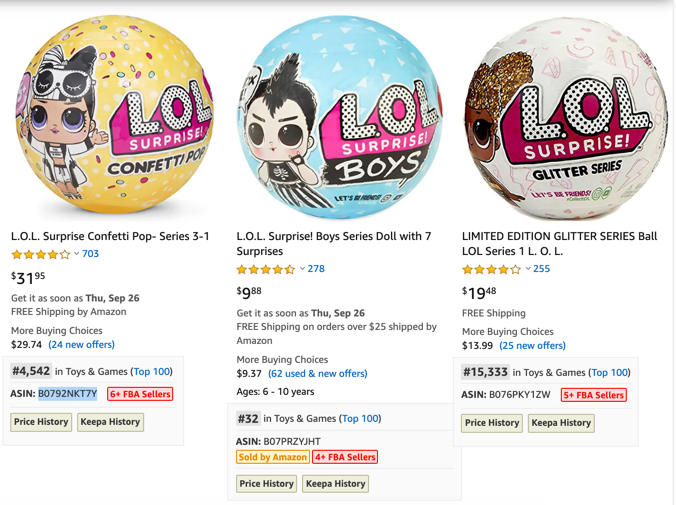 However, since there is very limited availability of this item, the price has risen to almost three times the MSRP price.
You can see other similar examples of how this supply and demand pricing over a variety of products on Amazon.
Since Marie used Amazon's Fulfillment By Amazon program to fill these orders, she was able to send these items in to Amazon in one shipment.
Amazon then handled the individual shipments to customers as well as the customer service for her.
Amazon's Fulfillment By Amazon – or simply Amazon FBA – is one of the more popular services by Amazon to automate the selling process for sellers.
When you enroll in the program, you allow Amazon to complete the order fulfillment process, allowing you to earn more sales from its Prime customers.
Another benefit is that after you send your product to Amazon, they will sort and store your products for you.
This will allow you to offload some of the storage, and can actually save you money in storage costs.
When a customer buys a product, Amazon will take over the transaction for you, including:
Processing payment.
Updating inventory automatically.
Shipping your product.
Bulk of customer service (i.e., handling any inquiries, questions, and product returns).
Marie was able to gross an additional $20,000 in revenue selling inventory she had thought would be written off as unsellable.
She used the additional revenue to bring in new inventory that she felt would help her draw additional foot traffic into her store.
4. Better Utilization of Labor Hours
As Marie was expanding her sales on Amazon, she was able to use her current staff to prepare and ship items to Amazon while the store was slow.
As she started to order items specifically to sell on Amazon, she found she was able to increase the amount of revenue per staff-hour in her business.
Her overall profitability increased since she decided to have employees focus on revenue-producing activities even during traditionally low foot traffic periods.
In the end, Amazon's scalability and flexibility empower almost any industry.
Keep in mind that you must review your seller agreements with manufacturers to make sure you haven't agreed not to sell those items on Amazon.
Should Your Store Embrace Selling on Amazon?
While I have highlighted some of the most significant benefits of selling on Amazon, the platform is not without its negatives.
Amazon's fees can take about 30% of the gross sales of a standard-sized item in the $20-$50 range.
Now, that fee does include the picking, packing, and shipping to the customer with Prime shipping (usually 1 or 2-day delivery).
You will want to talk with your CPA about potential sales tax implications.
Ultimately to determine if selling on Amazon is right for your business, you will want to start with a few steps:
Make sure you are allowed to sell on Amazon in the agreements with your vendors.
Use this calculator to see what you would net after your item sells on Amazon.
Watch the videos in Amazon's Seller University to familiarize yourself with the way the platform works.
I recommend that you only send in a small amount of each item into Amazon until you can see the actual sell-through rate of each item.
From there, you can decide if continuing to selling the products yourself or working with someone who specializes in Amazon is a good fit for you.
More Resources:
---
Image Credits
All screenshots taken by author, September 2019