Going to SEO conferences is a great way to learn about the latest strategies, emerging trends, and new tools in the industry. You also get to network with fellow professionals within the field and meet prospective clients.
Search marketers have different reasons why they opt to join SEO conferences.
We wanted to find out why SEO professionals decide to attend an SEO conference. So we asked.
What Is Your Main Motivation When Choosing to Attend an SEO Conference?
Here are the results for this #SEJSurveySays poll question sent out to Search Engine Journal's Twitter community: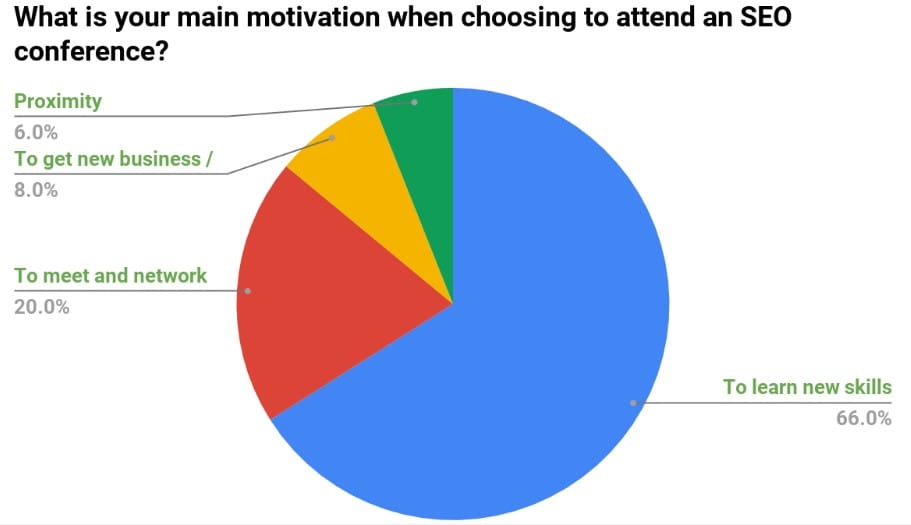 Andy Odom, an online marketer from Denton, TX, listed his own reasons when choosing to attend an SEO conference.
1) Price. 2) Reputation of organizers. 3) Speaker Lineup/Topics. 4) Networking opportunities.

— Andy O'DOOM 🎃 (@AndyOdom7) October 9, 2017
Learning new skills should indeed be a top motivation when choosing to attend an SEO conference. When you keep yourself up to date and take the time to upgrade your skills, you can avoid becoming obsolete in this constantly changing field of SEO.
Taking Part in SEO Conferences: A Few Tips
Thinking of attending an SEO conference soon? Check out some of the best SEO conferences to attend.
Also, check out this list of articles from our SEJ contributors and learn how you can get the most out of your conference experience, organize your own conference, or prepare for a speaking engagement.
Have Your Say
Why do you attend SEO conferences? Tag us on social media and have your say in the next survey by checking out the hashtag #SEJSurveySays on Twitter for future polls and data.
---
Image Credits
Chart created by Shayne Zalameda