Search engine optimization (SEO) is a combination of science and art.
Like other scientific endeavors, some aspects of SEO can be dealt with systematically (think data analysis and keyword research) and make use of formulas (i.e., search engine algorithms).
Still, artistic attributes – such as creativity and resourcefulness – are also crucial in a few areas of SEO including copywriting, link building, and UX optimization.
Successful SEO professionals often possess the right mix of hard and soft skills which enable them to thrive in an industry that is always evolving.
Aspiring SEO practitioners should focus on learning the fundamentals and developing core SEO skills if they want to find similar success in the field.
We wanted to know which SEO skill experienced practitioners think is the most important, so we asked our Twitter community.
Which SEO Skill Do Practitioners Think Is the Most Important?
Here are the results from this #SEJSurveySays poll question. According to SEJ's Twitter audience:
42 percent of search marketers view critical thinking as the most important SEO skill a practitioner should possess.
36 percent responded that having analytics skills is essential.
13 percent answered that speaking and writing skills are the top abilities that an SEO pro should have.
9 percent replied that possessing tech and programming skills is paramount.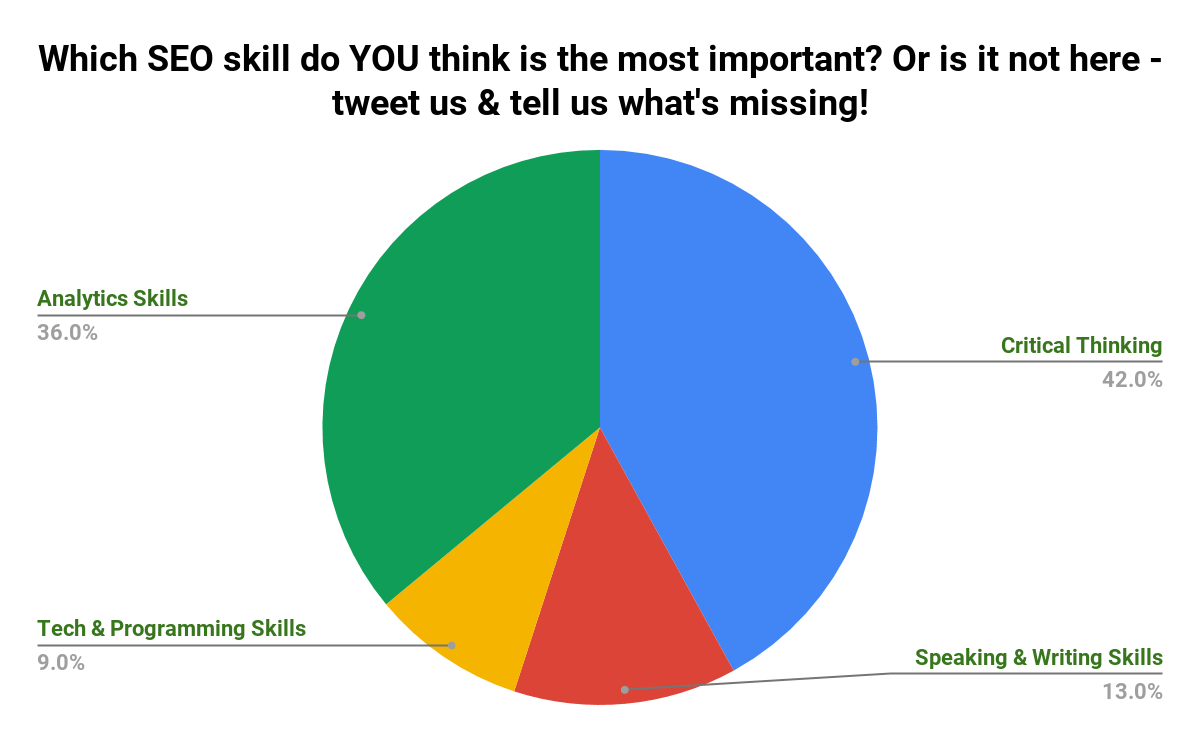 Here Are a Few Comments from Our Twitter Followers
A few followers explained the reason behind their vote:
Analytics to see what's happening.
Critical Thinking to determine what it means.
Tech & Programming to address it.
Speaking & Writing to communicate it all.

— TC Success (@TC_Success) April 16, 2018
Analytical skills! SEO is done considering data collected through research.

— Preeti (@SorengPreeti) April 16, 2018
I pick critical thinking because analyzing and evaluating of a problem are very important to create right judgement.

— Hubert Pablo (@hubeepablo) April 16, 2018
@sejournal Analytics skills as it is crucial to every stage of #SEO from the initial pitching and #KeywordResearch through to reporting. #SEJ #SEJSurveySays

— Liam Saunders (@LiamRDSaunders) April 16, 2018
Others think all of the choices are equally important.
All of them!

— TheHammondAgency (@whatracheldoes) April 17, 2018
Hard to pick just one … they are all important.

— Elmer Boutin (@rehor) April 16, 2018
All of them 🙂

— SEO Mauritius Mauseo (@MAUSEO_seo) April 16, 2018
While some gave their two cents on what they think the most important SEO skill is.
Researching skills are definitely up there.
I don't need to know everything.
I need to know how to know anything.

— Tylor Hermanson (@MyNameIsTylor) April 17, 2018
Integrity – with the aim that, whatever you're doing, serving up what the user is looking for is always central to your efforts.

Oh yeah, and the four things you listed as well, of course. #SEOTalk

— Wilson Cooke (@WilsonCooke) April 17, 2018
Level 3 understanding of "how search works"….only few people have this skill.

— www.flysocial.in (@sanahkk) April 17, 2018
Conceptual thinking

— Heather Akerberg (@HeatherAkerberg) April 17, 2018
Skills in magic.

— Jordan Long (@JordanLongSEO) April 16, 2018
Marketing is way more important than any of those other skills.

— Jim Cullen (@websensejim) April 16, 2018
Scepticism

— Neil Dickson #SEO (@neildicksondm) April 16, 2018
Just writing for me ✍ until the bots start crawling our speech 🗣🤖

— Tom McCallum (@tomccallum) April 19, 2018
Keeping the user in mind at all times!

— Jon Sharman (@JonSharman) April 18, 2018
More Insights on Improving Your SEO Skills
Want to know what agency owners are looking for when hiring new SEO practitioners? Read Ryan Jones' post: Top 8 Skills Every Great SEO Professional Needs to Succeed.
Get up to speed with vital knowledge on how search engine optimization works through SEJ's basic and advanced SEO guides:
Also, check out the following articles from our SEJ contributors and learn more about how you can develop your SEO skills:
Have Your Say
Which SEO skill do you think is the most important? Tag us on social media to let us know.
Be sure to have your say in the next survey – check out the #SEJSurveySays hashtag on Twitter for future polls and data.
---
Image Credit
Chart created by Shayne Zalameda