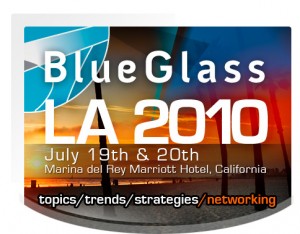 I'm sure by now, you've heard of the joint conference coming up from Search & Social and 10e20 called BlueGlass LA. We ran a few contests for our previous conference, Search & Social Spring Summit, and have decided to do the same for this one. I was thinking, and pondering, and thought this would be a contest everyone would have lots of fun entering.
What's the prize?
A free ticket to BlueGlass LA and hotel room. Travel is not included.
What's the contest?
In order to enter this contest, your tweets must contain: #blueglassla as well as this link- http://bit.ly/blueglass.
Your tweet also needs to tell us what you would do to get to BlueGlass LA.
Make it funny! Example?
I will walk around everyday with a red handprint on my forehead to go to #blueglassla http://bit.ly/blueglass (please RT)
How do you win? With points! Here is how you can accumulate points:
10 initial points for your tweet saying what you would do to get to BlueGlass LA.
2 points for every retweet you get
10

bonus

points if you blog about the conference (any form of link is allowed, such as a URL shortener). Link must be in tweet.
2 points for every comment on the blog post
20

bonus

points for funniest tweet (judged by BlueGlass LA moderators)
There will be a lot of tweets coming through to us, so make SURE that your tweet is hilarious and make SURE that you have #blueglassla and http://bit.ly/blueglass or else your tweet will not be counted.
Also, if you are writing a post on the conference, make sure the link is in your tweet so we can count it. You can use a shortner.
The contest will end Wednesday, June 9th at 6 PM EST. We will count up all the points and announce the winner Thursday. Better get your funny shoes on and your typing fingers ready to rock out. The conference in LA is going to be KILLER- and no conference is sweeter than one you have a free ticket and room for.