As a web content writer, you face the dilemma of what kind of content to write. The truth is, not every piece of content will fit into your marketing strategy. There are several types of content, and they will each play a different role in your strategy. In this article I'll show you how content created with a specific purpose will perform.
Informational Content
Informational or journalistic content aims to provide your users with fresh insights in regards to a specific topic. This kind of content can:
Attract Regular Traffic
Be Very Engaging
Get Shared on Social Media
You can spot these topics all over. You see them on blogs, people talk about them on social media, they might even make the news. For example, if you're keeping an eye on search engine marketing blogs, you have probably spotted titles about search ranking factors or Google-related news, such as "not provided" keyword issue.
On the other hand, this kind of content, although it might be popular a period of time, can quickly get outdated and forgotten. With that being said, this type of content can help you build your fan base.
Where to Look for Inspiration
Google Trends
It might sound obvious, but you can find inspiration everywhere. To make "everywhere" a bit closer, start with a quick look at Google Trends. For example, there's always a big buzz about Google's search algorithm updates. As a SEO expert, you might want to cover that topic and add your opinion.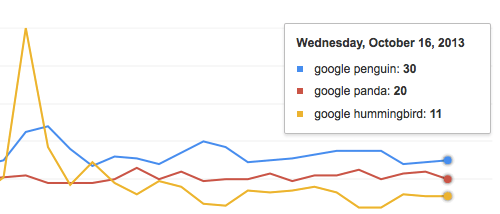 As you can see the Google Penguin algorithm topic is still quite popular. If you have any catchy news or findings on algorithm updates, you're good to go.
Product Blogs
If you're looking for firsthand news, follow industry related product sites, corporate blogs, social media profiles, rss feeds, and subscribe to newsletters. Companies online are fighting for your attention and dying for your engagement. Staying in touch will keep you in the middle of the action and could mean access to fresh stories first!
Social Networks
Are you staying in touch with experts in your industry? If not, you should start right now. Social media, in addition to it's communication and content distribution value, is a great place to see what people are talking about and what they are sharing. Maybe some of those tweets or shares will inspire you.
Content Ideas
Most of the news will concern some topics in general. Provide your readers with fresh information about:
New Product Launches
Offers & Giveaways
Case Studies & Reports
Industry News
Reviews
Popular Debates
Educational Content
Educational, also known as evergreen content, is completely different from informational content. The main difference is that educational content delivers higher value because it gets good traffic over a long period of time. Educational content can:
Attract Traffic Over a Long Period of Time
Garner High Engagement
Be Easy to Share
Such content particularly doesn't go out of date and doesn't rely on current trends. Of course, educational content will become outdated eventually, but instead of creating new content, you can update your current article. That translates into ongoing improvement of the useful information you're providing your readers with.
Evergreen content is a long-term investment. If properly crafted, it would build upon people's natural interest in the topic and desire for a comprehensive resource. It will also help drive traffic, leads, and conversions to your sites.
Where to Start?
The key elements of evergreen, educational content is usefulness and clarity. You should be aiming to provide in-depth information in regards to a specific topic that is relevant to your business.
Educational content is highly correlated with SEO. Due to it's universal character, such content should be created with keywords in mind. If your content will be comprehensive, it will probably earn itself a high position in search engine results page.
For more reference you can check this interesting case study about evergreen content's performance over time from Moz.
Content Ideas
If you're up to creating informative, evergreen content you can consider writing:
In-Depth Topic Analysis
Comprehensive How-To
Top Tips in Regards to a Specific Issue
Entertaining Content
The last kind of content is entertaining content. Such a content doesn't provide much value other than a smile on your reader's faces. Similar to informational content, entertaining content has a short shelf life and won't bring you a long-term profit. On the other hand, it can go viral and bring you quite a bit of exposure.
How to win your readers hearts?
Apparently there's no formula on creating such a content. Fresh ideas, good timing, and a sense of humor are the keys to creating something brilliant. Just keep trying – maybe someday your content will become legendary!
Final Thoughts
The examples of content types aren't the ones you should rigidly stick to. Mix up your content. Experiment with forms – infographics, videos, white-papers. Always add a bit of yourself to your work too – your sense of humor and your thoughts on the topic. Your content will be rich and engaging.
When creating a content and picking it's purpose, keep your overall marketing strategy in mind. There's no universal method of attracting visitors to your website – you have to adapt your tactics, measure your data, and observe what kind of content engages your audience the most. If you're serious about your online marketing, such knowledge will help you build an effective content marketing campaign.