I have done detailed reviews on SEO PowerSuite Tools previously: both SEO SpyGlass and Rank Tracker have got some highly positive feedback from our readers. Today I am pleased to review another new tool I have just tested and found cool: Website Auditor.
Website Auditor is a multi-feature on-site diagnostics assistant that can help you in various tasks:
Site architecture and internal linking analysis
Full SEO site health check (broken links, code errors, 404 and other response code errors, etc.)
Indexation analysis (the number of indexed pages, cache dates in major Search Engines for each page, etc.)
PR and link value distribution
etc
The Process
Step 1: Provide the page URL you want to optimize: this is going to be the crawling starting point. The tool will collect and crawl URLs linked from this page.
Step 2: Select the page ranking factors you want to use to analyze the page – these are plenty actually including:
Page info (title tag and meta tags);
Total number of link on the page;
Number of external link on the page;
Google Toolbar PageRank;
Cache date in Google, Yahoo!, Bing
Backlinks per Yahoo! and Google
Validation errors (W3S markup validator)
HTTP status code
Broken links
Content type
Charset type
HTML code size
Nofollow links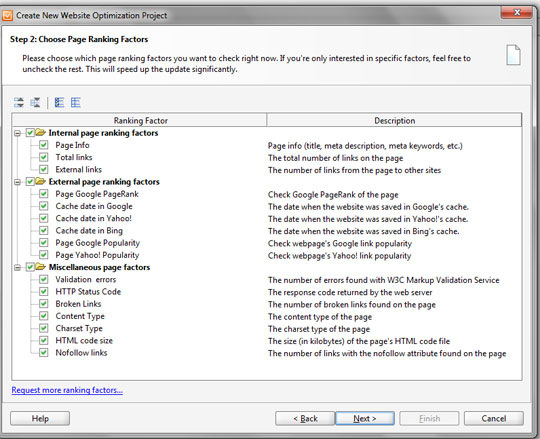 Step 3: Set the scan depth:
The cool part (you will love) is that you can set the tool crawl all the pages it can find or set the "number of clicks" (the tool will follow the links down the specified number of clicks from the starting point. This way you can, for example, collect pages reachable through 2 clicks from the home page):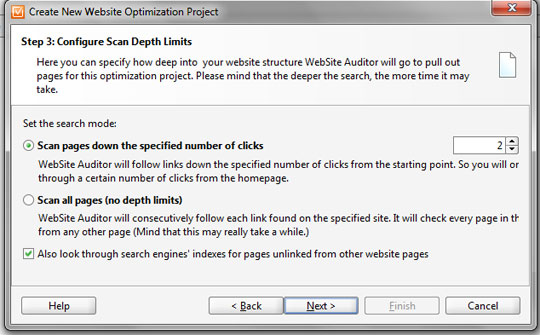 You are done! Now just sit back and watch the tool crawl: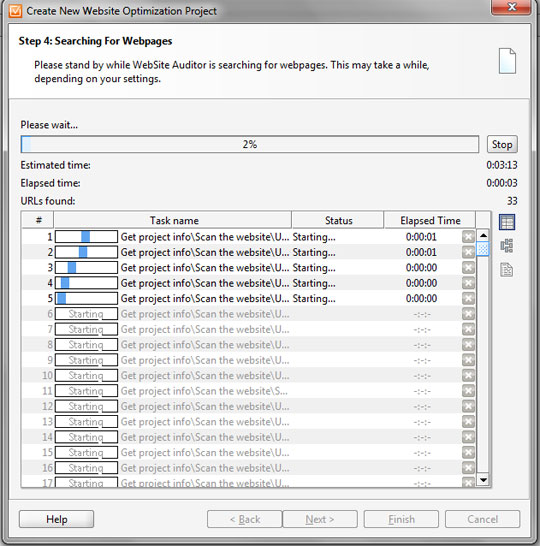 The Result
After waiting for some time (how long you wait depends on how many parameters you have set to return and how deep you set the bot to crawl), you get the page crawl result in a handy table format: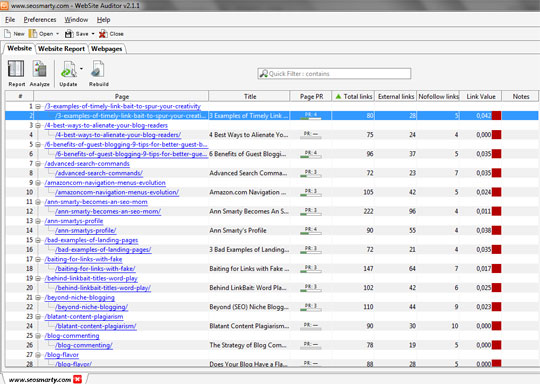 From here you can take advantage of various handy options to dig the results deeper and manipulate the data:
Sort the table by any of the column;
Add notes next to any of the pages;
Filter the table by any of the columns using one of the pre-set filter values (contains, does not contain, equals, starts with, ends with)
For example, you can create notes for each of the returned URLs and then filter the table by these notes: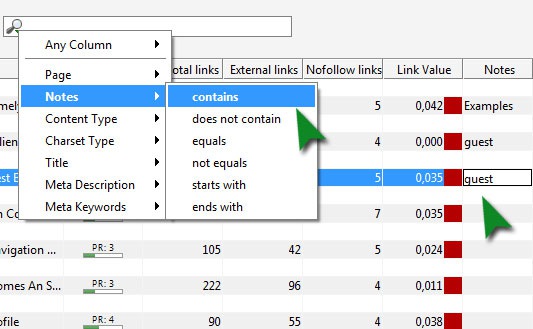 Advanced "Grouping" of results:
Another powerful feature that allows to better dig into the results is the "Grouping" option. If you click the 'Workspaces' button and choose to edit your current workspace, or simply right-click any column header you are be able to edit the visible columns and choose how to group the entries: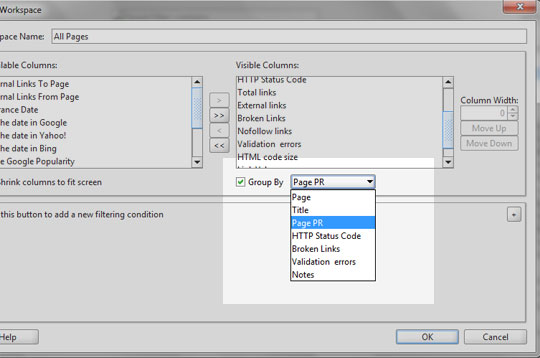 This feature can be helpful in a number of ways: e.g. you can group the pages by HTTP Status code to quickly locate all 404s; if you set the grouping to title you'll spot all duplicate titles, you can also easily group pages by notes or current Google PageRank: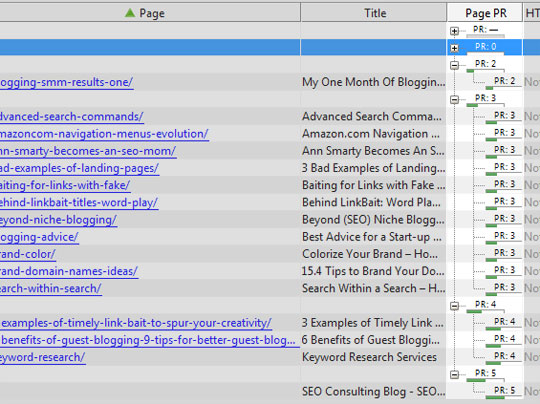 On-Page Analysis
There's also another module in Website Auditor that lets you optimize particular pages for your keywords. If you switch over to the 'Webpages' tab and hit 'Analyze' you'll be able to choose the pages you want to optimize.
You enter your keywords and choose the search engine where you want to rank high and the tool then finds your top 10 ranked competitors for
your keywords and compares your webpage against theirs.
First see the detailed keyword analysis of your page including keyword prominence in each important section of the page (title tags, meta description, headings). Note that you can easily switch between one-word keywords and multi-keyword phrases using the handy drop down above the table:

This section also builds a tag cloud consisting of your on-page keywords that lets you easily navigate throughout the report:

The "Page Elements" tab lists sections of the page relevant to SEO and analyzes the keyword usage in each one (Then it gives you recommendations on how you can tweak each HTML element on your page to bring it closer to the average value of the top 10 competitors.):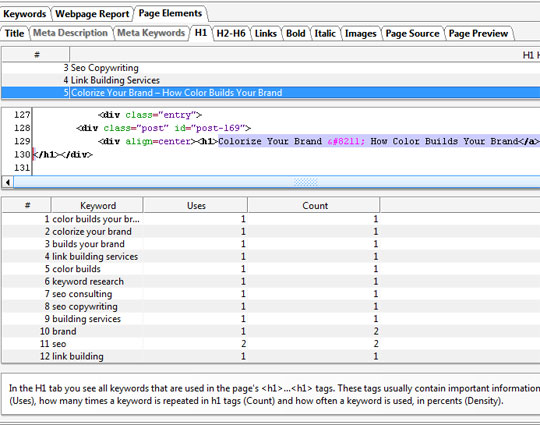 The Report
Lastly, you are able to build customized report you can use as the reference source or guidelines to send to your client or boss. By default, the report contains the following information:
General website statistics including:
Google PageRank;
Alexa and Compete rank;
Pages indexed by Google, Bing and Yahoo!;
Dmoz and Yahoo! Directory listing
Domain age and IP address: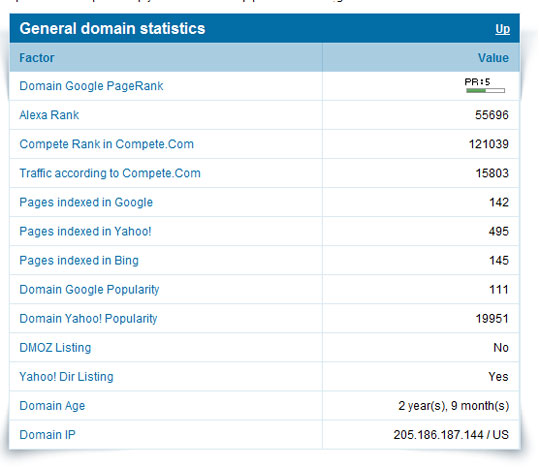 Domain popularity in social media, including mentions in:
Digg
Diigo
Social mention
StumbleUpon
Delicious
More to come!

Google PageRank distribution across the site: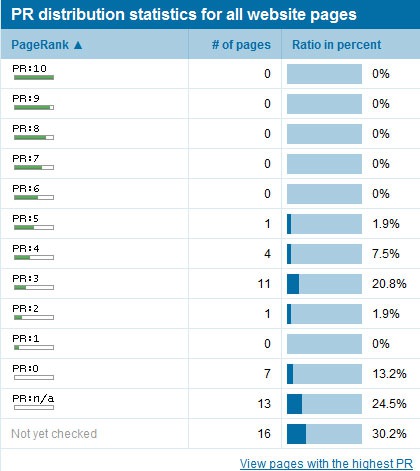 Most linked-to pages (internally):
This can help you figure out if the Link Value potential of your website's internal links is directed right to the pages you want to rank high in search engines in the first place.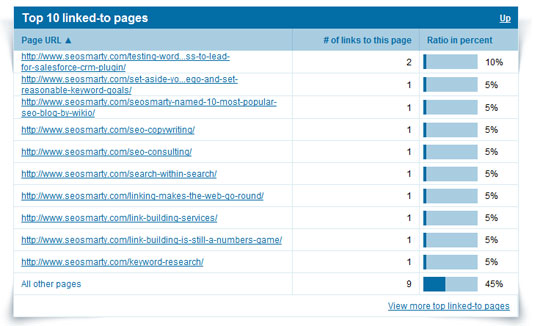 Other report sections:
Most linked-from pages;
Nofollow attribute usage;
HTTP status codes distribution;
HTML validity;
Title tag analysis (duplicated title tags as well as other possible issues)
Meta description analysis (duplicated meta descriptions as well as other possible issues)
All in all, I have found the tool really useful both to SEO newbies and practising SEO consultants. The tool is very well structured and provides some essential information, summarization and visualization options. It has free demo, so I'd love to hear your thoughts.