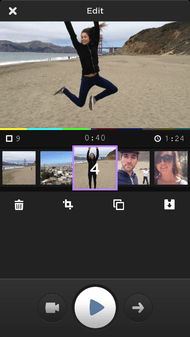 Two days ago Brianna Wills wrote a great post talking about how Vine videos are a great way to market your eCommerce business. Today, I'd like to add an additional tool to your tool belt. Once Vine was released, Instagram saw the opportunity and released their version. It was different in that the video can be 15 seconds, instead of the 6.5 seconds that Vine offers.
YouTube has now entered the short video scene and released their own version. It's called MixBit and it's available on iOS devices.
When you make a video, it can be up to 16 seconds. Is it possible that the market wants longer video time? For Vine and Instagram users, this app is quite different in some regards. Here are some of those differences:
Everything is anonymous – there are no usernames and no commenting available. (Will most likely come down the road.)
You can edit the videos from within the app.
You can share your videos on social networks.
You can string together up to 256 clips into an hour long video. (videos of others and ones you own).
I'm excited to begin using MixBit on my iPhone. At the end of the summer, I'll put together a bunch of the clips that my wife and I made during the summer. It will be like a wrap up of summer 2013. I think there are many applications for this. What do you think of MixBit? Will you use it for your business?